As metro Buffalo copes with Covid-19, hospital executives and health officials in the surrounding rural counties are dealing with pandemic problems of their own, ranging from an unprecedented spike in infections in some areas to a lack of testing.
Health officials in rural parts of Western New York say they are better equipped now to handle the pandemic than in the spring, but they point to worrisome statistics. Allegany County's seven-day rate of infections per 100,000 people stands at 52 – the highest in the state and higher than the Erie County rate of 48, the state's second highest. And the seven-day rolling average of positive cases, a key measure of infection trends, is currently higher than the statewide average in every rural Western New York county except Chautauqua.
"We need to stop the spread to avoid other protective actions like shutdowns," Marc Shurtz, the CEO of Orleans Community Health, said at a press conference at Medina Memorial Hospital Thursday with Senate Minority Leader Charles E. Schumer. "If we can head it off in the community, then we can curb the hospitalizations, which are already up."
The region's rural counties have not yet earned the "orange zone" designation that led to the closure of indoor dining and other mitigation measures in Erie County. But some rural officials worry they are headed in that direction.
"We are asking the public to prepare for a possible color zone designation(s) if this positivity rate does continue on this upward path," the Allegany Department of Health said in a statement this past week.
Gov. Andrew M. Cuomo is warning New York State residents to be especially vigilant about Covid-19 between now and the end of the year.
Allegany County's positivity rate spiked to 8.8%, the highest in the state, in the middle of last week, partly because of outbreaks at the Highland Park, Houghton and Wellsville Manor Care nursing homes, as well as the Manor Hills assisted living facility. Together, those facilities accounted for 248 Covid-19 cases in a county that reported 807 cases as of Friday. County health officials said 31 residents of those nursing homes have died of Covid-19.
But nursing homes alone can't account for the Allegany County's surge, said Eva Benedict, CEO of Jones Memorial Hospital in Wellsville. She said Halloween parties and other private social gatherings have also contributed to the problem.
"We certainly are feeling the surge," Benedict said. "We have a higher than normal occupancy in the hospital, so our staff have been wonderful about working extra shifts and the community is being very supportive of the hospital and appreciative of what the staff is doing."
Other rural counties are also seeing Covid-19 surges. Wyoming County's seven-day positivity rate spiked to 6.8% in the middle of last week. The county, which reported 398 cases as of Friday, has seen more infections this fall in part due to an outbreak at the Wyoming Correctional Facility in Attica, where, according to the Department of Corrections and Community Supervision, 45 inmates have tested positive.
But that's only part of Wyoming County's problem.
"We are starting to see both community spread and increased hospitalizations," said Joseph L. McTernan, CEO of Wyoming County Community Health System, which operates a hospital in Warsaw, as well as other health care facilities.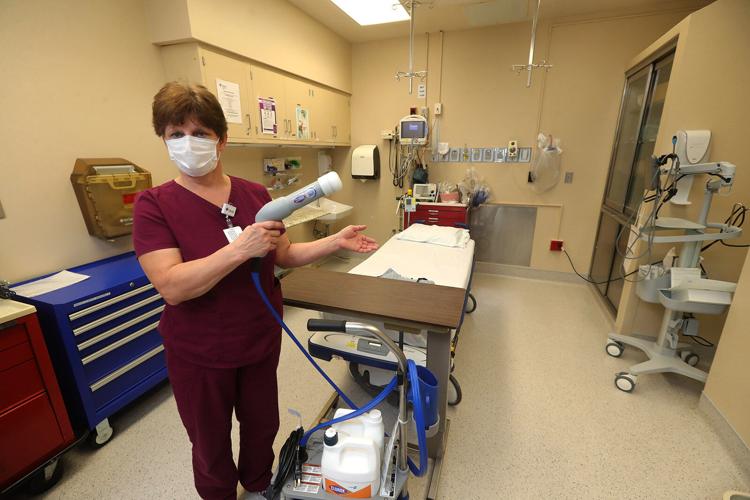 Orleans County is experiencing the same issues. But those are not the only concerns that Shurtz, of Orleans Community Health, reports.
The Covid-19 fatality rate, both in Western New York and around the world, has fallen back considerably since the early days of the pandemic.
"We need every tool and resource available to protect our community and our health professionals. That includes more robust testing," he said.
The county is so short of testing capacity that many residents have to travel to the Buffalo or Rochester area to get tests, and Schumer, a New York Democrat, said the same testing shortfall exists in rural counties throughout New York.
"You've got to travel really far," Schumer said in an interview. "Old people can't do it."
Schumer said he's been pressing the U.S. Department of Health and Human Services to deliver upward of $9 billion in already-allocated funds to boost testing in rural areas.
"It's just sitting there. I don't know why," Schumer said of the money. "We've called them so many times. It's either ineptitude or distraction or something."
The press office at the federal health department did not respond to a request for an explanation as to why the testing funds were being withheld.
Other than the lack of testing, rural hospitals appear better positioned to care for the latest influx of Covid-19 patients than they were earlier this year. For one thing, hospital officials note that the latest wave of patients is young and not as ill as those in the spring. For another, the U.S. Food and Drug Administration has approved new therapies for treating Covid-19, and doctors have learned some simple best practices to improve patient care.
"Tell the positives the second they know, regardless of how the follow-up is, just so people can take responsibility and behave correctly," one man who tested positive for Covid-19 said. 
"All of these have been significant improvements in the treatment of Covid-19," noted Rep. Tom Reed, a Corning Republican who regularly monitors the pandemic's impact on Southern Tier hospitals. "And also, the mortality rates are significantly improved from where they were."
The counties at the western edge of Reed's district have largely been spared amid the latest Covid-19 spike. In Chautauqua County, for example, the seven-day average positivity rate is less than half what it is in Erie County.
"We're blessed not to be in that red, yellow or orange color, but we're all very anxious waiting to see what happens with flu season and obviously any potential surge," said Mary E. LaRowe, CEO of Brooks Memorial Hospital in Dunkirk.
Olean General Hospital is seeing an uptick in patients both from Cattaraugus and Allegany counties.
That being the case, Dr. William Mills, the chief medical officer at the hospital, is doing what medical professionals everywhere are doing: urging people to wear masks and avoid large gatherings during the upcoming holidays.