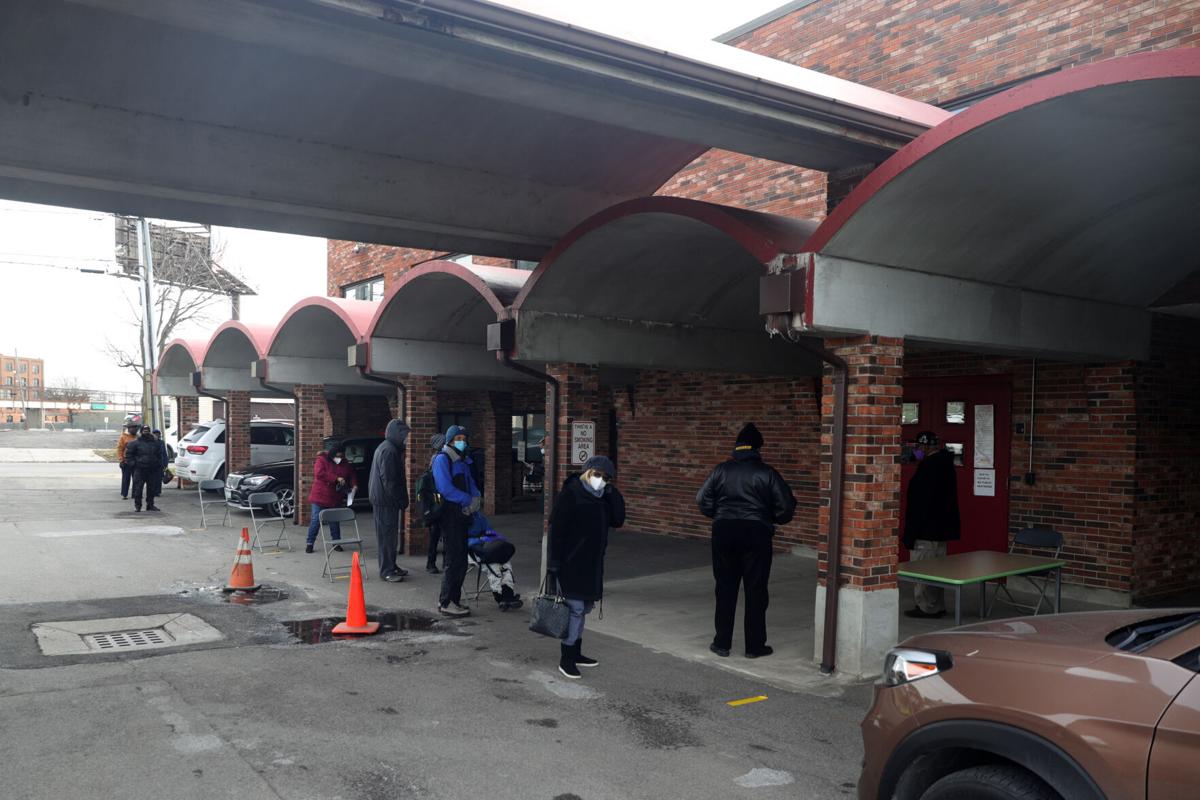 When I heard the number on a radio show, it stopped me in my tracks.
In fact, it sounded too bad to possibly be true.
But that doesn't mean the correct number when it comes to African Americans who've gotten the Covid-19 vaccine is all that much better.
Despite months of being inundated with information about comorbidities and the underlying socioeconomic disparities that make Blacks much more susceptible to bad outcomes, African Americans still are not getting Covid-19 vaccines at rates commensurate with their share of the population.
In Erie County, for instance, while African Americans make up 13.1% of the total population of those 15 and older, they make up only 9.4% of those who've gotten at least one vaccine dose, according to the state's Vaccine Demographic Data website as of the beginning of the week.
Whites, on the other hand, account for 83.6% of those with at least one dose, slightly higher than their 81.1% share of the population; while those of Asian descent make up 5.9% of those who've gotten a jab, outpacing their 3.6% share of the county population. Hispanics make up 4.9% of those who've gotten at least one dose, about on par with their 5.0% share of the county population, according to the state data.
While the difference between 9.4% and 13.1% among African Americans may not sound like much, it equates to about 18,725 more Blacks in Erie County who would have at least one vaccine dose if they just got inoculated proportionately.
And while it was easy to misinterpret the state data to mean that only 9.4% of African Americans have gotten a shot – which would be truly startling – the accurate interpretation is still of little comfort.
"Either way you read that number, it's still saying there are far too many of us" who are not vaccinated, said the Rev. Kinzer M. Pointer of the African American Health Equities Task Force, who pointed to the Delta variant as an added reason for concern.
Experts estimate what while someone with the original virus that causes Covid-19 could infect about two others, each person with the Delta variant – which is now dominant in New York – could infect five others.
Pointer calls that difference "scary" because those 18,725 unvaccinated African Americans could have an impact far beyond their numbers.
But apparently it's not scary enough to get more Blacks to protect themselves and those around them.
State, county and local officials, working with the task force, have mounted public education campaigns and taken vaccination clinics into the neighborhoods to make it as easy as possible – and still the numbers lag.
Pointer recalled a recent outreach effort at an East Side church in which volunteers canvassed the neighborhood, knocked on doors and told people about the vaccination clinic set up at the church.
"All you had to do was walk across the street, around the corner, and get a vaccination," he said, adding that though several hundred folks came out for the church's community day event, only about two dozen got vaccinated.
"We're doing all kinds of things" trying to increase the numbers, he said, crediting Erie County Health Commissioner Gale Burstein with working proactively to boost rates in the community. But if people won't get the shot "it doesn't matter what we do."
Why are African Americans so hesitant?
"Name the crazy, and it's coming out of people's mouths," he said, even at this late date when all of the nonsense has been thoroughly debunked. Pointer cited everything from the notion that the vaccine is a means of implanting microchips to the fear that it's the mark of the devil.
"When people search the internet, search engines are geared toward negative information. People assume that because it comes up first, it's the right information … And it's the most searched information, so it keeps coming up," Pointer said, blaming social media companies for not doing more to combat misinformation about the life-saving vaccine.
It's not just in Erie County that people who suffer the most because of comorbidities and social conditions and who need the vaccine most are getting it at lower rates. Statewide, African Americans make up 17.3% of the 15 and older population, but just 13.6% of those who've gotten a Covid shot, the state data show.
While the history of mistrust of the medical system is well-documented and understandable, at some point current realities have to take hold, including the fact that a Black scientist played a key role in developing the vaccine and that Black physicians have been among its most vocal advocates.
On the other hand, maybe it's time to put that mistrust to good use.
In fact, at this point there may be only one thing left to try: The federal Centers for Disease Control and Prevention should announce that, starting immediately, Covid-19 vaccines will only be made available to whites.
That would surely spark mass demonstrations dwarfing protests over police abuse, voter suppression or anything else.
Perhaps then, and only then, will African Americans so used to being denied equal access seize the medical lifeline being tossed their way, a lifeline other groups have been much more willing to grab.