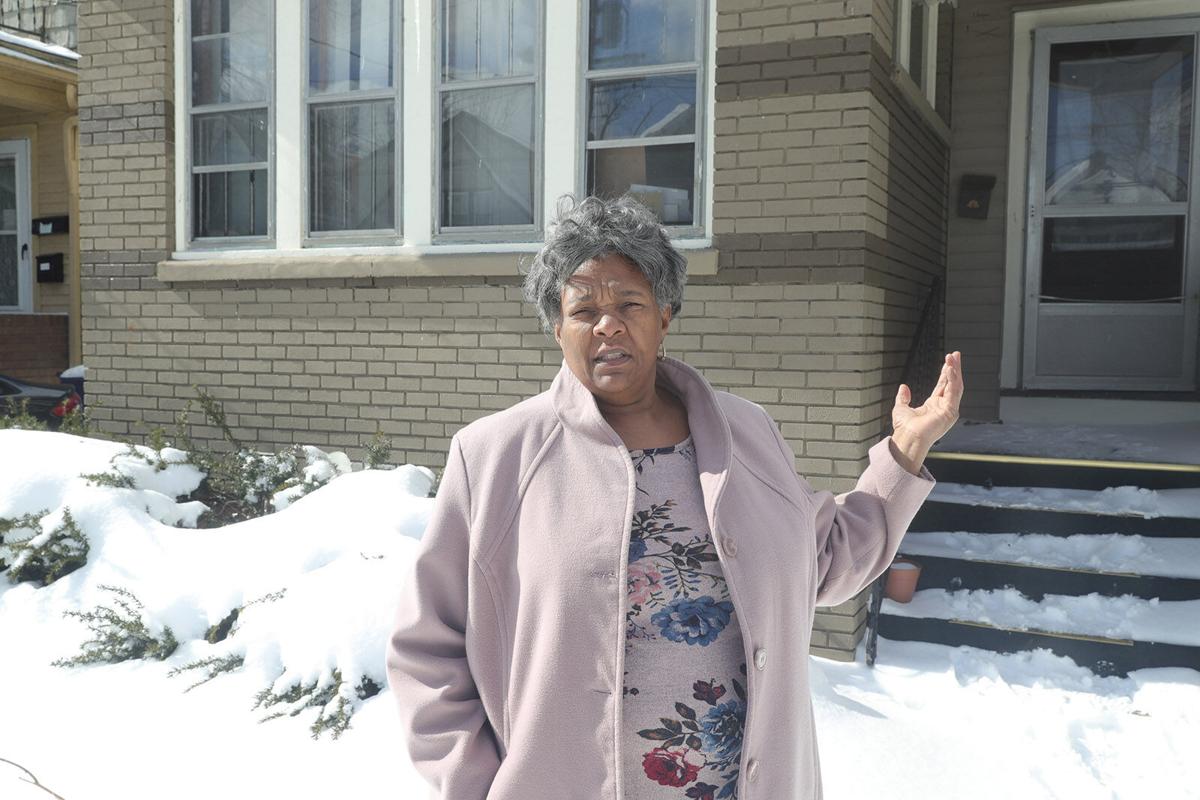 The stories of landlords turning to "self-help" evictions – changing the locks, turning off utilities, etc. – to get around moratoriums on removing tenants amid the pandemic illustrate capitalism at its worst as they circumvent protections for those whose jobs and income disappeared through no fault of their own.
But there's also another side to the story – and Sheila Fields can tell it.
Fields is a Buffalo landlord with four apartments, one of them in her Manhattan Street duplex in the Central Park neighborhood. Her nightmare – much of it documented with security camera and cellphone video – began shortly after she rented to a young woman last April.
Soon the woman, citing the moratorium, stopped paying the $750 a month rent even though, Fields said, she was working as a health care aide and, in fact, had worked for the family caring for Fields' mother.
"Her case was not Covid-related because she was still working," said Fields, who saw the woman leave every morning with her uniform on. "She was just taking advantage of the situation."
The tenant didn't pay from June through October, when she finally moved out – but not before video shows her attacking Fields' daughter when the family tried to perform maintenance in the apartment. Other video shows the tenant's brother arriving with friends and barging into Fields unit, where she says he attacked her before one of his friends can be heard saying "leave her alone, that's a (expletive) lady."
The family filed police reports and got a restraining order. But through it all, Fields couldn't even file for eviction because courts temporarily shut down during the pandemic and then were swamped with a backlog.
"You can't even take a person to court," she lamented.
It left her – and any other landlords in a similar situation – with no rental income and no recourse, despite the fact that she still had to pay the taxes, user fees and water bills.
"It's serious. We could lose our property," she said. "We're not the Fortune 500, like big, multi-unit complexes."
Attorney Robert Friedman points to legislation pending in Albany that would tap unspent funds from a federal program to help renters and landlords in recognition of what the pandemic has wrought. The real estate publication the Real Deal pegs New York's amount of leftover funds at $60 million from the original $100 million allocation.
The proposed legislation would allow for up to a year in rent and utility arrears plus three months of prospective costs for eligible renters based on income and who are "experiencing unemployment, a reduction in income, significant costs or other financial hardship, directly or indirectly due to the COVID-19 outbreak, and demonstrating a risk of homelessness or housing instability." Payments would be made "directly to the landlord" on behalf of eligible tenants.
But despite the broad eligibility criteria, it wouldn't appear to help someone like Fields whose tenant already milked as much as possible from the situation and decided to move on. With no tenant on whose behalf she could apply, Fields appears out of luck.
My guess is, she's not the only one.
Friedman said she could sue for the back rent, once courts fully reopen, but that no doubt would be like chasing the wind. And Fields knows it, despite the fact that the tenant cited the pandemic in feeling she didn't have to pay and despite the Covid-induced court shutdown that stopped her from filing for eviction.
"If they're giving out money, they should at least take care of the landlords that are owed," she said of any pending legislation.
The plight of low-income tenants is real. Earlier this month, the Housing Justice for All coalition that includes PUSH Buffalo and other local groups warned that the pandemic has put tenants at the mercy of "unruly landlords, property managers and slumlords."
The groups are mounting an effort to alert affected tenants about the need to file the hardship declaration the state implemented to prevent evictions and foreclosures of those "who have endured COVID-related hardship" until at least May 1.
But the coalition also is mindful of the plight of small landlords. While pushing for rent cancellation – instead of leaving unemployed tenants owing months of back rent once moratoriums are lifted – they also advocate creation of a "hardship fund" to assist small and nonprofit landlords.
A PUSH Buffalo tenant advocate said she would envision any such hardship fund – if one is created, and that's a big if – also helping landlords like Fields. But she noted there's often a gap between how programs should work in the eyes of advocates and how they end up being legislated and implemented.
While all of that is being hashed out, Fields' Manhattan Street apartment, as well as units in her other house next door, are vacant. She has no immediate plans to rent them until she gets a better handle on what she can do to prevent a recurrence.
"Not right now, until I figure out what's going on," she said of the pandemic, the moratorium and Albany's efforts to help.
Meanwhile, the taxes still have to be paid ... and so does the garbage fee … and the water bill …