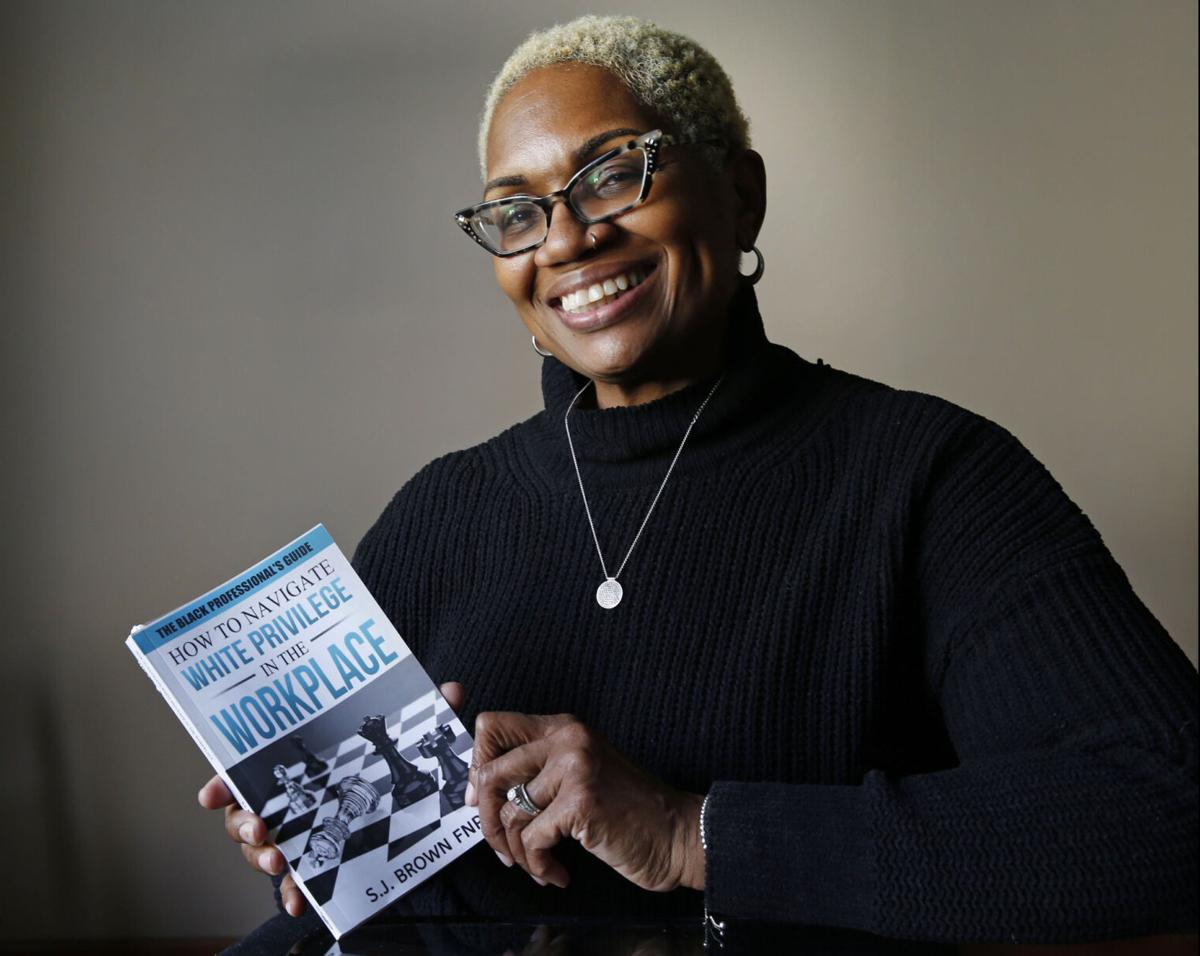 Some of the most important rules of life in the workplace – especially for people of color – are the ones that aren't written down anywhere.
So Buffalo author Shondra Brown decided to write a few of them down.
Why put them on paper? The name of her book says it all: "How to Navigate White Privilege in the Workplace: The Black Professional's Guide."
With chapter titles like "Don't Get Too Comfortable," "Get Up and Go to Work!" and "Racism? Sure. Now Prove It!" the often-humorous, 120-page book is a user's manual for Blacks and other underrepresented workers.
Based on her experiences during 24 hears as a health care professional, as well as interviews with those in other fields, Brown tries to help readers avoid the minefields that come with being Black in a white workplace.
One of those dangers is feeling the need to prove one's worth. She recalls being in a meeting and piping up when she thought it was straying from the problem at hand. Her boss then challenged her to come up with a solution, which she did – and then also cc'd others.
"In my arrogance at the gauntlet she threw down, I picked it up and threw it right back down in front of her. She was my boss!" Brown writes. "She could've made my job very miserable."
The lesson: Instead of going out of your way to prove yourself, sometimes it's best for a person of color to follow the title of the opening chapter and know when to just "Stay Out of the Way."
Other suggestions include having a white friend "on the inside" who can alert you to any issues before they arise because "there is always going to be petty nitpicking." She also counsels readers to "document everything" so that you have a paper trail when it's time to call out co-workers for their micro-aggressions or worse.
In addition to tips on how to deal with racism in the workplace, the book contains some equally important advice for people of color: Dot all of your i's and cross your t's so that you don't leave yourself vulnerable in the first place.
That includes not calling in sick the day after a big concert, as well as realizing that "if you are not 15 minutes early, you are late."
"Time and attendance or lack thereof is the quickest way to get walked off a job," Brown writes, adding later that a "good work ethic will keep you out of a lot of trouble."
Those are rules too many workers of color never learn, leaving themselves vulnerable even if they think race is an issue in their disparate treatment. They can scream racism all day long, but they have no leg to stand on if the company can point to issues with their work ethic or work product as the reason.
But as valuable as the book is for Blacks, it also can be learning tool for open-minded whites.
"I've had white people … who said it was an eye-opener for them," said Brown, a family nurse practitioner who earned bachelor's and master's degrees from D'Youville College. "It helped them see some of their faults and biases, and not giving the benefit of the doubt."
Brown said the genesis of the book was an encounter with a white nurse who cursed her in front of patients and other employees, yet kept her job. Brown felt sure she would have been fired for the same behavior.
"Somebody has to talk about this," she thought. So she is.
The City Honors graduate has worked at various Western New York hospitals and health care agencies as well as the VA Western New York Health Care System over the past two decades. While she doesn't call out specific institutions in the book, she wasn't too concerned about current or former co-workers recognizing themselves or their employers in the examples.
"I really didn't care. I had no qualms about what I was saying," she said. "If people had a problem with the book, then they are part of the problem."
She notes that some readers – including people of color – don't finish the book because it hits too close to home if they were guilty of some of the infractions she warns against.
And while some readers might think the language generalizes too much when talking about whites, she makes clear early on the value of relationships with whites who don't claim not to see color – everyone sees color – but who instead "truly see past color" and who will "appreciate you for who you are."
The book – available on Amazon and through Brown's shondrasplace.com website – is for both workers of color and white managers. The intent, she notes in a promotional video, is not to play the "blame game." Rather, it is to explain "some of the perils that people of color face in the workplace."
Somebody needed to write a book like that. Now people need to read it.