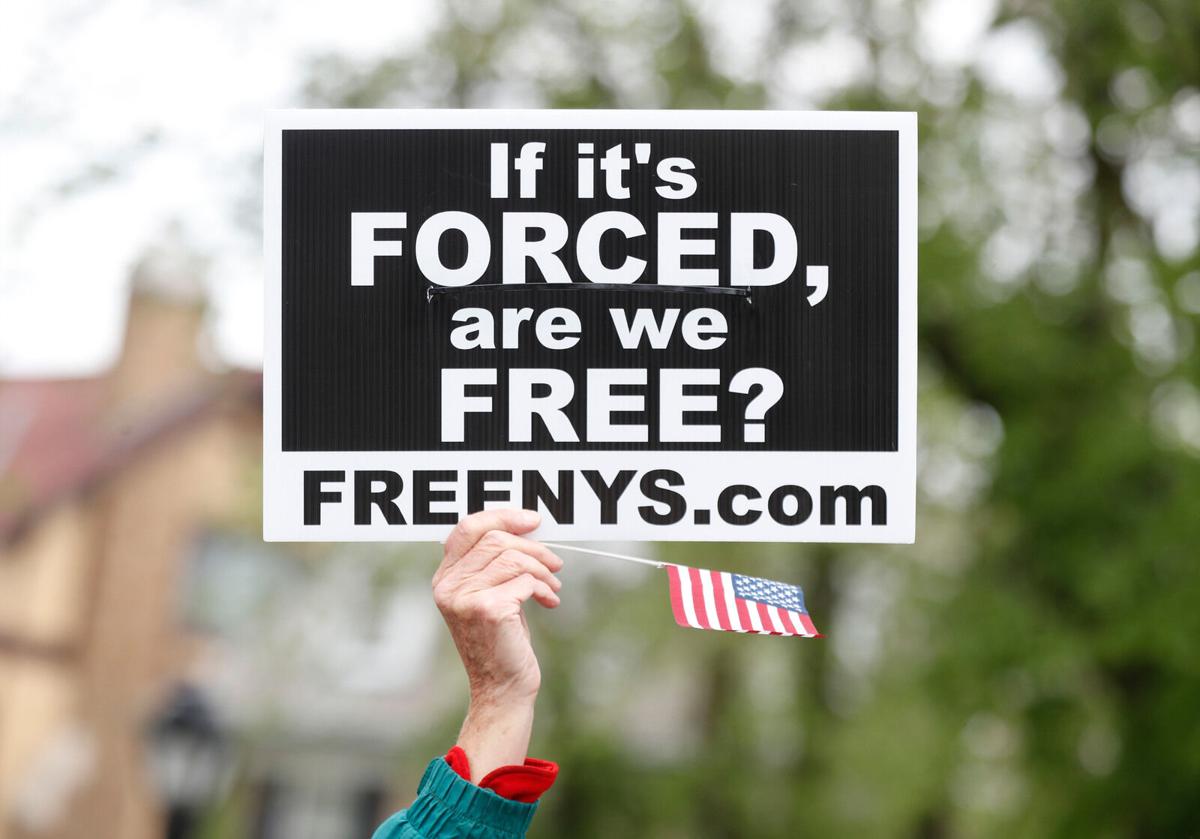 "I don't think people should just assume that next week we're back to normal." — Erie County Executive Mark Poloncarz in November 2020
"It is not fun to be the person who has to keep saying, 'OK it's not over yet, we have to keep doing this,' but I'm saying this in the context of we want to get back to normal." – Gov. Kathy Hochul, just over a year later
Since we're still in the holiday season and being charitable, I won't say our esteemed leaders were being disingenuous in continuing to propagate the idea that we actually want to get "back to normal" after two years of the pandemic.
Let's just say they're giving our unvaccinated, unmasked friends and relatives way too much credit.
If our communal resolution heading into the new year is honesty, let's be candid about the fact that we don't really want to return to normal. At least way too many of us don't.
If we did, we already know what would get us there. The experts – both those in the white coats and those on their deathbeds who find religion too late – have been telling us for months.
But from Niagara to Orleans to Genesee counties, we refuse to get inoculated. Based on state numbers showing the total population and the number of residents with a completed series of shots, Covid-19 vaccination rates vary from 44.5% in Allegany County and 49.9% in Cattaraugus to 53.5% in Orleans, 58.5% in Genesee, 63.3% in Niagara and 67.5% in Erie. That compares to 71.3% statewide, according to Centers for Disease Control and Prevention data, and is not anywhere near enough to reach herd immunity.
Yet despite those anemic Western New York numbers, many of our so-called leaders – mostly Republicans, predictably – oppose the vaccine and mask mandates that low vaccination rates and highly transmissible variants demand.
Why such opposition? I couldn't fathom it – until an old conservative talking point came to mind. Adapted for the pandemic, it's the only thing that makes any sense, as macabre as it might seem.
Remember all of the blather about "poverty pimps" back in the 1990s? The idea was that liberal politicians pushed government programs in order to make their constituents dependent on the assistance – and thus assure the politicians a faithful base of support to keep them in office.
But at least what those politicians were peddling helped keep people alive.
Now we have just the opposite. "Pandemic pimps" loudly oppose vaccine and mask mandates because that's what their flag-waving constituents like to hear. From Genesee and Orleans to Chautauqua and Niagara counties, GOP leaders trumpet some false notion of freedom in order to play to their base.
And people keep dying as a result.
An NPR analysis this month looked at deaths per 100,000 people in some 3,000 counties, starting in May 2021 when vaccines became widely available. It found that people in counties that voted heavily for GOP presidential candidate Donald Trump "have been nearly three times as likely to die from Covid-19 as those who live in areas that went for now-President Biden."
This despite the fact that Trump himself – ever the narcissist in chief – quietly got vaccinated and boosted and has now belatedly tried to promote the vaccines developed during his tenure. But even he, still toying with a comeback, won't get behind mandates because it's easier to capitalize on ignorance than to eradicate it.
That's the GOP game plan for winning at every level, starting in Western New York, where every county except Erie went for Trump – an ominous indicator of deaths to come, based on the NPR analysis.
But so what if people needlessly die? They're just collateral damage in the war on facts, and medical cannon fodder for the re-election efforts of politicians who want an issue to run on rather than a solution.
Not that Democrats have always been profiles in political courage. Hochul, for instance, appears to be trying to have it both ways – placate one side by saying the state has a mask mandate, then placate the other by doing little or nothing to enforce it. I can hardly wait to see what new steps she unveils on Friday.
But if squeamish Democrats aren't going far enough, at least they're not taking us in the wrong direction for political gain.
So no, don't expect a return to "normal" any time soon in 2022, no matter how many politicians dangle that as a prospect.