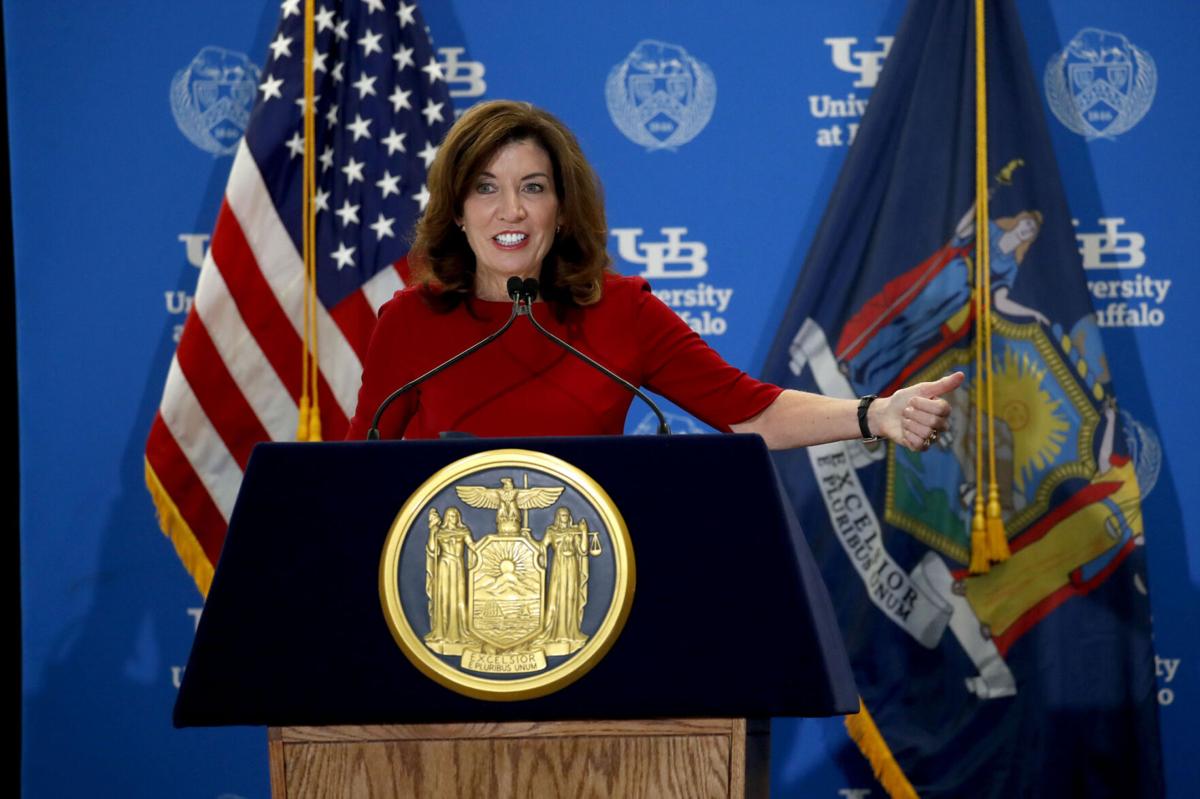 When Gov. Kathy Hochul signed legislation last week extending the ability of governments to hold meetings online or by phone during the pandemic, she and other officials gushed about "transparency" and "accessibility."
But if Hochul really wants to show that she's a new breed of leader, that insufficient move will be just a first step because there's so much more she can do if New Yorkers are really to have the open and accessible government they deserve.
Even the extension itself, which might seem sensible as the Delta variant rages, is but a half step. In a joint statement, a coalition of good-government groups rightly point out that the choice between in-person and remote meetings was a false one. They note that, while safer during a pandemic, remote meetings also make it "considerably more difficult for reporters and the public to voice their opinions, press officials on issues, or get statements on the record."
They are calling for a hybrid model in which, for example, a board president and chief executive might convene in-person with members of the public who want to show up. Meanwhile, other board members as well as citizens who might benefit from remote meetings – such as those with disabilities or transportation challenges – could still participate virtually.
"So there's an option to do both," said John Kaehny, executive director of Reinvent Albany, citing the value in having journalists and citizens be able to question officials before and after a meeting. "That matters. We'd like to see that preserved," he said, adding that there are nine bills in the Assembly trying to get at that.
That's one reason the groups are calling on the Assembly and Senate government operations committees to hold hearings on updating the Open Meetings Law before this latest temporary exemption expires Jan. 15.
But while dealing with the pandemic may be the immediate impetus, New York's anemic law has serious shortcomings well beyond that, shortcomings Hochul needs to tackle if she really intends to keep her vow to change governmental culture.
For instance, something as fundamental as posting meeting documents online ahead of time so that the public understands what's being discussed and voted on has to be done only "as best as practicable," which basically leaves it up to the governmental agency to make that determination, said Paul Wolf, president of the locally based New York Coalition for Open Government.
Nor does New York's law mandate that the public be allowed to weigh in before a vote is taken, Wolf noted, adding that some governmental bodies let the public speak at committee meetings only, not at their action meetings.
But as serious as those shortcomings are, the major concern is that the law is a paper tiger.
"One of the biggest problems is there's no enforcement authority," Wolf said.
Unlike states like Florida, Connecticut or Massachusetts that allow officials to go after violators and impose meaningful fines, New York's Committee on Open Government can merely issue advisory opinions. Instead, New York puts the burden on individual citizens to sue, and even if they win, the most they can collect is attorney's fees, and "that happens pretty rarely," Wolf said.
Kaehny agrees that New York's Committee on Open Government "is built to fail, the way it's currently constituted."
All of that, not just remote meetings, should be on the table.
Kenneth Zebrowski, chairman of the Assembly Governmental Operations Committee, said he and a colleague were already planning to hold hearings, probably in October.
"You've got a lot of divergent views on the issue" of in-person versus remote meetings, he noted, calling the extension passed last week "an option, not a mandate."
But he said the hearings will deal not just with that, but with the full range of issues relating to the Open Meetings Law not just during the pandemic, but beyond.
That's encouraging because the problems with New York's law predate Covid-19 and, without action, will be here long after it wanes. But it will take more than just legislative hearings, it will take committed leadership by the new governor.
The pandemic has put a spotlight on New York's law, laying bare its many weaknesses. Hochul should not waste this crisis in addressing them – all of them.