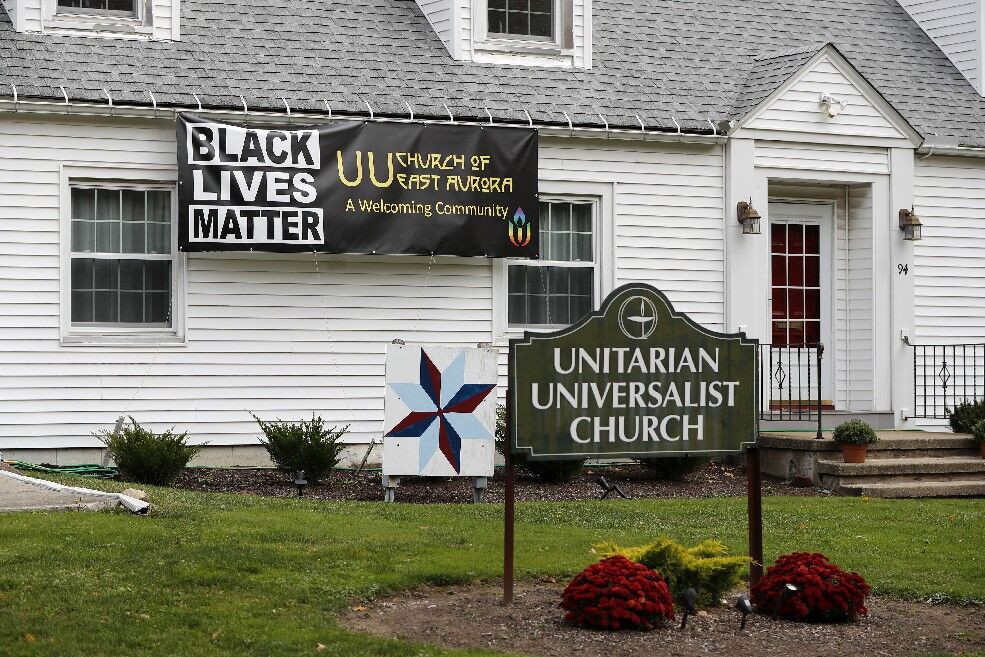 You can say that Black lives matter without doing anything to ensure that they do.
You also can quietly demonstrate your commitment to that prospect without ever calling wider attention to the issue.
But the 1-2 punch of publicly expressing a faith that you also live out in deeds is a combination that can be both powerful and powerfully unsettling.
An East Aurora church found that out when a complaint about its Black Lives Matter banner drew the ire of village officials, who cited zoning rules in saying the banner was too big and – when combined with another social justice sign – put the church over the limit on the number of ways it could express its convictions.
In other words, keep your faith and your convictions – or at least that conviction – to yourself.
But the small church would not back down or be quiet. Instead, it was looking for legal help to press its First Amendment case after the village also barred it from using a lawyer who wanted to help because the attorney had previously represented the village in another sign dispute.
Fortunately, common sense or the law – or some combination of the two – prevailed.
Last week the Unitarian Universalist Church of East Aurora won variances from the village Zoning Board of Appeals to turn the temporary banner into a permanent 4-foot-by-8-foot sign in addition to its existing sign with the church name. That's one more sign than is typically allowed, and larger than the normal 6 square feet.
Rich Moglia-Cannon, board chairman of the 31-member church, credits Mayor Peter Mercurio with reaching out and trying to facilitate a compromise after the controversy was outlined last fall in The Buffalo News.
He said that led to a back and forth over a couple of months that resulted in the church being able to "continue to send our message to the community."
Mercurio deflected any credit to zoning and code enforcement officials for working out a resolution. The compromise averted a court fight and still resulted in the church being able to communicate its message in a form large enough to have an impact.
Though initially described as 4 feet by 8 feet, village officials said the Black Lives Matter banner actually is 4 feet by 12 feet and the new sign now will be 4-by-8. Moglia-Cannon said that will allow it to fit between windows on the church wall facing Buffalo Road and still get the message across.
"The big thing was being able to see it from the road easily," he said.
The village hid behind zoning ordinances for the residential neighborhood where the church is located, and insisted its crackdown in response to a complaint was content neutral. It was just a coincidence that it decided to drop the hammer on that particular message. 
My hunch is that, in addition to violating the First Amendment, that explanation also violated the Ninth Commandment – the one about bearing false witness.
Had the dispute gone to court, attorney Barry N. Covert said the village ordinance, especially the limit on the number of signs, would have been "problematic" as a curb on political discourse.
Covert took up the church's cause after learning of its legal quandary after the village nixed its first attorney.
"I think it is important for First Amendment purposes for any organization to be able to assert their message and engage in social discourse," Covert said.
While all of the focus has been on the banner, the church dedicated to social justice realizes that the sign itself has to be merely symbolic of a commitment that runs much deeper, particularly in a community that Census Bureau figures show is less than 2% Black. 
To that end, it held monthly Black Lives Matter vigils through November, until Covid-19 "orange zone" restrictions prohibited such gatherings. In line with the thinking that it is no longer enough to be passively nonracist – as in hiding behind zoning codes – the church has launched a "how to be an anti-racist" program facilitated by a Black psychologist. Some village leaders might want to attend.
The church also has brought in African American speakers to diversify its Sunday services and gotten involved with Buffalo's Michigan Street African American Heritage Corridor Commission to educate members about the Black history made in Western New York.
Moglia-Cannon realizes those are small steps, but that is where change begins. He was gratified by the amount of support shown at the monthly vigils, and doesn't believe the majority of residents are closed-minded. Over the coming months, the small congregation will discuss what it can do on a larger scale, alone or by working with other organizations.
"You've got to start somewhere," he said, "and these are the things that have to happen in order to tackle a bigger project, or a bigger goal."
Moglia-Cannon also praised Mercurio for his letter in the East Aurora Advertiser last week after the town GOP put out a call for candidates who, among other things, oppose multiculturalism and then defended it to WKBW-TV. The mayor decried "divisive attitudes – the ones causing so many Americans so much stress." He added that East Aurora is open to "any upstanding person who wants to join us. All are welcome! Any color, gender, religion, be anything you want – just be a good neighbor .... It's that easy. That is what we are about. Not excluding certain people and cultures, not yelling or hatred."
Moglia-Cannon said Mercurio's statement was especially timely, given the current climate.
"Words matter right now," he said. "Him having the courage to step forward and make the statement was really important."
So is the statement the church is making that Black Lives Matter. It might eventually change the sign to lay down some other social justice marker.
But for now, that's the message that needs to be heard – especially in a place where some don't want to hear it.