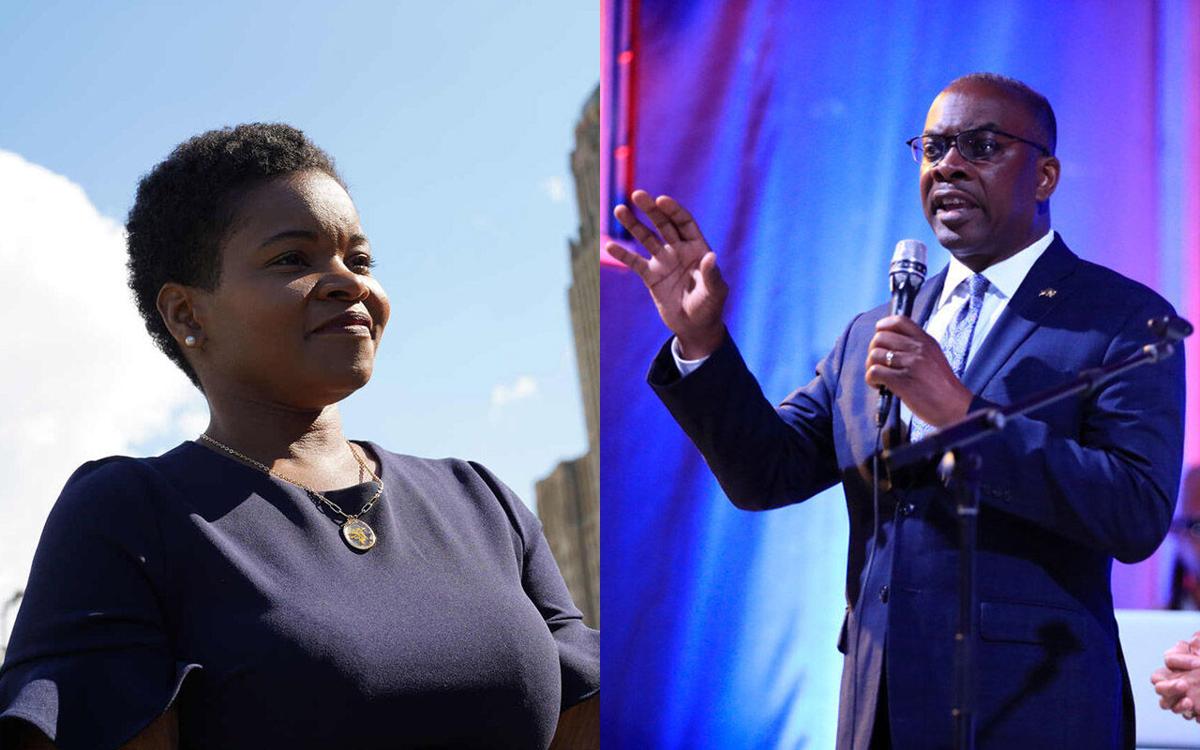 But India Walton's bid to become Buffalo's first female mayor still could get ugly. With Carl Paladino lurking in the background, how could it not?
One day before announcing a write-in bid to try to keep his job – and despite holding a fundraiser in a Paladino facility on Pearl Street – Byron Brown emphatically rejected any help from the community "leader" with the freight train full of racist baggage. But there's no guarantee the failed gubernatorial candidate booted from the Buffalo School Board – where he maligned Black females as "the sisterhood" – will listen to Brown or anyone else.
The developer is shrewd enough to know that Brown has to disavow him, but that he can still work his toxic brand of campaign outreach to those whose support the mayor may not want but whose votes still count.
But even assuming Paladino crawls back under his rock, Walton faces an even bigger challenge. Doing his best Donald Trump imitation, Brown announced his write-in effort by branding her a "radical socialist."
The difference when Brown says it is that Walton calls herself a democratic socialist, so at least part of the tag is accurate.
The question is: How radical is that?
It wasn't radical to millions of Americans who supported Bernie Sanders in two presidential campaigns because they were tired of watching the wealth and income gaps expand under policies skewed to help developers and other magnates at the expense of the working class.
Nevertheless, when Gallup last year reviewed its recent polls as well as those from other survey organizations, it found Americans' views of socialism were a net negative over the years and that those unfavorable opinions were "quite stable," with positive views "within a narrow range of 35% to 39% across the nine-year span."
However, that comes with a huge caveat that could be a factor in Buffalo: The pollster found that Democrats have a much more favorable view of socialism than Republicans, with 65% of Democrats in its most recent survey holding a positive impression.
With Democrats holding a more than 7-1 enrollment advantage in Buffalo, that's fertile ground for Walton – provided she can get her message out about what democratic socialism is, and more importantly what it is not. Her challenge will be defining a bottom-up program focused on helping average Buffalonians instead of letting herself be defined by Brown and the wealthy business leaders who will support him.
For instance, her platform talks about "cooperatively owned businesses, green jobs and democratic control of land instead of trickle-down policies and subsidies that have increased income inequality." It's a people-centered approach focused on issues like health care, neighborhood residents' input into issues that affect them and meaningful citizen oversight of police.
But it will be a challenge overcoming TV ads and business mouthpieces who will try to distort such a focus into a localized version of the Red Scare.
But it won't be just a test of Walton and her campaign; it also will be a test of the electorate and its ability to see through the inevitable smear campaign that will dominate the airwaves and social media to try to turn a two-word label into a four-letter word. It will be a test of voters' ability to resist the Pavlovian reaction Americans have been trained to give every time they hear the term.
Walton's backers are counting on a grassroots campaign to counter the big-money effort that no doubt will be waged to try to re-elect Brown. Robert Galbraith, a member of Our City Action Buffalo, said there's no way organizations like his can compete financially "with some of the wealthiest people in Buffalo who have jumped in" on Brown's behalf.
But he pointed to the Democratic primary results, in which Walton knocked Brown off the ballot, to say that "organized people can beat organized money."
Still, it's a different ballgame doing it in a general election, with less tuned-in voters who are more susceptible to both negative advertising and name recognition.
Nor should anyone assume that the difficulty of waging a write-in campaign makes that task impossible. There have been enough examples in U.S. history to underscore the viability of Brown's effort.
In 1954, Strom Thurmond – the South Carolina segregationist with the secret biracial daughter – became the first person to ever win a U.S. Senate seat as a write-in candidate. The late Democrat Charlie Wilson won his Ohio House seat with a write-in campaign in 2006. Detroit Mayor Mike Duggan won the 2013 Democratic primary with a write-in effort. And in perhaps the best-known example, independent-minded Alaskan Lisa Murkowski retained her U.S. Senate seat in 2010 with a write-in effort after losing the GOP primary.
In other words, primary day was just the beginning, not the end of this mayoral campaign.
For those who believe in instant karma, Brown's defeat was the perfect punishment for the lack of respect he showed both voters and the democratic process by refusing to debate Walton.
But he does have a record to run on, including being at the helm for the development of the waterfront and the medical campus and returning cars to Main Street. He also will make much of the nurse and community organizer's lack of government experience – a legitimate issue, but one that can cut both ways, given the number of people who wonder what government has done for them lately.
Now, he'll probably clamor for debates. Those forums, plus the coming ad war and the media attention Walton's upset is garnering, will ensure that the mayor's record and Walton's platform both get scrutiny.
But those won't be the only things voters will hear. The question is whether they will be sophisticated enough to know that you can't judge a book by the cover somebody else tries to slap on it.