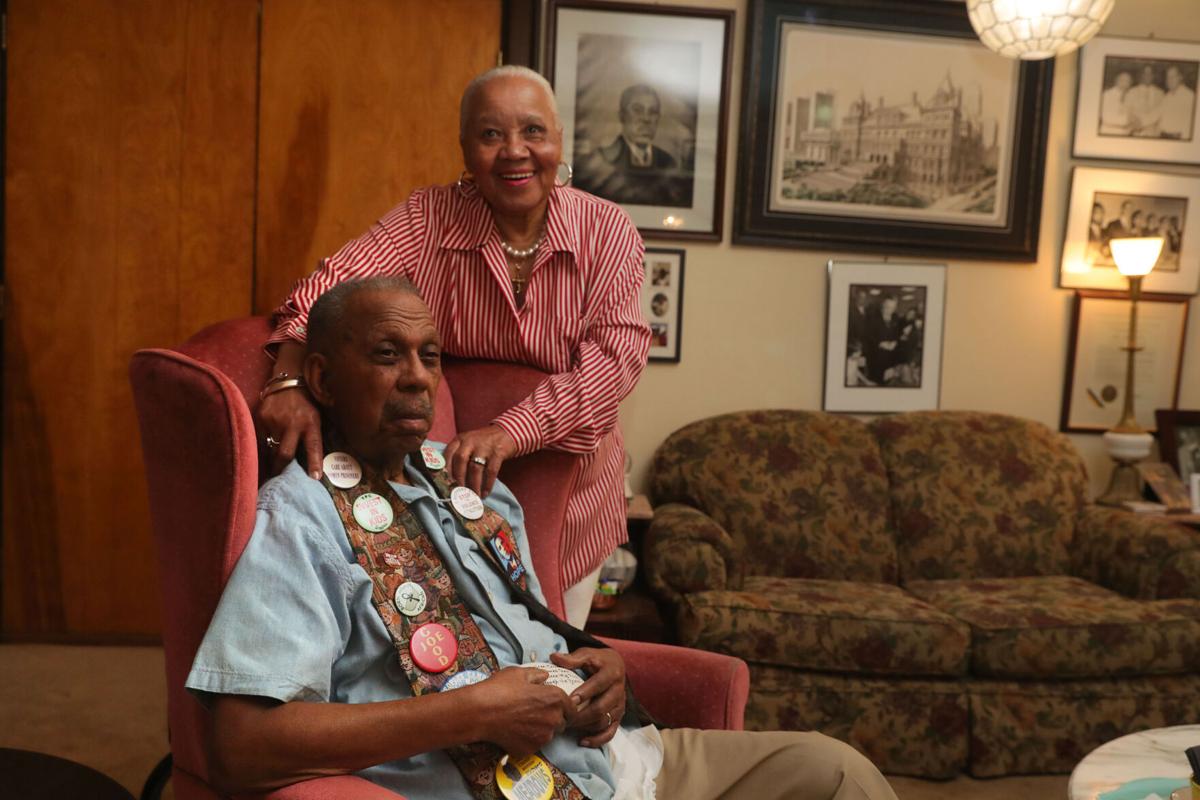 When you think of power couples, Bill and Hillary Clinton probably come to mind.
Or maybe – at least until their recent divorce announcement – Bill and Melinda Gates.
But when it comes to longevity and local impact – especially in boosting those who need help most – it would be hard to top Arthur and Constance Eve.
As they celebrate their 65th wedding anniversary Thursday, the decidedly liberal couple remain the embodiment of the dream conservatives have long tried to claim as their own: a strong two-parent family that nurtured five successful children.
Yet they also found ways to do so much more.
The Eves – he as a 36-year member of the State Assembly who rose to deputy speaker, she as a college professor and founder of a program to help troubled women – have always lived a faith that recognizes that not everyone was as fortunate as they were in overcoming obstacles.
Rather than pulling the ladder up behind them, they extended it so that more New Yorkers who need help could get a foothold. It's a philosophy of reaching out and reaching back that has regularly come under political assault in America.
But the retired Assembly leader knows all too well about being under attack. When he won the Democratic primary and seemed poised to become Buffalo's first Black mayor in 1977, it brought out the city's worst. His daughter Leecia, only 12 or 13 then, recalls having a cross burned on their front lawn and answering the family phone only to be assaulted with racist slurs.
The bigoted attacks were a precursor. In the general election, city voters preferred a white minor-party candidate to the history Eve tried to make.
But that didn't stop him. His way of getting even was to help other Blacks – and aspirants of all races – get ahead.
Among other things, that meant fighting to preserve funding for the Educational Opportunity Programs he had pushed through a decade earlier. The programs had such an impact in helping young people of all backgrounds get a college education that in 2014 Buffalo's downtown Educational Opportunity Program center was dedicated in his name.
Leecia Eve recalls how some governors and legislators tried unsuccessfully to cut the programs.
"Now people just can't imagine what New York would be without them," she said of the initiatives he authored.
Even his most formidable campaign opponent – Assembly Majority Leader Crystal Peoples-Stokes, who narrowly lost a primary to him in 2000, two years before he retired – benefited from the programs and credits them for, in a roundabout way, where she is today.
While she had her sights set on historically Black Hampton or Virginia Union universities, her parents – while putting a premium on education – also valued frugality. Once Eve pushed through his college aid programs for New York schools, they insisted she take advantage of the local opportunity.
Though livid at the time, Peoples-Stokes realizes now she would not be Assembly majority leader because had she gone away to school, she probably would not have returned to Buffalo. Instead, she got bachelor's and master's degrees from Buffalo State College because of Eve's programs and credits him with leaving "an amazing legacy."
But in his 24 years as deputy Assembly speaker – the chamber's highest ranking Black at the time – he opened doors not just to colleges and universities, but also to the state jobs Blacks had long been shut out of.
Warren Galloway, a longtime political observer and former top aide in the Giambra administration, credits Eve with increasing Buffalo's Black middle class because before him, "you had very few African Americans in top state-level positions."
Eve also used his clout to make sure the region – including the Buffalo schools and what eventually became the medical corridor – was not overlooked in a state capital dominated by New York City interests.
"Art Eve made sure Buffalo and Western New York got its fair share of state dollars," Galloway said.
In fighting for those who needed help most and calling out inequity, Eve was never shy and was living proof of the saying that "politics ain't beanbag." He accused white-led governments of committing "genocide" against Blacks, said then-Gov. Mario Cuomo's budget would make New York "the most racist state in the nation" and that the Buffalo School Board's treatment of a beleaguered Black superintendent was "similar to the massacre of the inmates and guards at Attica prison."
Such passion around issues of race ignited critics and even made allies squirm. But contrast that with the outright lies that pass for political discourse today, and it lends new perspective to his hyperbole. In fact, though he might wince at the comparison, it brings to mind the oft-forgotten part of Barry Goldwater's famous 1964 quote: Moderation in the pursuit of justice is no virtue.
More important, such rhetoric never stopped the fiery liberal Democrat from teaming up with then-Republican State Sen. Dale Volker of Depew, a staunch conservative, to bring state money back to Western New York.
That kind of bipartisanship for the greater good almost seems quaint in today's political environment, but it remains the only hope in a pluralistic society. And if such an "odd couple," as they were dubbed, could do it, it makes you wonder who so few of today's politicians can similarly rise to the occasion.
While Arthur Eve was off making Albany work for Western New York, Constance Eve was raising the kids while creating opportunities in her own way. An English professor at Erie Community College, she was the first African American woman to be tenured there, her daughter recalls.
But helping students was not enough after the 1978 case of Gail Trait, who murdered her three young daughters and toddler son in her Buffalo apartment. As she recalled in a 1998 interview, Constance Eve wondered if there would be anybody there to help "this poor, sick mother" if she ever was released – or to help others like her.
That prompted her to found Women for Human Rights and Dignity to help incarcerated women as well as to try to keep women out of prison in the first place.
Over the ensuing decades, WHRD established housing for single, low-income mothers; ran a Women's Residential Resource Center and Alternative to Incarceration program; and its Center for Educational and Vocational Enrichment provided training and GED preparation.
And it started Project Joy, a Christmas-season initiative that for three decades took judges, lawyers, educators and other volunteers to Albion Correctional Facility for Women to inform inmates about their rights and the services available to help them upon release.
The work earned Constance Eve a trip to Atlanta in 1998 to receive the National Alexis de Tocqueville Award, the most prestigious award given by United Way of America. The honor put her in the company of prior winners such as former Presidents Jimmy Carter and Ronald Reagan and entertainer Bob Hope.
Doing all of that while managing the household as her husband took care of business in Albany "tells you how extraordinary my mother is," said Leecia Eve, Verizon's vice president for public policy whose résumé includes high-level posts with Andrew Cuomo, Hillary Clinton and Joe Biden. Her brothers have done everything from working for White House cabinet secretaries to starting their own consulting firms.
Not bad for a family who watched their father go into the Attica Correctional Facility in 1971 to try to quell an uprising while, in Leecia's words, "not knowing if he would come out alive."
They also had to deal with criticisms that rolled off his back but which bothered them. She says her father had clarity about his role and told them, "People may not like me but they respect me … because they know what I am fighting for and why I am fighting for it."
"He was a spokesperson. Today, we don't even have a spokesperson," says Ted Kirkland, who's been a columnist, radio commentator and author critiquing the plight of Buffalo's Black community. "Art was able to articulate the problems Black people were having."
Maybe that's why a former Assembly speaker called Eve "my conscience."
He was often called a lot worse. But that never deterred him or Constance – each 88 now, and having faced health challenges – from fighting for justice for those who needed warriors, and reaching across the political aisle to do it.
We could really use that kind of conscience – and courage – right about now.