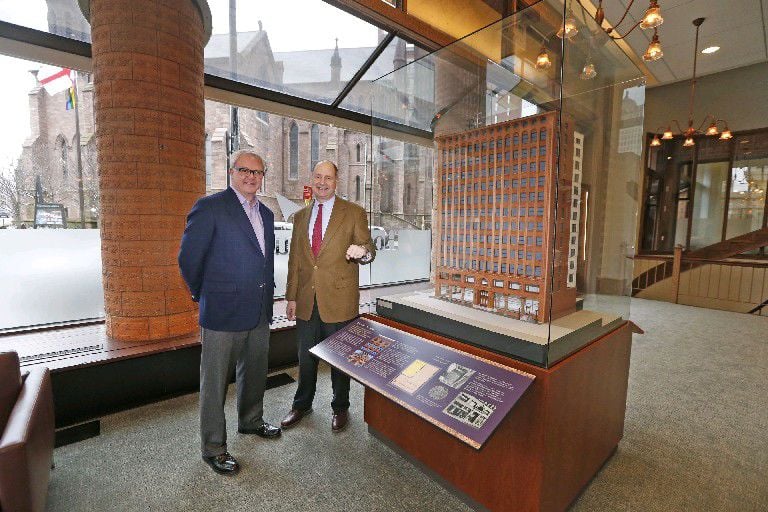 Hugh M. Russ III is a third-generation lawyer on his father's side and fifth-generation on his mother's. He went to premier schools. He is presumed to belong when he enters upscale establishments or corridors of influence.
He is, in other words, part of Western New York's power elite.
With that background, a lot of people would contend he has benefited from "white privilege."
But when he says it, it just might carry a little bit more impact.
That's because Russ is a partner in the heavyweight law firm Hodgson Russ as well as president of the Bar Association of Erie County. Those positions give him a platform and influence most people don't have.
That, too, is part of white privilege.
But instead of pretending it doesn't exist, Russ wants to talk about it. In fact, he already is, laying it out in an open letter in the Bar Association's fall newsletter and hoping to start a community conversation about the concept and its impacts.
"It's something I've been thinking about for a long time," said Russ, a member of the highly selective American College of Trial Lawyers. "I've always sort of known it; it was more a process of admitting it to myself than realizing it."
Talking about his family history and how it benefited him, Russ wrote in the BAEC Bulletin: "I started with an unquestionable advantage. I now understand and today publicly acknowledge that advantage – that boost – as white privilege."
Admitting white privilege exists remains a challenge for too many other Americans – particularly whites who are less well-off than Russ and who point out that they worked hard for what they have. So did Russ, noting in the article that he worked like a dog in law school and that he still does.
But he also knows there's something else working in his favor, too. While he understands and acknowledges the objections of working-class whites who never enjoyed the financial head start he had, he knows white privilege is about more than just economics.
"Feeling comfortable in certain situations, having access to certain individuals or organizations – that has nothing to do with money … it has to do with being white," he said, pointing to the expectations society imposes based on race. "The expectations are different if you grew up on one side of Main Street or the other."
Those expectations confer white privilege in ways far beyond just the financial advantages you can accumulate and hand down to your children.
It means not being followed around in a store because it's assumed you're going to steal something.
It means not being steered to houses in a particular neighborhood and away from those in other communities.
It means not being charged more for a loan or for insurance than others with similar financial histories.
It means not having the police called on you while engaging in routine activities.
And it means not having to live with the day-to-day stress of wondering which of those indignities you may have to cope with next.
In other words, it means automatically being given the benefit of the doubt, regardless of your income or educational level, simply because your skin is white.
When he was running for president in 1999, former U.S. Sen. Bill Bradley talked about "white-skin privilege," one of the first prominent whites I can recall raising the issue in such a direct way.
Some two decades later – and after countless incidents of driving while Black, shopping while Black, jogging while Black or just living (and dying) while Black – it's apparent Bradley's critique didn't get much traction. In fact, in some ways – the attacks on voting rights and the backlash against teaching accurate history, to name just two – it feels like we've gone backward.
Russ recognizes the troubling direction the nation has taken, from the Big Lie, to Jan. 6 to the anti-vaccine movement. When it comes to school board fights over "critical race theory" – which isn't even taught in K-12 – he sees the protests as code for something more basic, something he's now trying to tackle.
"I think it's really about the history of white privilege and trying to maintain the status quo," he said.
In the article, he noted that such racism does not have to be intentional, or even conscious. But unless he chooses to act otherwise, he recognizes that his everyday decisions "reinforce … systems that benefit my family and me, while simultaneously harming people of color."
Russ laughed when asked if the association knew what it was getting when elevating him to the presidency.
"I don't know if the Bar Association was ready for me, but they ended up with me," he said.
But now that he's acknowledged white privilege, the obvious question becomes: What is he going to do about it?
For one, Russ said, as president he's made race and equity the Bar Association's No. 1 priority, a key focus in everything from which programs it puts on, to its "continuing education" subject matter to the composition of its committees.
At Hodgson Russ, he said, the firm has undertaken initiatives on hiring and on educating attorneys and other workers about diversity. But Russ recognizes the shortcoming of the "one and done" approach when it comes to diversity training, adding that "it's something that takes constant vigilance."
"A big part of it is making noise … and trying to foster a conversation among my various circles and in the wider community," he said.
Reaction to the article so far has included expressions of relief that somebody has put the issue out there, he said, though others have accused him of disavowing his heritage or turning his back on his own.
"But most of the feedback has been positive," said Russ, who envisions convening a forum as one step in confronting the issue and who wants the discussion to extend beyond just the legal profession.
Of course, we've been here before in Western New York. From the study circles and multiracial conversations of the 1990s to the Greater Buffalo Racial Equity Roundtable Report of 2016, community leaders have tried to grapple with structural racism and white privilege, even if it wasn't always called that.
But the fact that it still remains a blind spot for so many whites – who, after all, are the ones who have to dismantle it –  makes it all the more important that someone of Russ' prominence has taken up the challenge in 2021.
Sure, it's just words on paper so far, and a more equitable endpoint is far from certain. But as he said in concluding his open letter, "We have to start somewhere."