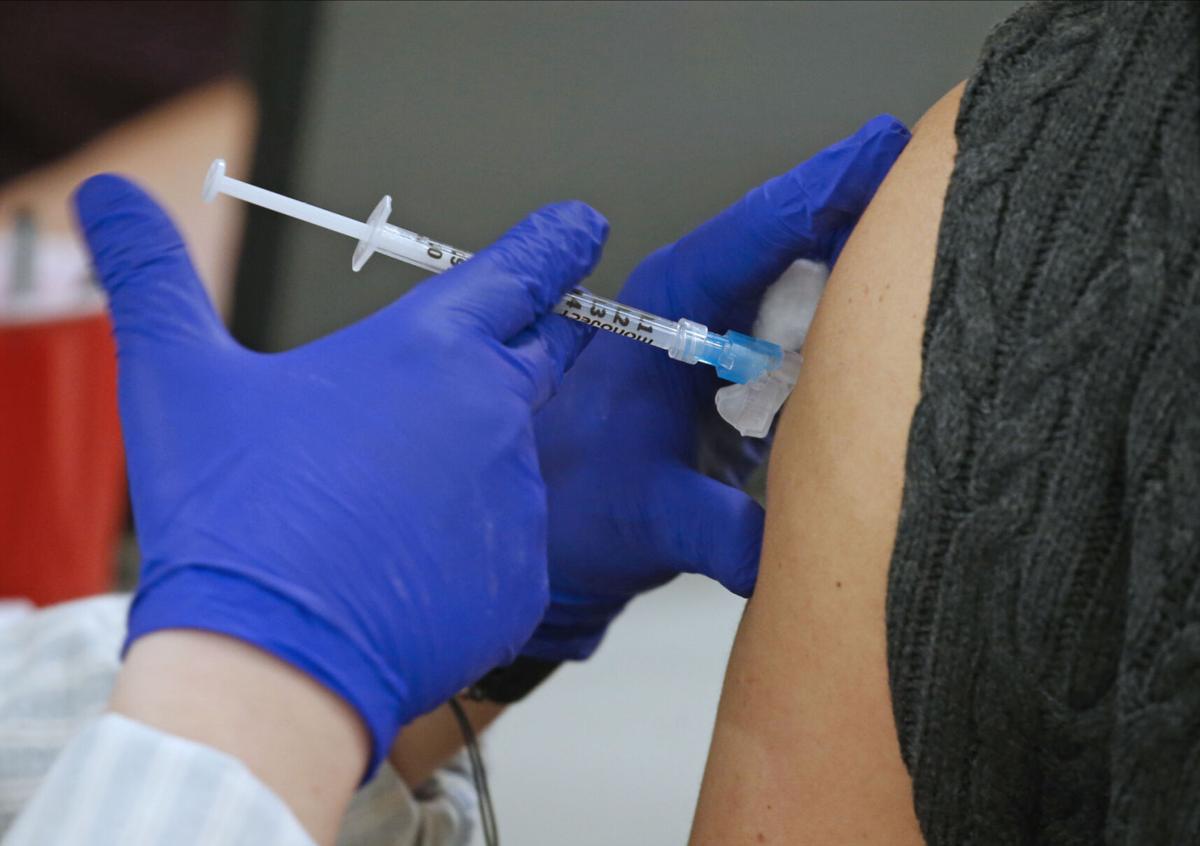 New York State is running out of Covid-19 vaccines, the latest and most severe disruption to what has proved a rocky rollout in the race to vaccinate Western New Yorkers.
But a range of community vaccine providers say they've also struggled with poor communication and coordination on the part of state and regional officials.
Among other issues, the governor and state Department of Health have repeatedly directed residents to vaccination sites, via its website or the governor's news conferences, that had not yet received vaccine shipments or set up appointment systems.
The state has been slow to approve vaccine shipments to some community providers, even before the current shortages.
And it has kept many providers in the dark on key information surrounding the rollout, including questions as basic as how many people have been vaccinated and where. The Western New York Vaccine Hub, charged with coordinating vaccine distribution across the region, held  its first call for providers on Wednesday – and persistent issues with the conference line, including difficulties muting noisy participants, made large portions of the meeting inaudible, a person who attended said.
"Things could have been done differently in New York State," said Dr. Bruce Y. Lee, a professor of health policy and management at the City University of New York and the executive director of a research team that plans emergency mass vaccinations. As things stand, he added: "It's like a football team running out on the field and not talking to each other. It quickly becomes disastrous."
Distribution of the Covid-19 vaccine was always bound to be daunting, but the U.S. rollout has proven even slower and more disjointed than public health experts predicted. With no coordinated federal distribution effort, and little initial funding for supplies and staff, states have had to rapidly devise their own systems for getting vaccines to an anxious public.
In New York, hospitals received doses first as part of an effort to prioritize front-line health care workers and accommodate the low-temperature storage requirements of the first available vaccine. Over the past 27 days, the state Department of Health has also allocated doses to community providers, such as federally qualified health centers, urgent care centers, county health departments, physicians' groups and retail pharmacies. Vaccinations in nursing homes have largely been administered by a separate federal program, contracted to CVS and Walgreens.
Community providers who spoke to The Buffalo News over the past two weeks – many on condition of anonymity to avoid jeopardizing their relationship with the state – said they signed on to the program months ago in an effort to help the region battle Covid-19. While some providers are compensated for administering the vaccine, they are not reimbursed for overtime, supply purchases or other expenses. Many have reassigned staff from their regular tasks to answer phones, give shots and schedule appointments.
But on several fronts, providers said, the state has made those jobs difficult, even after accounting for the national vaccine shortage and the lack of federal support. One consistent complaint relates to vaccine shipments: While facilities can request as many doses per week as they believe they can administer in that period, there have been lengthy lags between requests and approvals, representatives from three different providers said.
Providers have, for instance, requested vaccines and never received them. Or they received more or fewer doses than they expected. At one facility, staff scrambled to stand up an immunization program and then waited days for the state to confirm they would receive the vaccines they'd been promised. At another, the state sent vaccines earmarked for a strict subset of front-line workers, with no guidance on how the facility should schedule or contact them for appointments.
The state Department of Health has directed providers to email – not call – with their questions, even if urgent. Providers are similarly required to email an anonymous group inbox at Catholic Health to facilitate vaccine transfers from hospitals and health care centers with surpluses. One provider said they waited more than a week for responses from both Catholic Health and the state DOH.
In a Wednesday call with community providers, Catholic Health CEO Mark Sullivan acknowledged that responses had initially been slow. Wait times are now down to 24 hours, he said, after Catholic Health assigned two additional staffers to monitor the email.
"It's a logistical nightmare," said one person with close knowledge of the rollout at a community vaccine provider.
Administering the Covid-19 vaccine is not like dispensing pills or giving flu shots, they added. Because of the vaccine's short shelf life, the entire vial – 10 shots in total – must be injected the day they're opened. Vaccinators who do not use 95% of their shipments within a week face potential penalties from state regulators.
The confusion has been further exacerbated by public miscommunications on the state level. First on Jan. 4, and later on Jan. 11 and 12, Gov. Andrew M. Cuomo rapidly expanded the pool of New Yorkers eligible for vaccines, sometimes before providers had received shipments or even knew they'd been tapped to provide them.
At no point was that more visible than in the second week of January, when Cuomo announced in back-to-back news conferences that adults over the age of 75 – and later, adults over the age of 65 – could immediately begin receiving shots at retail pharmacies and local health departments. The state then published a list of participating pharmacies online, complete with phone numbers that thousands of patients assumed they could call to schedule appointments.
The announcement surprised Stephen Giroux, a past president of the National Community Pharmacists Association and the owner of seven independent pharmacies, who had only just received a "cryptic" email from the state health department the afternoon before, asking how many shots he believed he could administer in a week. Customers flooded his pharmacies – and dozens of others, as well as the county Department of Health – with phone calls and messages seeking appointments. Giroux had planned to use a web portal to facilitate scheduling, but hadn't had time to launch it yet.
At IvyLea Pharmacy in Kenmore, a terse automated message asked callers "to be patient," explaining that "we do not know when we will receive more of the vaccine."
On Jan. 12, Erie County Executive Mark Poloncarz repeatedly begged residents on Twitter to stop calling the county health department, which was bombarded with more than 18,000 calls in a 24-hour period. A state website explicitly told vaccine-eligible patients to call the health department.
"It just doesn't make any sense, how it's being handled," Giroux told The News the day after Cuomo's announcement. "But we're going to comply the best we can and make the best of it."
'Repairing the plane' while flying it
Logistics seem to be improving, Giroux said last Wednesday – a sense of optimism that some, though not all, vaccine providers share. The 100 appointments he offered at Wurlitzer Family Pharmacy in North Tonawanda filled within 15 minutes of launching its web portal on the night of Jan. 12. This week, the pharmacy should receive enough doses to vaccinate another 100 patients.
Sullivan said that local and state coordinators were learning from early glitches in the distribution system, adding that they were both "building and repairing the plane" while flying it. Representatives from Catholic Health, the state Department of Health and Lt. Gov. Kathy Hochul's staff referred questions to Cuomo's office, which did not provide an on-the-record response until after this story published. 
"The problem is that we have been a hostage of the Trump Administration and their federal process since day one," said Larry Schwartz, a long-time Cuomo advisor tasked with leading New York's vaccine rollout, in a statement. "We get told on Tuesday afternoons or Wednesday mornings what our allocations are going to be and we have to calculate in a matter of days how to distribute that insufficient allocation to thousands of providers statewide. We are in constant communication with providers and share information as soon as we have it." 
Cuomo has repeatedly blamed the federal government for the state's distribution woes, criticizing the outgoing Trump administration for failing to fund state-level distribution and allocate adequate doses. Last week, the federal shortage led to New York's weekly allocation falling to 250,000 doses from 300,000, forcing Erie County to cancel several vaccination clinics and leaving community providers in a renewed state of limbo.
Better planning at the federal level definitely would have eased the problems local providers are now having on the ground, said Lee, the CUNY professor. But he disputed claims that the federal government bore full responsibility for problems with New York's rollout.
State officials did consult Lee's group about vaccine distribution, but not in any depth, he said.
"The federal government should have played a more active role in coordinating all the states in a national rollout," he said. "Because many people at the state and municipal levels do not have the resources or authority –or, in many cases, the expertise and experience – to know how to coordinate these very complex systems."
The ongoing issues have left him and others questioning New York's strategy for mass Covid-19 vaccination. Writing on his blog Jan. 14, the political scientist John Bachellor, a former Empire State Development official, called the rollout "ad-hoc and poorly communicated" and urged the Cuomo administration to "move away from its insular style of policy development and implementation" to a model that includes more transparent coordination with state and local actors.
In particular, community providers in Western New York – and county officials across the state – have urged the state to lean more heavily on the emergency vaccination plans that county health departments have maintained for more than a decade. County health departments have more experience coordinating across the region's fragmented and competitive health care system, said the vaccine program coordinator at one community health provider, and could have ramped up their infrastructure more quickly.
"What I am still waiting to see is the regional hub officials really meeting the moment with the urgency that is asked of them," the coordinator said. "This pandemic is still an emergency. We should be devoting as much time as possible to moving vaccines through the community as quickly as possible. The time spent working preserving and perfecting a typical bureaucratic infrastructure is valuable, life-saving time wasted."
Some local providers have also questioned the logic of the strict prioritization scheme, given ongoing issues around communicating eligibility to patients and scheduling appointments. The priority phases are based on recommendations from the Centers for Disease Control and Prevention, but states have varied in how strictly they enforce them.
New York has threatened steep fines for any provider that vaccinates a nonpriority patient, on top of penalties for those who did not use up their vaccines. While the state has since added some allowances to those rules, the risk still spooked small providers like Giroux, who initially requested a "very conservative" shipment of vaccines.
His pharmacies, which have been ordered to vaccinate seniors, are still turning away teachers, first-responders and other eligible front-line workers confused about where they can get the vaccine.
"It's very hard for people to understand if they're eligible or not," said Dr. Alanna Krolikowski, the chief medical officer at Jericho Road Community Health Center. "There's a lot of complexity right now, so the sooner you open it to everyone I think probably the easier it's going to be."
Providers are hopeful coordination will keep improving, perhaps with more funding from the federal government. The administration of President Biden has promised an additional $20 billion to fund vaccine distribution, as well as expanded partnerships with federally qualified health care centers, a type of community provider. The Biden administration is also expected to release more data on vaccine availability to help state and local officials regulate their supply chains and to stand up mobile vaccination units and community immunization sites in places like schools and community centers.
"It's a work in progress and we'll get there," Giroux said. "They'll get their shots, just maybe not quite as quickly as they'd like to get them."