Rob Gronkowski struggled with herniated discs and a pair each of concussions, right knee surgeries and forearm fractures during nine seasons with the New England Patriots before he retired in 2019.
"I was not in a good place with my body and health," the tight end wrote this week while answering several questions by email from The Buffalo News. "With a year off, I was able to focus on my body and mind. Eating healthy and getting the right nutrition is key to recovering no matter who you are. Unless you have a very severe illness, your body can do amazing things if you treat it right."
Gronkowski, 32, credited endurance, strength training and a recovery approach gleaned from teammate Tom Brady, along with lessons from family members in Western New York who make much of their living from the fitness business, for his return to football. Below are excerpts from the interview with The Buffalo News.
Q: What did you do to keep yourself in shape before you joined the Tampa Bay Buccaneers in 2020?
I had lost a lot of weight the previous year to help my body recover. I had to bulk back up without hurting my joints. I was able to adapt to a lot more functional fitness workouts that took the stress off of lifting. Products like the Inertia Wave bands that are easy on the joints but work the muscles like crazy. Or a belt squat instead of putting a bar on my back to squat.
Q: What have you learned from Tom Brady, and what role did that play?
Tom is far ahead of the game when it comes to recovery and maintaining athleticism. He was the perfect person to have around when it comes to fitness and longevity. I was able to learn a lot from him and the people around him, especially in the last few years.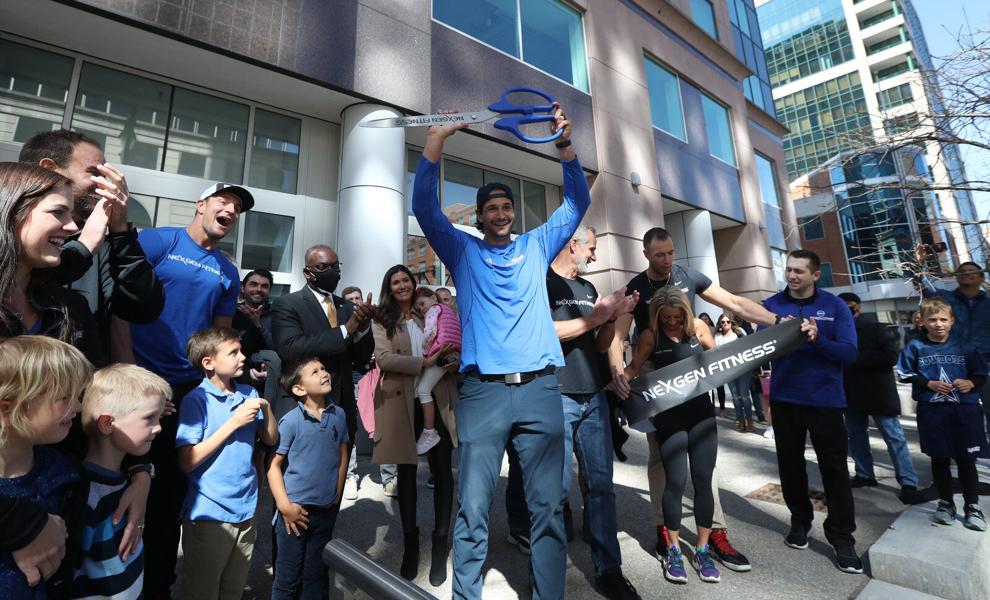 Q: How does NexGen Fitness incorporate the keys to nutrition and fitness important to you – including the recovery program it uses?
The Gronkowskis' NexGen site occupies about 4,000 square feet on the first floor of Fountain Plaza in downtown Buffalo.
My family and I teamed up with NexGen Fitness because we loved the message and concepts. The personal trainers are really focused on each individual. The training philosophy is very similar to what I now do with low-impact functional movements. You get your own workout suite with the equipment that our family installs. Plus, we added the recovery side with the salt room, saunas and ice therapy. It's a place where you can go and change your entire lifestyle to be a better version of yourself.  
Q: What did you use in the Buffalo gym during the offseason?
I got a few workouts this past summer when I was in town. I love the salt room though. Definitely my favorite. It's a good way to clean out your system and open the lungs to get a lot of oxygen in. 
Q: You've missed the last three games, including the Bucs-Patriots, this month because of a rib injury. What are you doing to get back on the field as safely and quickly as possible?
Eating healthy, getting rest and rehabbing. That's about all you can do!