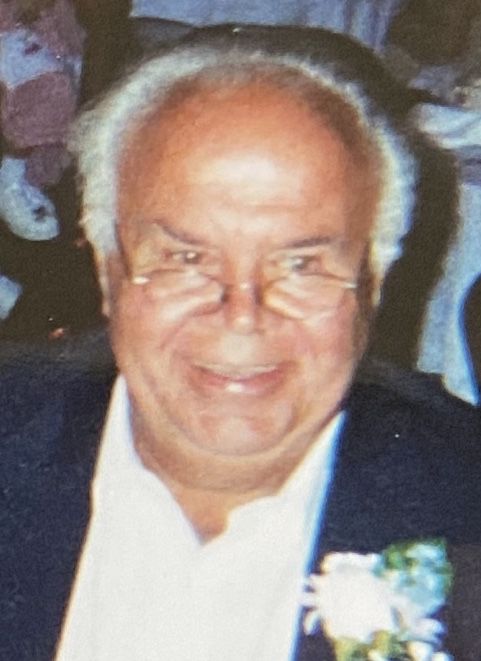 Sept. 4, 1934 -- May 25, 2020
The Malamute Tavern at Michigan and South Park avenues attracted people from all walks of life.
It drew "everyone from neighborhood locals, factory workers and construction trades workers to Buffalo notables," including mayors, police chiefs, judges, politicians, intellectuals and professional athletes, said Richard Pyszczek Jr., whose father ran the tavern for 48 years.
But for Richard Pyszczek Sr., who owned the bar and restaurant from 1965 until 2013, it was much more.
"It's been my whole life," he told Buffalo News reporter Jay Rey in 2013.
In retirement, the elder Mr. Pyszczek, who enjoyed traveling and boating, "just relaxed," his son said.
"He and I went to the Florida Keys a few times," he said. "It was nice."
Richard S. Pyszczek Sr. died in his Kaisertown home on May 25, 2020. He was 85.
The Malamute, Rey wrote in 2013, "has always been a blue-collar tavern, whose customers worked for the city or the nearby grain mills or the Great Lakes freighters that docked in Buffalo. Over the years, Pyszczek cashed their checks and got them in and out for lunch and sponsored softball and bowling teams. He was known to throw a few bucks to those down on their luck, or help find a job for those without."
During his 48 years of operating the Malamute, which included 20 years of living literally over the tavern, Mr. Pyszczek helped raise thousands for charities, including the American Cancer Society, the Leukemia and Lymphoma Society and the Muscular Dystrophy Association.
Richard S. Pyszczek was born on Sept. 4, 1934, in Buffalo, one of four children of Sophie and Walter Pyszczek. He attended St. Stanislaus Elementary and Bishop Ryan High School in Buffalo.
At 19, Mr. Pyszczek enlisted in the U.S. Marine Corps. After basic training at Camp Lejeune, N.C., he was deployed to the Injim River, near the demilitarized zone, during the Korean War.
"Luckily, he said, no shots were ever fired while he was stationed there," his son said.
After being honorably discharged in May 1956 from Camp Pendleton near San Diego, Mr. Pyszczek hitchhiked home to Buffalo.
"He recounted how in those days, Americans were only too happy to lend a hand to help a returning war veteran in uniform," his son said.
Mr. Pyszczek worked at General Mills for 10 years before buying the Malamute Saloon on Dec. 17, 1965. At the time, it was located at 52 Michigan Ave., kitty-corner from its later location.
The business was named after the famous Malemute Saloon in Alaska – spelled differently – which is mentioned in the poem "The Shooting of Dan McGrew" by Robert W. Service.
In the 1970s, he was cited by the state Liquor Authority for using the term "Saloon," which "was deemed derogatory," said his son.
"We later changed it to the Malamute Tavern," he added.
The building at 52 Michigan was an original sailors' rooming house, and its upper floors were too deteriorated to repair, his son said, so after 12 years Mr. Pyszczek moved the Malamute across the street. The move happened a week before the Blizzard of '77.
Richard Pyszczek Jr., who was a youngster, remembers sleeping on the pool table during the nights that neighbors, downtown office workers and passersby took refuge in the bar while the blizzard howled outside.
"They were bartending and cooking; we ran out of food, we ran out of beer," said Pyszczek Jr.
To this day, when people connect his name with the Malamute, they often say that they knew people who rode out the blizzard in the tavern.
After the move across the street, Pyszczek Jr. said, "the business just seemed to take off."
Mr. Pyszczek and his wife Rose were renowned for their homemade chicken noodle soup and beef on weck sandwiches.
"They did all the cooking themselves," their son said.
"The bar appealed to all walks of life and many levels of society," said Pyszczek Jr., because "honesty and hard work were welcomed and respected." While the KeyBank Center was being built, many construction workers ate lunch there, alongside the job's construction superintendent, he said.
Good-natured pranks were common at the Malamute. Anyone who rang a large bell hanging over the bar had to buy a round for the house.
"Pyszczek always found a way to dupe the newcomers into pulling the rope," Rey wrote in 2013.
In late July 2013, after word got out that the Malamute was closing, "old friends from all parts of the county came to bid farewell," Rey wrote.
From 1977 to 1994, Mr. Pyszczek also worked for the City of Buffalo Streets and Sanitation Department as a member of AFSCME Local 264.
Mr. Pyszczek owned a series of fishing boats, each named "Malamute," on which he enjoyed summer trips on Lake Erie with friends and family. He liked to visit New York City each September to attend Yankees games and the Feast of San Gennaro in Little Italy. He enjoyed scuba diving on the Great Lakes, Atlantic Ocean and the Gulf of Mexico, and vacationing in Cancun and the Florida Keys with Rose.
He married Grace Fiebelkorn in 1958 and had four children. After that marriage ended, he married Rose Dingeldey in 1972. She died on July 4, 2002.
Besides his son Richard S. Pyszczek Jr., Mr. Pyszczek is survived by three daughters, Ann Basher and Lisa and Sally Pyszczek; another son, Christopher Pyszczek; a brother, Mike Pyszczek; a sister, Marie Cumbo; and five grandchildren.
A celebration of life is planned for the summer.
Get local news delivered to your inbox!
Subscribe to our Daily Headlines newsletter.