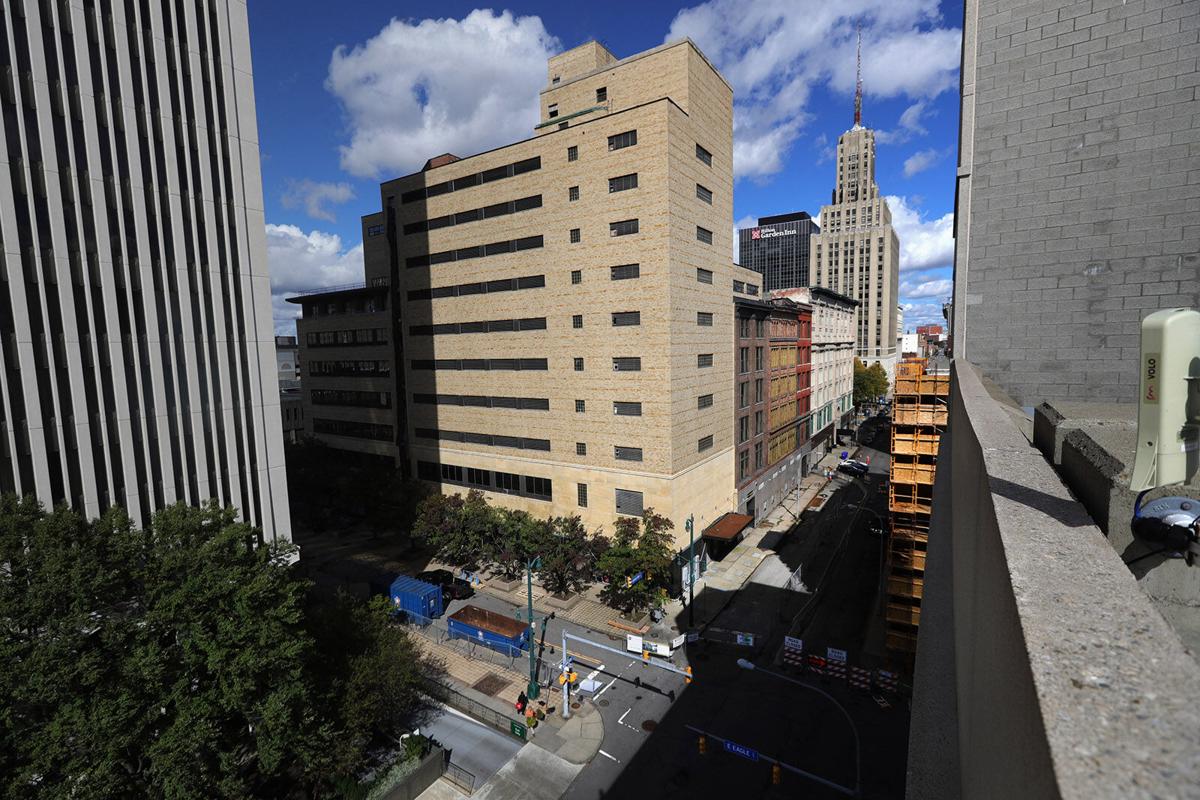 The new owners of the AM&A's department store building in downtown Buffalo have adjusted their redevelopment plans for the 10-story complex, adding 16 more apartments to the mix while eliminating a floor of office space.
The ownership group, Elena Fu Yiyao's 377 Main Realty, is converting the 350,000-square-foot building into a 287,061-square-foot mixed-use project, with both office and residential space. Plans for the renamed J.N. Adam Building had previously called for the lower half of the abandoned building – through the fifth floor – to become office, retail and common-area space, while 33 apartments would take up floors six through 10.
But the group had left open the possibility that the fifth floor would be turned into apartments instead, and adopted the changed plan, which was approved Monday by the Buffalo Planning Board.
The $50 million project entails 49 apartment units on the top six floors, with 13,000 square feet of first-floor retail space and 85,000 square feet of office on floors two through four. Four apartments will have exterior balconies while 29 will have interior balconies opening into one of four giant lightwells carved into the complex from the roof down to the third floor.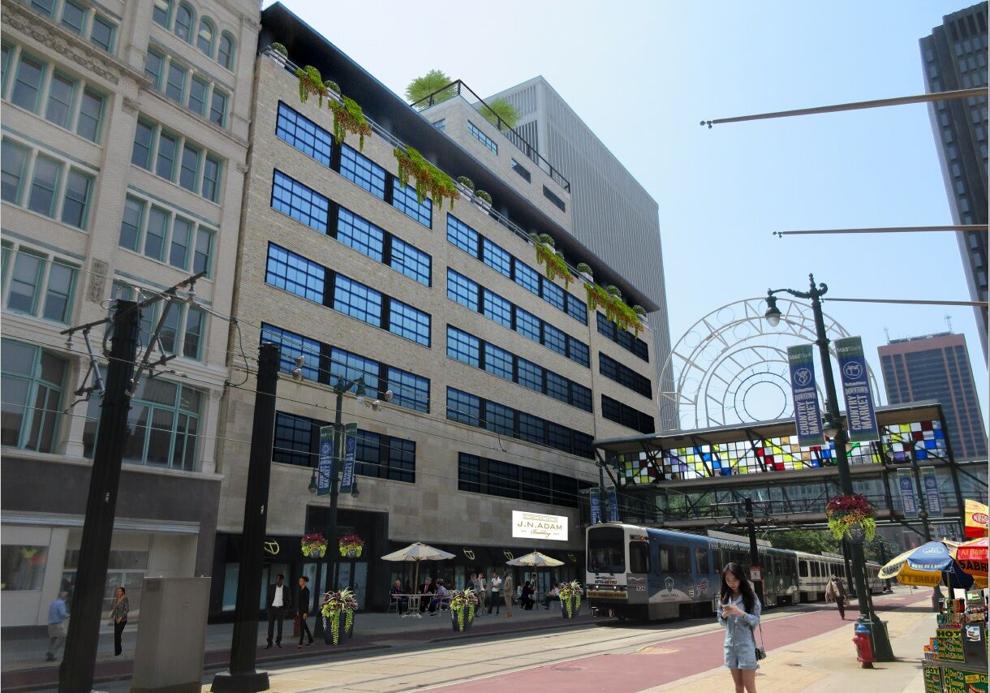 The building will also include penthouse apartments and a penthouse activity room, as well as a rooftop patio on the seventh floor, a fitness center and a first-floor cafe with outdoor seating on Main Street.
Twenty-eight parking spaces are still envisioned, with some on part of the first floor accessible from Eagle Street and the rest in half of the basement, reachable from Washington Street.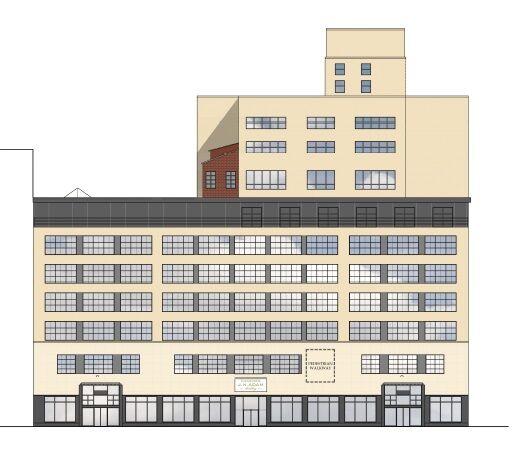 The development team – including Savarino Companies – plans to "restore the building as much as we can to the historic look," and will be relying on historic tax credits to help with the funding, said Samuel Savarino.
Historic windows will be reinstalled throughout the building, and the existing brick and stone facade will be restored.
Savarino said officials also expect to finish the repairs to the utility vaults underneath Washington within six weeks, allowing the city to reopen the street.
"It's hallelujah time," said Board Vice Chair Cynthia Schwartz. "We've been waiting for this building to find life for 25 years now. I think we're finally looking at something that's feasible and will finally come about, and I haven't felt that way about proposals about this building for a very long time."
Also on Monday, the Planning Board approved:
• A request by Rick Smith, owner of the Silo City complex on the Buffalo River, to combine and redivide four parcels for purposes of redeveloping the American Elevator buildings into apartments, with parking on adjacent land.
• A special-use permit application for Emmanuel Temple Seventh-Day Adventist Church to build and operate a new facility and sanctuary at 726 Jefferson Ave., at Genesee Street, with a 300-seat worship center, a fellowship hall, religious education rooms, youth rooms and a multipurpose hall.
• A rezoning of the vacant residential parcel at 298 Hampshire St., so PUSH Buffalo can have more flexibility in creating a new workforce training center on the adjacent commercial parcel at 169 Arkansas.
• A special-use permit request by Chartered Professors LLC to allow limited outdoor dining, alcohol and live music at a former synagogue-turned-church at 351 Tacoma Ave., which it is converting into a community performance venue and an educational conference center focused on Italian medical students. Officials stressed that events would be infrequent and cited community support, but the board still restricted the hours of operation to 9 p.m., barred outdoor music on public property and capped at 60 the number of people that could spill out onto the patio. "We want to be supportive, but we also want to be protective of the neighborhood," Schwartz said.