When it comes to recouping money restaurants have lost to the Covid shutdowns, patios have played an important part.
But with cooler weather – and winter – fast approaching, the lifeline that outdoor dining provided to restaurant owners is beginning to slip away. Faced with the prospect of losing dining space – and offering fewer tables to Covid-wary customers who prefer not to dine inside – local restaurants are at a crossroads.
Do they invest in heaters and tents that could stretch their outdoor dining season by weeks or months? And, whatever they decide, will it be enough to see them through the winter and the recession that the coronavirus outbreak has caused? 
"You have a lot of older people that are not coming out because they just don't feel comfortable," said Tappo owner Rocco Termini. "This summer, everyone has wanted the outdoor seating because they've heard about how the Covid spreads and they feel more comfortable sitting outside."
Some are going all in to extend the season. Tappo, known for its heated rooftop igloos before the pandemic, is adding greenhouses to surround each outdoor table. East Aurora's Roycroft Inn is adding outdoor heaters. Skoob's Village Grille in Lancaster is constructing a deck and open-air cafe for next year.
"We're going to extend it as long as we can. People certainly feel more comfortable outside," said Dan Garvey, innkeeper at the Roycroft Inn and past chairman of the New York State Restaurant Association. "But how long? That's the question. There have been years we've gotten snow in September."
Before the pandemic, Ellicott Street restaurant Tappo did a large portion of sales at its bar. But that part of the business has been wiped out by social distancing restrictions. And while patrons are still dining, "it's not the same as pre-Covid," Termini said.
The restaurant has expanded its outdoor dining space into a rented parking lot next door, giving it room to add greenhouses that will encompass each table. The greenhouses will allow each party to remain separate from other patrons while dining outdoors straight through the winter. The 8-by-12-foot greenhouses are meant for hobbyist gardeners and will sit on a newly constructed deck in the Buffalo Urban League's parking lot.
Imported from Israel and decorated with Christmas lights, the 10 greenhouses will be warmed by ceramic heaters like the rooftop igloos are. They'll be sanitized between each seating using a medical-grade hypochlorite acid applied with a fogger.
Canopies, tents and outdoor heaters will likely play a significant role in extending patio season elsewhere in Western New York.
Standard patio heaters start around $150, and canopies can range in price from about $150 to $1,000 depending on size and material. Business owners have to do the math to decide whether such investments will be worth the return, especially considering the region's unpredictable weather.
Heaters are worth it for the Roycroft Inn, which had patrons sitting in its open-air peristyle in 67-degree weather this week – patrons who "said they would never eat inside any restaurant," Garvey said. Garvey just bought six new heaters for the peristyle, which has a roof and pillars.
Tents and canopies might help with the elements for a while but, restaurateurs wonder, how much can a patio be modified and still be considered an outdoor space? And how does a restaurant keep a space properly heated and properly ventilated at the same time?
"It's basically a Covid cave. No thanks," said Lou Fasolino, owner of Belsito on Hertel Avenue, in a Facebook comment.
Fasolino said hopes are better pinned elsewhere.
"I hope and pray for takeout to become busy again," he wrote. "Otherwise it's an impossible fight. Anyone saying otherwise isn't being honest with themselves."
It's a grim outlook, but a realistic one, according to the state restaurant association.
Its survey published this month of more than 1,000 restaurant owners across the state found that nearly two-thirds of New York's restaurants are likely to close by the end of the year unless they get some kind of financial intervention from the state or federal government. Of those who said they are likely to close, more than half said they will probably go out of business by November. 
To avoid such widespread devastation for small business owners, the restaurant association is asking state and federal officials for help getting insurance companies to pay business interruption claims, help paying commercial rents and increasing the capacity for indoor dining.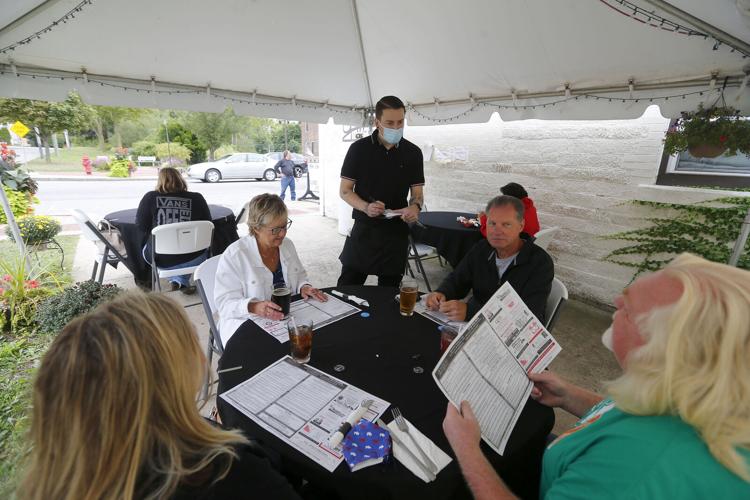 Until that happens, Skoob's Village Grille in Lancaster hopes it can "weather the storm," said owner Bill Skubis. 
The restaurant opened a patio in front this summer and tried to put a tent out back. But, with a view of the Dumpsters, it wasn't ideal. Skubis plans to start construction on a permanent deck, a members-only cigar bar and an open-air cafe next year.
"You gotta have outdoor dining with Covid," he said.
With gatherings of more than 50 people prohibited, the restaurant lost its wedding bookings and many banquets. Without the banquets, Skubis has more space upstairs to add tables but the added seating doesn't go far to recoup losses.
Skoob's has made significant investments into making the restaurant safer and more sanitary. But it's odd, he said. Older customers who are more vulnerable to Covid are dining out less. But younger, less cautious bar customers have surprised him by gravitating to places that have more lax policies.
Private clubs are not required by the state to serve "substantial" meals with alcohol sales.
"I'm surrounded by the Eagles Club, the Moose Club. The Elks – I could throw a stone and hit them," he said. "There's no loyalty when you have to buy a sandwich to have a couple of beers if you can't afford it."
Skubis has tried to make both the governor and his customers happy by coming up with a $6 menu, but said people are "still accusing me of trying to fleece them," he said.
Also making things harder are other establishments in town that aren't playing by the rules, Skubis said, allowing people to crowd together at bars and on patios.
Erie County has investigated more than 2,000 complaints about restaurants that tipsters said have violated Gov. Andrew M. Cuomo's emergency Covid regulations.
"I'm not going to name names," he said. "But I'm following the rules to a T and it's really costing me business."