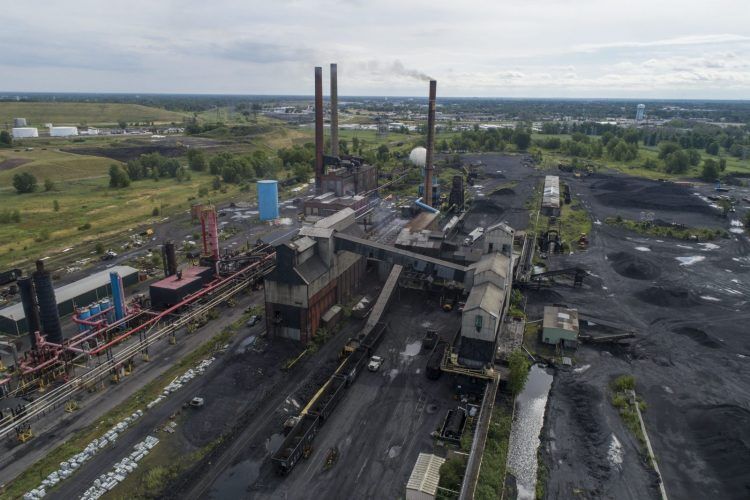 The blackish smoke looked out of place coming from Tonawanda Coke's smokestack.
On Monday, the state Department of Environmental Conservation explained why.
The agency charged Tonawanda Coke with violating state air quality permits nearly 120 times between May 18 and July 6 by releasing emissions above regulatory standards for opacity. The environmental violations were among some 176 lodged against the 101-year-old River Road coking plant, some of which DEC Commissioner Basil Seggos called "egregious."
Among the more serious violations:
Insufficient labeling of hazardous waste and record-keeping violations
Failing to perform required testing at a wastewater outfall earlier this year
Twenty-nine violations related to chemical storage, including record-keeping, labeling and maintenance violations and an unreported spill
Unreported petroleum spills and unregistered tanks
Tonawanda Coke officials did not respond to requests for comment on Monday.
"We look forward to working with the DEC to resolve these issues, and continuing our operations, which contribute to the vibrant Buffalo-area community and workforce," company spokesman A.J. Verel said Friday.
The state DEC on Friday filed a cease-and-desist order notifying Tonawanda Coke of its intent to revoke the company's Title V air permit. Seggos said the company committed "egregious violations."
Tonawanda Coke's air permits will be automatically revoked on Aug. 4, unless the company requests a hearing in the interim, the DEC said.
As of Monday afternoon, that hadn't happened.
The DEC's move to revoke the industrial coke producer's permit could put the company's operations on the brink. Air permits are necessary for Tonawanda Coke to legally operate its coke oven battery, the DEC said.
Seggos said Friday that an inspection of Tonawanda Coke by the agency revealed "repeated violations and ongoing concerns about air pollution."
A U.S. Justice Department lawyer sent Tonawanda Coke's attorneys a letter on Monday that provided more details.
The Continuous Opacity Monitoring System "data reviewed by the U.S. Environmental Protection Agency shows that opacity violations began to occur as early as January 2018," wrote Justice Department senior trial attorney Laura J. Rowley. "From May 2, 2018 through the present, TCC has violated the 24-hour average opacity limit each day, and there is no indication that TCC will expeditiously cease these violations. In fact, the COMS data shows that TCC's opacity emissions are getting progressively worse."
She warned that penalties against Tonawanda Coke have been accruing since January, and asked the company's attorneys to meet with her within one week to discuss that.
Meanwhile, the anxiety has been building in the community.
"It's one thing after another, after another. The community just doesn't know what's going to happen next," said Jackie James-Creedon, the executive director of Citizen Science Community Resources. "We gave them a chance, and we can't trust them. We can't trust them. And, we want them gone."
Air monitoring stations near Tonawanda Coke showed no apparent violations over the past two months for air pollution from soot, but residents fear carcinogens may be pouring out of the stacks of the damaged coking plant.
"We're worried about benzene. Benzene is the big one," said Rebecca Newberry, executive director of the Clean Air Coalition of Western New York. "We're concerned about any neighborhood surrounding the plant."
Data on benzene emissions wasn't immediately available, and it's not published with the soot data on the DEC's website.
What's more, monitoring canisters only capture benzene levels once every six days, and that's not enough, Newberry said. More air monitoring equipment is expected to be installed to collect levels of various toxins, including benzene, on a more frequent basis, Newberry said.
The DEC confirmed it will install an additional air monitor this week.
Monday night, about 60 residents from Buffalo's Riverside neighborhood, the Town and City of Tonawanda and Grand Island attended a community meeting about Tonawanda Coke that was organized by the Clean Air Coalition.
Carrie Gardner, a resident of the Town of Tonawanda, spoke of her concern for what she described as Tonawanda Coke's "blatant disregard for the environment" and the impact that has on the health of the surrounding community.
"I have little faith in the cease-and-desist (order)," Gardner said in the Brounshidle American Legion Post building in the Town of Tonawanda.
"I think (Tonawanda Coke has) already been in trouble," she said. "They've already been fined."
Jeanine Justin of Grand Island, a teacher in the Williamsville School District, questioned why Tonawanda Coke is not already abiding by the cease-and-desist order.
"Looking across the river and seeing the coke plant continuously spewing out large amounts of particulate black matter over the whole Tonawanda School District, it's actually horrifying," she said.
Ernest Chonka, an 86-year-old retired police offer who has lived near the plant his entire life, also wondered why the cease-and-desist order has not resulted in an immediate shutdown of the plant.
"I just don't understand why they haven't been closed down already. Three people in my family died from cancer and we live two blocks away from the Chevrolet plant. That's the reason I'm here at this meeting tonight," Chonka said.
Seggos demanded Friday that the company "immediately cease-and-desist all operations associated with violations at this facility to prevent potential harm to its workers, surrounding community, and the environment and have commenced revocation of the facility's air permits."
"Immediately" isn't as soon as it sounded for a lot of neighbors.
"A lot of the community members are confused about that," James-Creedon said. "It's a cease-and-desist, but it doesn't mean right there and right then. The plant continues to operate."
Because of the nature of the work, shutting down a coke oven can require a burdensome and costly process to get it restarted.
The DEC said Monday it is aware Tonawanda Coke has continued operations.
That explained why residents continued seeing black smoke and smelling odors from Tonawanda Coke over the weekend after the cease-and-desist order was issued.
"I don't know what's coming out of that stack, but I can guess," Newberry said.
The state agency said it "will do everything within our legal power to ensure the community is protected" if violations continue.
As recently as Sunday, a survey of publicly available data from the DEC's air quality monitoring stations downwind of the plant at Grand Island Boulevard and Brookside Terrace West did not show any violations of the U.S. Environmental Protection Agency's clean-air threshold of 35 micrograms per cubic meter over a 24-hour period over at least the last two months.
The highest hourly reading at the Brookside Terrace West station was 40 micrograms per cubic meter. That occurred at 11 p.m. on July 4.
Tonawanda Coke has been under a microscope by environmental groups for years, especially after a 2014 federal criminal prosecution against the company's former environmental controls manager for deliberately violating the federal Clean Air Act. A judge ordered Tonawanda Coke to pay a $12.5 million fine and fund $12.2 million worth of environmental studies related to the conviction.
Residents around Tonawanda Coke said when they were told that new managers at the company would operate it better, they were cautiously optimistic.
When black smoke began coming out of the smokestacks at Tonawanda Coke again in the spring, the public trust unraveled, James-Creedon said.
In May, after receiving a tip from a former plant worker, the Clean Air Coalition revealed the smoke resulted from a collapsed waste air tunnel at the century-old plant.
The DEC's cease-and-desist order could make Tonawanda Coke clean up or close down.
When a coke oven is shut down, it renders it inoperable in the future, the Clean Air Coalition said.
"At this point, we're very supportive of what the DEC is doing," Newberry said.
The DEC said cease-and-desist orders are typically "only used for egregious and recalcitrant permittees." It added that Tonawanda Coke falls into that category based on a history of noncompliance involving civil and criminal violations.
Tonawanda Coke officials said many of the notices of violations alleged by the DEC relate directly to issues from the waste heat tunnel collapse.
Verel, the Tonawanda Coke spokesman, said in a statement Friday that the company has updated the DEC on its efforts for a long-term plan to comply with regulations under its air permit.
"Tonawanda Coke shares the same goals as the DEC, and strives to provide a safe environment for its employees and the surrounding communities," the statement said.
Newberry said it should not have gotten to this point.
"They made the decision not to maintain the plant," Newberry said. "When you're not keeping up your plant, this is what happens."
Newberry added: "I'm angry that a multimillion company is making these choices. And, people impacted by that financial decision have to bear the brunt of it."