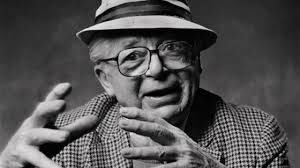 OLAF FUB SEZ: A sentiment from film director Billy Wilder, born on this date in 1906: "If there's anything I hate more than not being taken seriously, it's being taken too seriously."
GONE FISHIN' – Grab your rod and reel. The New York Power Authority is opening its fishing piers for the season today along the Niagara River.
Open from dawn to dusk, admission free, are the piers at water intakes along the upper Niagara River, near the Upper Mountain Fire Company at the Lewiston Reservoir and at the base of the Robert Moses Power Plant.
The fish cleaning station and handicap access elevator at the dam site also will be open. Social distancing and state recommendations on use of masks should be followed. For more info, call 286-6662.
TELLING TALES – EPIC – Every Person Influences Children is holding its weekly Storytime at Canalside series for youngsters again this summer, thanks to a grant from the M&T Charitable Foundation, but when it kicks off at 11 a.m. Wednesday, kids won't have to leave home to enjoy it.
Because of the pandemic, it will be live-streamed as it happens from Canalside on EPIC's Facebook page. Afterward, it will be available at any time on YouTube.
NOTHING WASTED – St. John's Episcopal Church in Youngstown started its June Strawberry Fest during World War II, serving homemade ice cream and fresh strawberries to soldiers from nearby Fort Niagara. The pandemic, however, has forced a change of plans.
Instead of serving complimentary strawberry shortcake on the church lawn, church leaders decided to donate their annual order of more than 100 quarts of berries from Coulter Farms to the Care-N-Share Food Pantry in Ransomville, where they will be available to those in need.
STILL STAYING SAFE – Olaf Fub plans to continue avoiding unnecessary exposure on Tuesday. Reporters' Notebook will be back on Wednesday.
HAPPY BIRTHDAY – Nathan Gies, Tracy Quinn, Laura Haggerty, Anne Meinzer Kuczkowski, Father Jerry Kopec, Marshall Davis, Amanda Attea, Pat Johnson, Kathy Zawadzki, Brian Gwitt, Luci Buczek, Alexis Patterson, John Flynn, David Dzierba, Mira Boyczuk, Allison Mueller, ChiChi Hoelscher, Vincent Hornberger Jr., Deborah J. Euscher, Mark Rossi and Gerry Dickey III.
AND TUESDAY – Arline Helmicki, Kim Bartolotti, Eleanor Pastwik, Dan Hocoy, Lillian Ungerleider, Larry Playfair, Steve Watson, Adam Yellen, Barry Lillis, Rodney Chamberlain, Sandi England, Emma Eilish McGrath, Mark Crehan, Billy Hill, Enora Ninin, Kevin Horlein, Sharon Ruth Schwedt, Morgan Campany, Lisa Thompson, Kellen Safe, Jayden Mae Joland, Matthew Hall, Rob Domagala, Aubrie Lebaron, Jim Lichon, Mike Golden and Neil Lange.
To submit birthdays and other items of interest to Reporters' Notebook, please email olaffub@buffnews.com or send a letter to Reporters' Notebook, Buffalo News, Box 100, Buffalo, NY 14240.
Get local news delivered to your inbox!
Subscribe to our Daily Headlines newsletter.