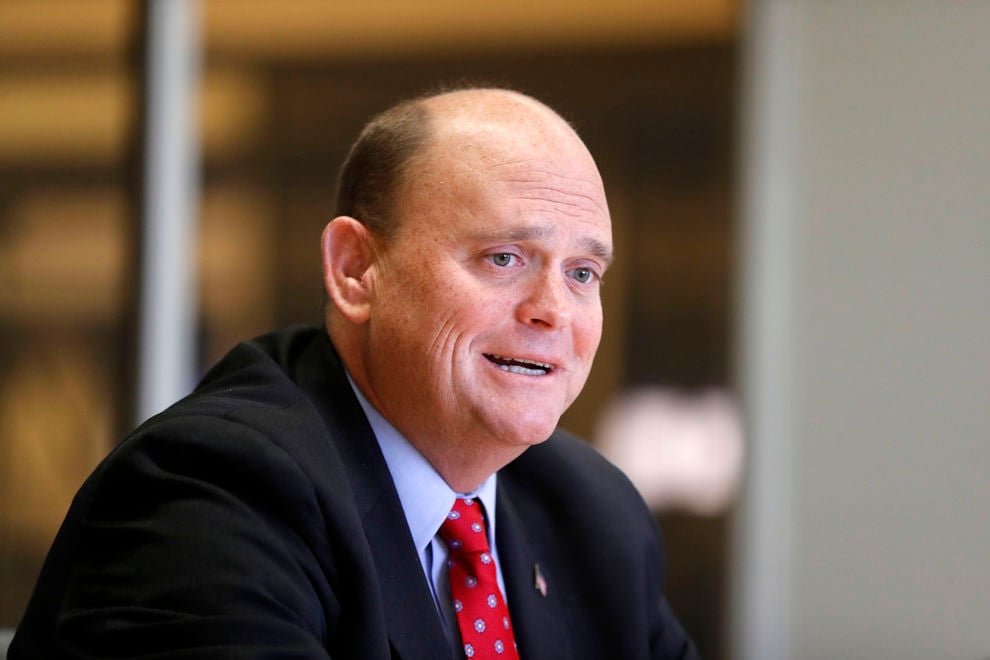 WASHINGTON – Rep. Tom Reed of Corning joined a dozen other House Republicans last week to back a $1.2 trillion bill that aims to rebuild the nation, thinking it would mean refurbished roads, more jobs and better internet service in his sprawling Southern Tier district.
But it also meant a series of threats dialed into Reed's offices, which the congressman had to report to the Capitol Police.
"We received a tremendous amount of calls, some of them very aggressive and some sometimes even of an intimidating, threatening nature," Reed said in a phone interview on Friday. "I don't get into the specifics of those calls. I defer to the Capitol Police and law enforcement to handle them. But it's another sign of the times that is troublesome, and we should avoid that at all costs."
Asked how many threatening calls his office received, Reed said: "More than one but less than 100."
Reed is not alone among the 13 GOP supporters of the infrastructure bill who have gotten such calls.
Nassau County police on Thursday arrested a 64-year-old Long Island man, accusing him of threatening the life of Rep. Andrew Garbarino, a Suffolk County Republican who also backed the infrastructure bill. The Long Island Press reported that at a news conference on Friday, Nassau County police said the man, Kenneth Gasper, called one of Garbarino's offices on Monday and told a staffer that of he saw Garabino in the street, "I'm going to kill him."
Earlier this week, Rep. Fred Upton of Michigan told the Detroit News that he had received more than 1,000 calls, including several death threats, after backing the infrastructure bill. Upton's spokesman told the Detroit paper that one of the threats came from a man in South Carolina who left a message calling the congressman a traitor – adding several profane adjectives – and wishing death on Upton's family.
Calls flooded into the offices of the GOP supporters of the infrastructure bill after Rep. Marjorie Taylor Greene, a far-right Republican from Georgia, labeled those lawmakers "traitors" who enabled what she called "Joe Biden's Communist takeover of America." She also tweeted out the names and office phone numbers of all 13 GOP backers of the infrastructure bill.
But Reed said the recent calls are the just the crescendo of a chorus of vitriol that's been building for years.
"The tone and tenor of many of these calls over the years has gotten worse," said Reed, who was first elected to Congress in 2010 and who will leave Congress at the end of next year. "And I think that's attributable to extremism taking over the country as well as the internet effect, where folks seem to want to one-up each other as to how aggressive they come across. And it just seems like we're following a path of escalation, which I humbly would request folks to really consider: Is that the way you want to conduct yourself?"
The latest threats come five months after a 21-year-old man was arrested and charged with leaving a dead rat and a note threatening Reed's children at the congressman's Corning home last year, along with throwing a brick through his campaign office window.
"It doesn't help the situation," Reed said of the latest threats. "It just reminds us of what people are capable of."
The threats did nothing, though, to shake Reed's conviction that the infrastructure bill will be good for his district.
"We're going to see the benefits of it right here in our own backyard," he said. "It's going to improve those roadways, but it's also going to mean jobs right here."
In addition to highway contractors, the Alstom rail manufacturing facility in Hornell, in Steuben County, could benefit thanks to the bill's investment in rail transit, Reed said. Meanwhile, he said the vast rural expanses of his district should be able to cash in on the bill's $65 billion effort to bring high-speed broadband internet service to every corner of the country.
While those were the top three reasons Reed backed the bill, he said he "could go on and on" about how the sweeping measure will benefit his district.
He also said a larger number of Republicans would have backed the measure if Democrats had not for so long tied it to President Biden's $1.75 trillion "Build Back Better" effort to expand the social safety net.
Rep. Chris Jacobs of Orchard Park was one of the Republicans put off by the ties between the two bills.
"This was not a vote about the need for infrastructure investment in Western New York; it was a vote to enable Democrats to pass their socialist spending bill," Jacobs said.
Democrats needed the Republican votes to pass the infrastructure bill, though, given that several progressives – including Rep. Alexandria Ocasio-Cortez of the Bronx – opposed the bill, hoping to use it as leverage to pass that Build Back Better effort.
Of the 13 Republicans who gave Democrats the votes they needed to pass the infrastructure bill, four hail from New York: Reed, Garbarino, Rep. John Katko of the Syracuse area and Rep. Nicole Malliotakis of Staten Island.
The bill promises to bring billions to the state in highway and transit funding, plus additional sums for broadband internet, lead water pipe removal and other projects.
That being the case, Garbarino told BuzzFeed News that he was shocked at the vehement reaction to his support for the measure.