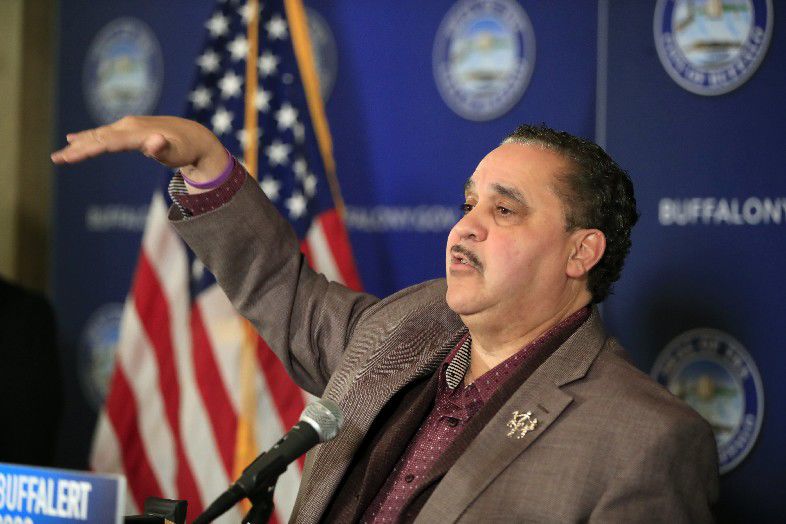 And just like that, the school year for Buffalo Public Schools is looking much different than it was a few days ago.
Instead of discussions about face coverings and social-distancing, the decision by the region's largest district to start the year with remote instruction is raising a host of new questions.
Some can be answered, others still cannot:
Q: What does the district mean by "synchronous" and "asynchronous" learning?
A: You'll hear those terms a lot this year. Synchronous learning describes the "real-time" or "live" instruction students will receive from teachers via video conferencing. Asynchronous refers to the learning students will do independently, whether it's reading or writing assignments, watching a pre-recorded video message online or doing worksheets.
Q: How much "live" learning will students receive?
A: It depends on the grade level. For students in middle and high school, the district is recommending roughly 60% live instruction for students compared to 40% of the time working on assignments independently. For elementary school students, it will be about fifty-fifty.
"We're going to give schools a framework and they're going to carve out the schedule," said Anne Botticelli, the district's chief academic officer.
Q: When will students know their schedules?
A: "As soon as possible, but I know principals are building the skeletons of their schedules right now," Botticelli said. "They have to build schedules unique to their building, because they all have different staffing, so we can't dictate exactly what a particular day will look like.
"We hope to have sample schedules very shortly so families can get a better sense."
Q: Will students receive a full day of instruction?
A: The state has requirements for the amount of daily instruction students receive so, yes, it should pretty much be a full day – roughly six hours.
Q: Does that mean kids will be in front of a screen the whole time?
A: Some of that will depend on what teachers assign for independent learning.
"The younger students, we probably don't want to offer as much synchronous time for them, especially pre-K and K," Botticelli said. "We're looking at what types of activities teachers can assign that students can do independent of the screen."
Q: Teachers were using a variety of digital platforms in the spring, which got to be confusing. Is that going to change?
A: Yes. That has been streamlined. Teachers will use the learning management system Schoology as the main portal for students to find assignments and access Microsoft Teams, the platform that will be used for video conferencing between students and teachers.
"We're just trying to make it less confusing for teachers and parents," Botticelli said.
Q: Will parents have to spend as much time schooling students as they did in the spring? 
A: That's one of the top questions for parents. Here's how Botticelli responded:
"For some of the younger students, there might be some support required to log on and become familiar with the programs and platforms," she said. "But that's what we're spending the first few weeks of school doing, familiarizing students with the different systems. That's also why we tried to streamline it for everyone."
Q: Is there a way for parents to help their children stay on top of their assignments?
A: Parents are encouraged to sign up for their own Schoology account. That way, they can keep track of what work their children have been assigned and what they have submitted.
"Once school has started, there will be a process that a parent can go through to secure a parent account," Botticelli said.
Q: Will teachers be working from home, too?
A: Teachers are being asked to work from their classrooms two to three days a week.
Q: What will grading look like?
A: It will be more of the traditional grading system, as opposed to the one the district devised when it went remote in the spring. There may be some flexibility for special circumstances.
Q: Will the district provide every student with a laptop or tablet?
A: At some point, yes. The school district already distributed more than 20,000 devices in the spring so every student in grades three to 12 had one for learning remotely at home. It has enough to disseminate to second graders across the district, but has ordered more to distribute to all students in pre-K, kindergarten and first grade.
Q: What does my child do if we don't have internet service at home?
District families can request a mobile hotspot, a device that provides an internet connection. They can call the district helpline at 816-7100 or go to its website, where they can fill out a form for one.
The district is also considering a program with Spectrum. The company would provide internet service to an estimated 3,100 student households that are currently without. The district would pick up the cost.
Q: How many devices can a hotspot adequately support?
A: Five or more, according to district officials.
Q: When will the district start phasing students back into the classroom?
A: That's uncertain. The district has committed to remote instruction for all students for at least the first four to six weeks of the school year. At that point, the district will reevaluate its decision.