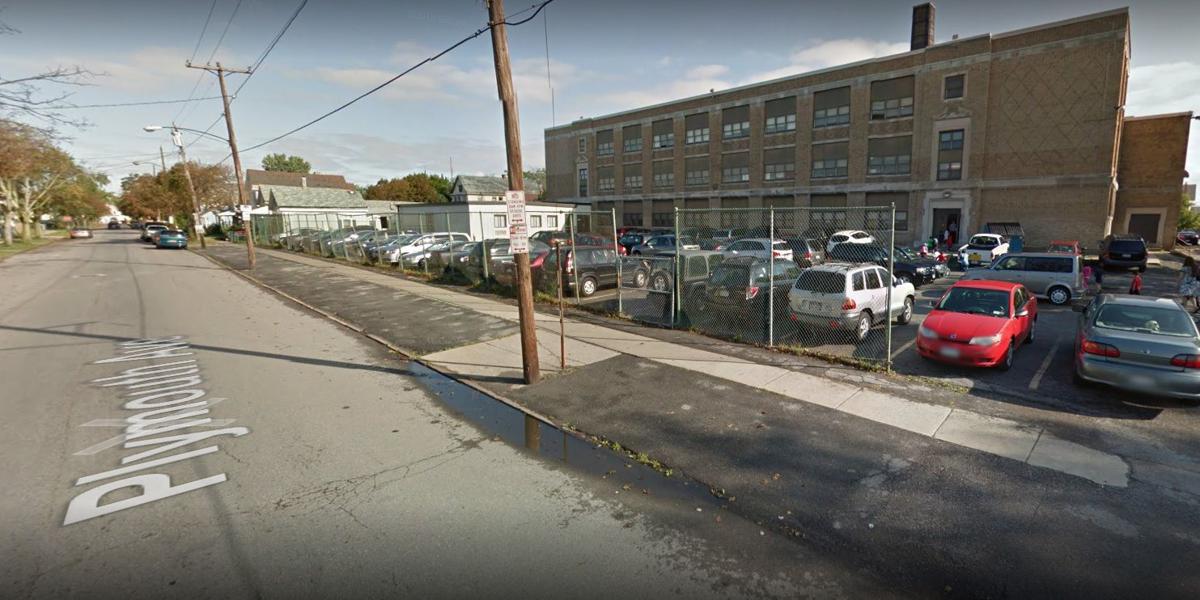 A West Side community organization known for its advocacy on behalf of low-income and minority residents of Buffalo has completed a $14.8 million redevelopment of a former city school into a new community hub, anchored by affordable senior apartments and powered by the sun.
PUSH Buffalo – whose acronym stands for People United for Sustainable Housing – unveiled the renovated School 77 on Thursday.
The project – heavily funded by government tax credits, low-interest loans and grants – is located at 454 Plymouth Ave., and features 30 apartments aimed at residents ages 55 and older, with incomes at or below 50 percent of the area median income. It also offers office space for PUSH, as well as Peace of the City, a local organization offering educational programs to help youngsters succeed, break out of poverty and improve their lives.
Additionally, there's a refurbished recreational gymnasium for community sports, and an auditorium for Ujima Theatre Co. That's a multi-ethnic and multicultural group dedicated to preserving and performing African-American theater and providing opportunities for both established and new artists.
Officials said it's the first community solar project in the state that offers discounted energy solely to low-income residents, who can buy power from the 64-kilowatt solar array on the roof. The project also offered job opportunities for dozens of local residents who helped to renovate the building, make it energy-efficient and install the solar panels.
"This is a frontline community of color that has worked for years to build up its supply of affordable, energy-efficient housing. School 77 takes their efforts to a whole new level," said Rahwa Ghirmatzion, a Sudanese refugee and PUSH Buffalo's longtime deputy director, who will succeed Aaron Bartley as executive director on Aug. 1.
That's garnering attention, officials noted. Later this month, School 77 will even host the first in a series of field trips by a national network of clean energy nonprofits to see examples of "energy democracy." The New York Energy Democracy Alliance, a statewide group, also will hold its semi-annual retreat at the school.
Constructed in 1927, the three-story, 80,605-square-foot brick building had been vacant since the school closed, and was being targeted by private developers for conversion into high-end loft apartments. That's when community leaders and residents stepped in, after officials had identified the building – through a "participatory planning process" starting in 2014 – as a good opportunity for creating an affordable, mixed-use community hub.
Much of the project was funded by New York State Homes and Community Renewal, which provided a $1.75 million loan from its Urban and Rural Community Investment Fund, a $1.664 million loan from its Housing Trust Fund and $6.4 million in tax credit equity through low-income housing tax credits.
The project also received federal historic tax credits that generated $3 million and state historic credits valued at nearly $2 million, as well as solar tax credits of $38,135. New York State Energy Research and Development Authority provided another $125,700.
Additionally, Empire State Development Corp. loaned $1.6 million through the Better Buffalo Fund, part of Gov. Andrew Cuomo's Buffalo Billion, and the city's Buffalo Urban Renewal Agency contributed $460,000 in HOME funds.