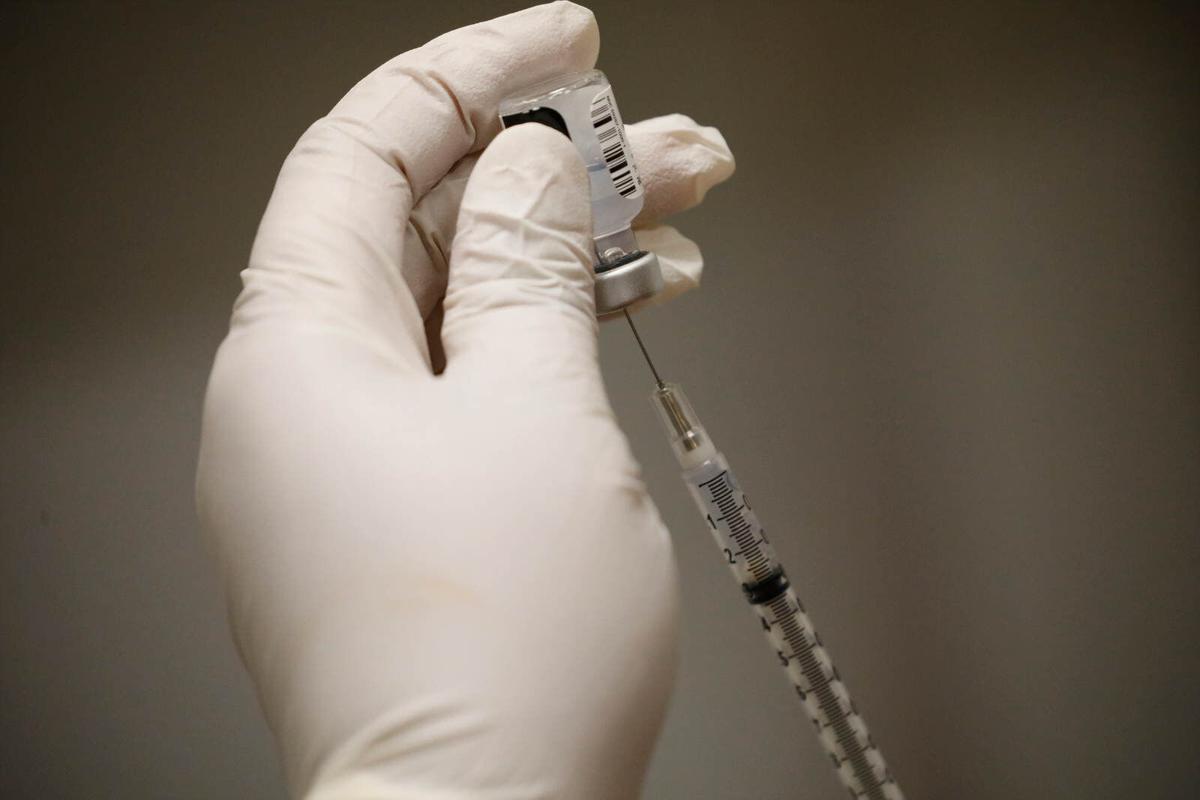 Both of the Covid-19 vaccines currently on the market call for two separate doses, staggered three or four weeks apart.
In Western New York, however – as in regions throughout the country – vaccinators are dealing with a tricky setback: Some people have bailed on their second shots.
The no-shows create multiple problems for vaccine providers and public health officials, who are begging patients to complete the full vaccine series. If they don't, they won't have full or long-lasting immunity against the novel coronavirus, increasing the risk that they could still fall ill or even die of the disease.
At the same time, no-shows effectively slow distribution for everyone, locking up critical doses that vaccine providers must then scramble to redistribute to other second-dose patients or vaccination sites. The Western New York Vaccine Hub, a state-appointed body tasked with facilitating the vaccine rollout, has stepped up efforts to transfer critical second doses from sites that find themselves with extra.
"Less than 5%" of Western New Yorkers are more than three days overdue for their second shot, a state Department of Health spokesman said. But some officials fear the problem may worsen as the rollout expands.
"We're very concerned," said Dr. Nancy Nielsen, the senior associate dean for health policy at the University at Buffalo's Jacobs School of Medicine and Biomedical Sciences and an adviser to the WNY Hub. "As long as the vaccine remains scarce, and the longer we go, the more we think this is going to accelerate."
For individual vaccination sites, the scale of the no-show problem can be difficult to gauge. Providers generally schedule second-dose appointments for either three or four weeks after the first shot, though guidelines from the U.S. Centers for Disease Control and Prevention say patients can receive their second dose as many as six weeks after their first appointment.
A vaccine recipient who doesn't show up for a second dose may still reschedule and complete the series – making the problem difficult to quantify at this stage, said Dr. Gale Burstein, the Erie County commissioner of health. But Erie County vaccination sites have anecdotally seen enough no-shows to conclude it's a problem, Burstein said, with health department staffers calling lists of them each night to nail down why they missed appointments.
Patients, when they can be reached, frequently say they skipped the second dose because they experienced minor side effects – such as chills or fatigue – after receiving their first. In some cases, Nielsen added, area patients have reported scheduling conflicts or travel that caused them to miss the highly sought appointments.
There have also been reports at several county-run vaccination sites, including sites in Erie County, of patients canceling or missing second-dose appointments after claiming to get the shot from another provider, such as a pharmacy. Public health officials have not been able to verify these claims, they said, but New York State guidelines forbid vaccine recipients from switching providers mid-series.
Such switches disrupt the state's system for managing vaccine inventory, which automatically earmarks and schedules second-dose shipments to providers based on the number of first doses they administer each week. When patients receive a first dose, but not the second, those second doses are essentially stuck in a temporary limbo: They cannot be used as first doses except in rare, emergency cases, Nielsen said, because there is no follow-up shipment attached to them.
Instead, providers must attempt to either call in other second-dose patients from standby lists or transfer excess second doses to other facilities that don't have enough. But though local providers have gotten better at making these types of adjustments, no-shows can still gum up the process.
In one recent incident, the Erie County Medical Center postponed second-dose appointments for six patients scheduled to receive the Pfizer vaccine after two people from the group didn't show up. With six doses in a vial, vaccinators decided it made more sense to reschedule the four available patients for a later day than to risk wasting the two extra shots.
The risk to public health
Experts stress that while a single dose of either the Pfizer-BioNTech or Moderna vaccine does provide some protection against Covid-19, it is not sufficient to provide full or long-lasting immunity. Many routine vaccines require two or more doses, which work first by triggering an initial, short-term immune response and later by activating the "memory" cells that identify and respond to viruses long term.
Data from large-scale clinical trials show that both the Pfizer and Moderna vaccines are significantly more effective after two doses than one, lowering volunteers' risk of contracting Covid-19 by more than 90%. It's also not clear how long immunity from the initial dose lasts without a second dose, said Dr. Paul Offit, the director of the Vaccine Education Center at the Children's Hospital of Philadelphia and a member of the federal advisory committee that evaluated the current Covid-19 vaccines.
That risks not only the personal health of individuals who skip their second dose, but also the safety of the larger community, Offit said. A large majority of adults will need to be fully vaccinated, or acquire natural immunity through infection, to reach what is known as "herd immunity" – the threshold at which enough people in a population are immune to Covid-19, that even susceptible people are unlikely to get it.
Many experts have also warned that Covid-19 might mutate more readily in an environment where people have received only one dose of the vaccine. While that risk is difficult to measure, such an environment would theoretically allow some emerging variants to gain a foothold in people with suboptimal immunity. 
"This is something I really worry about," Offit said. "I worry we're going to have a reasonably large population of people who only have one dose … which creates only a short-lived immunity, and increases the number of variants."
Reminders for second dose
Resolving the no-show issue will require clear messaging at both the federal and state levels. Offit has sharply criticized federal officials, and some public health researchers and academics, who earlier this year proposed a plan to speed up vaccine distribution by only administering first doses in the initial stages. Some members of the public wrongly took those proposals to mean they could get away with a single dose, too, Offit said.
Since then, top public health officials at the Food and Drug Administration and the National Institutes of Health, including Dr. Anthony Fauci, have publicly doubled down on the need for two doses. Closer to home, officials like Burstein have also stressed the practical advantages of full vaccination. For instance, New Yorkers who have received the full vaccine series do not need to quarantine after coming into contact with a Covid-19 patient or traveling to a place where the disease is prevalent.
"We've invested so much into getting this vaccination program off the ground," Burstein said. "If people don't fully take advantage of it, that really wastes resources."
Officials have also stressed to vaccine providers the importance of reminding patients about their second doses via emails, texts or robocalls, similar to the methods many doctors' offices use to remind patients of upcoming appointments. Both state and county vaccination sites remind patients of their second dose by email 24 hours in advance.
Patients who miss their second dose, for any reason, should call their providers to reschedule it, a health department spokesman said. 
"We encourage everyone to get their second dose," a spokesperson for the WNY Vaccine Hub added in a statement. "A second dose is vitally important to the overall efficacy of the Pfizer and Moderna two-dose vaccines."
But relief – in the form of a third vaccine – may be on the way. The FDA is currently reviewing a single-dose vaccine from Johnson & Johnson with an eye toward approval in the first weeks of March. A single-dose vaccine would change the game, UB's Nielsen said, effectively eliminating the problem of both convincing people to come in for a second dose, and reallocating the second doses of those who skip them.
Until then, however, she and other public health experts are urging patients not to let inconveniences, like mild symptoms or a scheduling conflict, prevent them from getting the second shot.