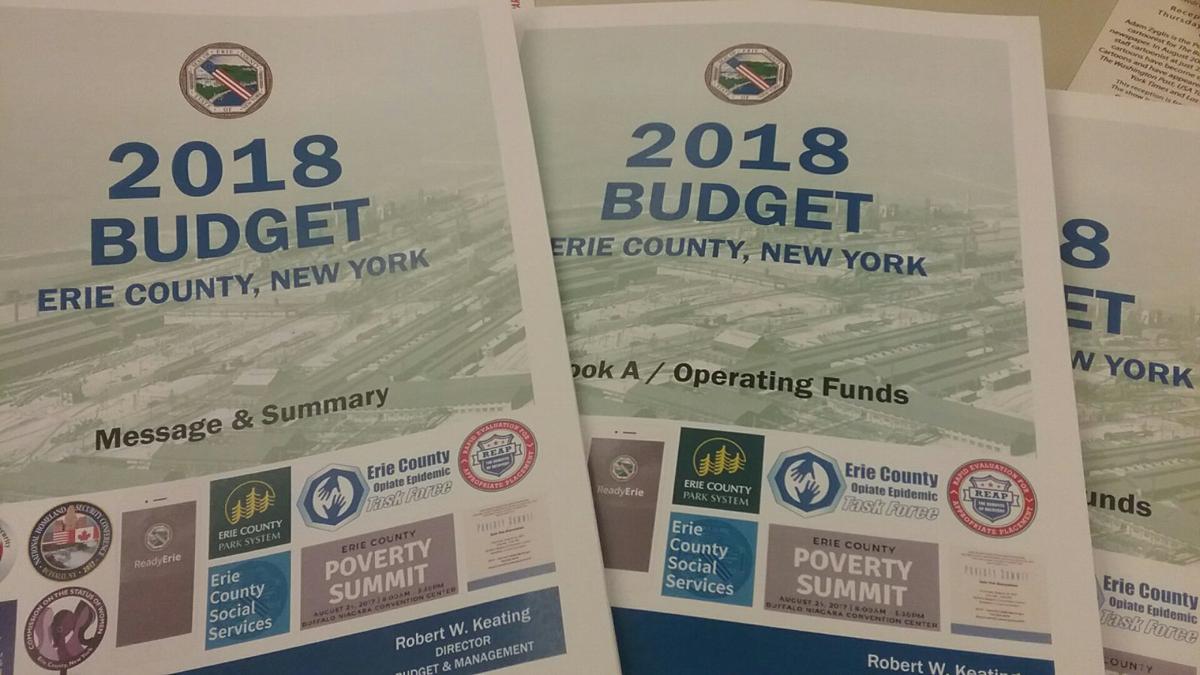 Erie County Executive Mark C. Poloncarz's proposed $1.48 billion budget for 2018 would grow the county workforce by 16 people. And most of those employees will be cleaners.
The new positions represent the latest attempt by the administration to address the bedbug problem at the Rath Building and numerous complaints from employees regarding the main county building's cleanliness. Poloncarz said full-time janitors and custodians need to be hired to clean the Rath Building more thoroughly instead of leaving the task to Social Services clients participating in welfare-to-work programs.
"If we have full-time janitors in there, we think it will help alleviate many of the complaints we've had," said Poloncarz, who pointed out the county had such positions years ago, before they were all eliminated.
The additional janitors are just one piece of a newly released budget proposal that would preserve county services and keep property taxes under the state cap. The county tax rate would fall by 1 cent, but the actual tax levy – the total amount of property taxes collected by the county – would grow by 5.35 percent, its highest percentage in at least a decade.
Poloncarz attributed the growth in property taxes to increased assessments and new construction. He said the budget also reflects fiscal prudence, with the overall budget growing by 2.1 percent and staying under tax cap limits.
"I'm pretty proud we were able to stay under the tax cap, because if you look at many towns in the area, many of them are going over the tax limit," he said.
The proposed budget continues investment in anti-poverty efforts and Bethlehem Steel site redevelopment. It increases spending for libraries, provides more support to attract movie productions and earmarks $69.1 million in capital money for construction and road projects, which is more than last year.
The budget proposal also more accurately budgets for the county's contribution to Erie County Medical Center, a major pressure point expected to cost the county at least $38 million next year, according to Budget Director Robert W. Keating. The $17 million the county received from ECMC this year as part of its borrowing deal to finance a new emergency department will be used over four years to offset the mammoth annual payments the county must make to cover the hospital's uninsured patients.
Among other budget items highlighted by the county:
An additional $500,000 in upgrades for the current Buffalo Niagara Convention Center. Although a study is being done for a new or drastically renovated convention center, Poloncarz said the existing, outdated building needs investment to stay competitive.
An additional $478,872 for the Buffalo and Erie County Public Library System. The county typically earmarks about 2 percent of assessment growth to the library system each year, Keating said.
Multiple new positions, offset by some abolished positions, including the creation of 12 janitorial posts at a total salary cost of $353,688. That figure easily exceeds $400,000 when including benefits. The county also is expected to hire five new, full-time heavy equipment/snow plow operators, as well as a new assistant deputy commissioner for Public Works, who will handle administrative duties like arbitration and workers comp cases.
An additional $250,000 to support Erie Community College, based on assurances from new ECC President Dan Hocoy that the money will directly benefit students, Poloncarz said.
A 1.2 percent increase in funding for cultural institutions over Poloncarz's original 2017 budget proposal. This amount is likely to change since legislators often try to increase funding to cultural organizations in their districts.
Of the $69.1 million for construction-related work in the capital budget, $36.5 million is being set aside for roads and bridges, and $2 million for new heavy equipment. This represents a $14 million increase over what was budgeted for 2017, according to the budget summary. Poloncarz said the additional debt will be more than offset by the retirement of other long-term debt.
The county is earmarking $6 million in undesignated county reserves to balance the budget, just like what was allocated in this year's budget. But Keating said if current trends continue, the county will not have to spend any of the $6 million budgeted for this year, and he hopes that next year will be the same.
Poloncarz acknowledged that this year's budget proposal is low on excitement.
"It is more of a steady-as-you-go budget," he said. "There's really not any new initiatives in there. Part of that is because of the pressures that we face."
Keeping the 2017 budget in the black this year was difficult, Poloncarz said. But he and Keating said the county benefited from higher-than-projected sales tax revenues, and lower pension and contained Medicaid costs.
Assuming no surprises this fall, Keating projected a small, 2017 year-end budget surplus of about $2 million.
Get local news delivered to your inbox!
Subscribe to our Daily Headlines newsletter.