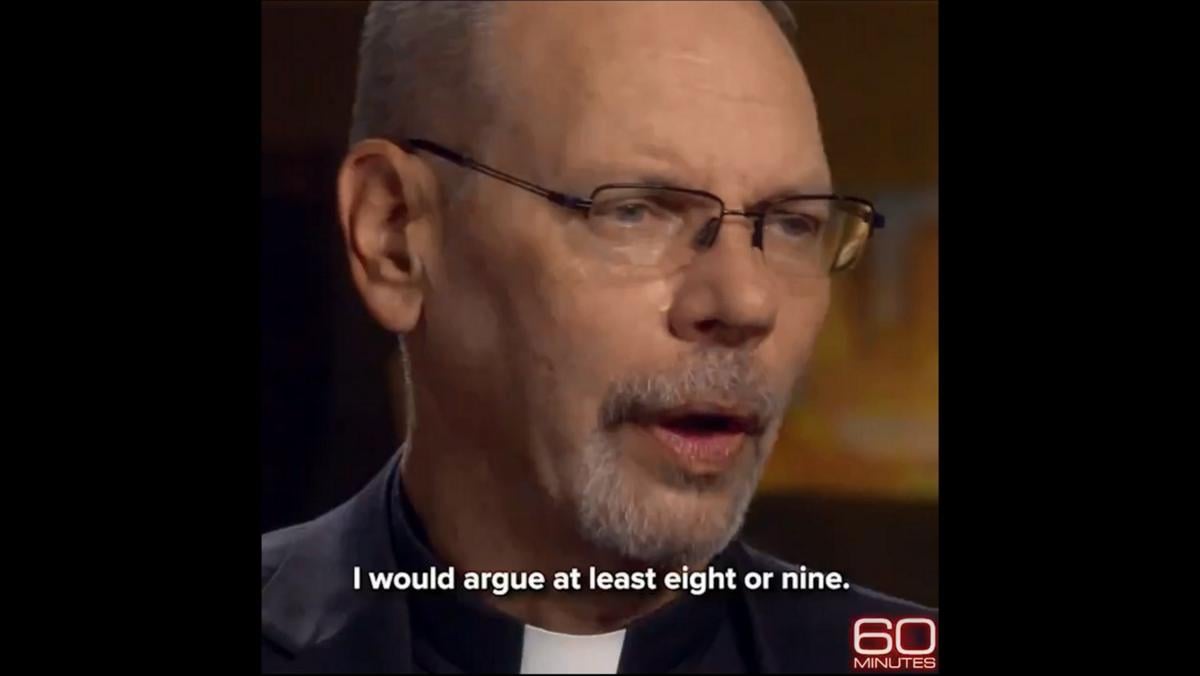 A Buffalo Diocese priest who campaigned for Bishop Richard J. Malone to resign because of a clergy sex abuse scandal is stepping down as pastor of one of the diocese's largest parishes.
The Rev. Robert W. Zilliox announced in an email to parishioners Wednesday morning that he will leave on May 1 as pastor of St. Mary Church in Swormville. Zilliox said he asked Bishop Edward B. Scharfenberger for relief from his pastoral responsibilities so he could take a sabbatical.
"After much prayer and discernment," Zilliox said in his email, "I have come to the realization that it is now time for me to step back and rest for a time in order to tend to my own personal spiritual and emotional needs."
Zilliox emphasized in a text message to The Buffalo News that the move was by his request and was not a punishment from Scharfenberger. He said he was too busy with parish business to immediately comment further.
A spokesman for the diocese said Zilliox has Scharfenberger's "prayers and full support" to take a break from his pastoral work.
Zilliox was among a handful of clergy who criticized Malone's handling of a clergy sexual abuse scandal that began unfolding in the Buffalo Diocese more than two years ago. Malone resigned in 2019, a few months after Zilliox circulated a letter among clergy calling for the bishop to step down and a poll by The Buffalo News revealed that nearly 86% of area Catholics wanted him to go.
Pope Francis appointed Scharfenberger, bishop of the Albany Diocese, to replace Malone. Scharfenberger is serving as apostolic administrator in Buffalo until a new bishop is named.
Malone assigned Zilliox in 2018 to St. Mary's to replace the Rev. Robert Yetter, who resigned as the longtime pastor after being accused of making unwanted sexual advances on two adult men, including one who said the priest tried to kiss him and grab his groin area. Documents leaked to WKBW-TV showed that Malone initially had kept Yetter in ministry despite the allegations against the priest. The documents also showed that Malone allowed another priest, the Rev. Arthur Smith, to remain in ministry despite warnings from an elementary principal that Smith displayed inappropriate behavior around a child.
The revelations outraged many members of the parish of 2,800 families and prompted Paul L. Snyder II, a parish deacon and prominent area businessman, to call for Malone's resignation.
Both Zilliox and Snyder criticized Malone in interviews on the CBS news magazine show "60 Minutes." Zilliox had worked in the chancery as the diocese's canon lawyer prior to his appointment at St. Mary's.
At the time the "60 Minutes" episode aired, Zilliox revealed to his congregation that a priest had sexually abused him nearly 40 years ago. He did not immediately name the priest, but later told The News that the Rev. Gerald A. Smyczynski molested him when he was a 13-year-old parishioner at St. Barnabas Church in Cheektowaga.
Smyczynski died in 1999. The diocese in 2018 identified him as a priest credibly accused of sexual misconduct with a minor.
Zilliox didn't tell church officials about the abuse until February 2018, when the stresses of working as a canon lawyer for the diocese on abuse cases brought his own abuse "back to the forefront of my consciousness."
Zilliox was the second diocese priest to state publicly that he had been sexually abused by a priest. The Rev. Ryszard Biernat, who was Malone's priest secretary, in 2018 told a Town of Tonawanda congregation that he had been abused.
Biernat did not name the priest in his remarks at St. John the Baptist Church, nor did he provide details about the abuse. But about a year later, Biernat said in an interview with The News that the Rev. Arthur Smith groped him as he tried to sleep. Biernat said he was in seminary at the time, training to become a priest. Smith has denied the allegation.
Biernat made secret audio recordings of the bishop that became public, and he also called upon Malone to resign. Malone suspended Biernat from priestly ministry the day before his own resignation took effect. Scharfenberger has yet to give Biernat a new pastoral assignment, but the bishop has said he wants to restore Biernat's priestly faculties.
The Buffalo News: Good Morning, Buffalo
The smart way to start your day. We sift through all the news to give you a concise, informative look at the top headlines and must-read stories every weekday.