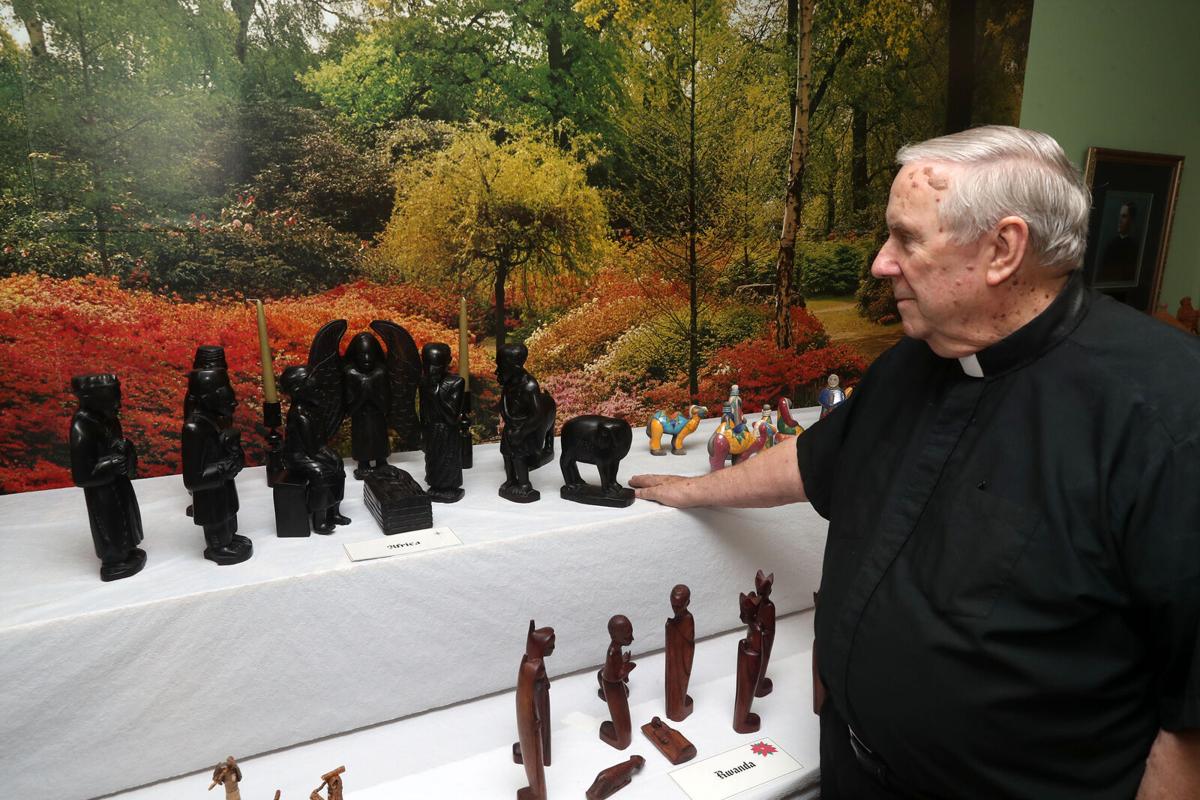 One Nativity set is crafted out of volcanic ash from Mount St. Helens in Washington state. Another set, made in the Andes Mountains of South America, is built from discarded auto parts, with bits and chunks of metal ingeniously welded together to depict a newly born Jesus surrounded by Mary, Joseph, farm animals and visitors on horseback.
There are sets fashioned from rice, coal, beeswax, pine needles, newspapers, banana leaves, beer bottles and even cookie dough.
The Rev. Roy Herberger's collection of often poignant and sometimes peculiar Nativity scenes from around the world keeps growing larger. He added 15 new sets in the past year, bringing the total to 670 from 61 countries.
The problem is Herberger can't find enough space to display them all.
Visitors can get a glimpse of about half of the collection now through Jan. 2 on the campus of Our Lady of Fatima Shrine in Lewiston, which is hosting the collection for the second-straight year. 
The display will be open to the public from 5 to 9 p.m. every Friday, Saturday and Sunday, except Christmas Eve, Christmas, New Year's Eve and New Year's Day, Herberger said. The collection can also be viewed Dec. 20-23 and Dec. 27-30.
Herberger, 78, for many years displayed the scenes at a hall at SS. Columba & Brigid Church in Buffalo, where he was the longtime pastor until retiring in 2017. He's trying to locate a permanent landing spot for all the Nativity scenes to be available year-round for viewing.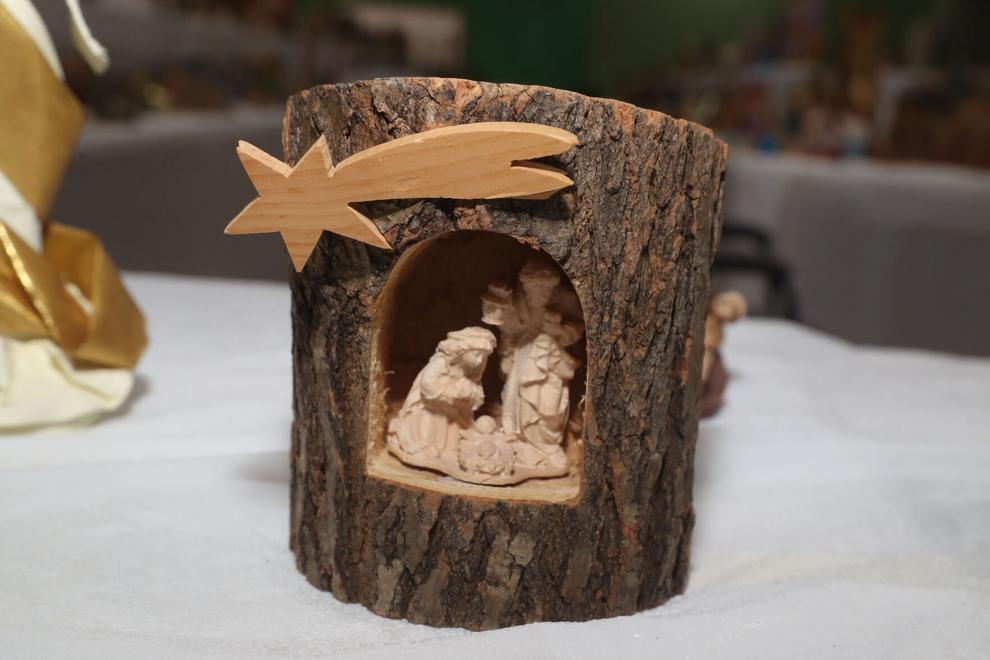 He hopes his collection serves as a small antidote to world strife and division by fostering a sense of connection.
"I want people to realize the universality of Christ – all races, all nationalities, all languages – that he came for everybody," said Herberger. "To me, Christ came to heal a broken world, and if there's ever been a broken world, we are in one now."
Herberger began the collection about 30 years ago. He was at a convention in Baltimore and was fascinated by an ebony-carved portrayal of Jesus' birth that had been made in Africa. The set remains his favorite, largely because it was so different from the Nativity scenes he was accustomed to seeing around Western New York. It also put in motion his quest to find how people from different cultures and areas of the world interpret and celebrate the humble birth of Christ.
Sisters Maria and Teresa Russo of Hamburg stopped with their mother, Margherita, on Wednesday after visiting the popular Fatima Shrine and were delighted by the Nativity scenes.
"For us, it is the true meaning of Christmas," said Maria Russo.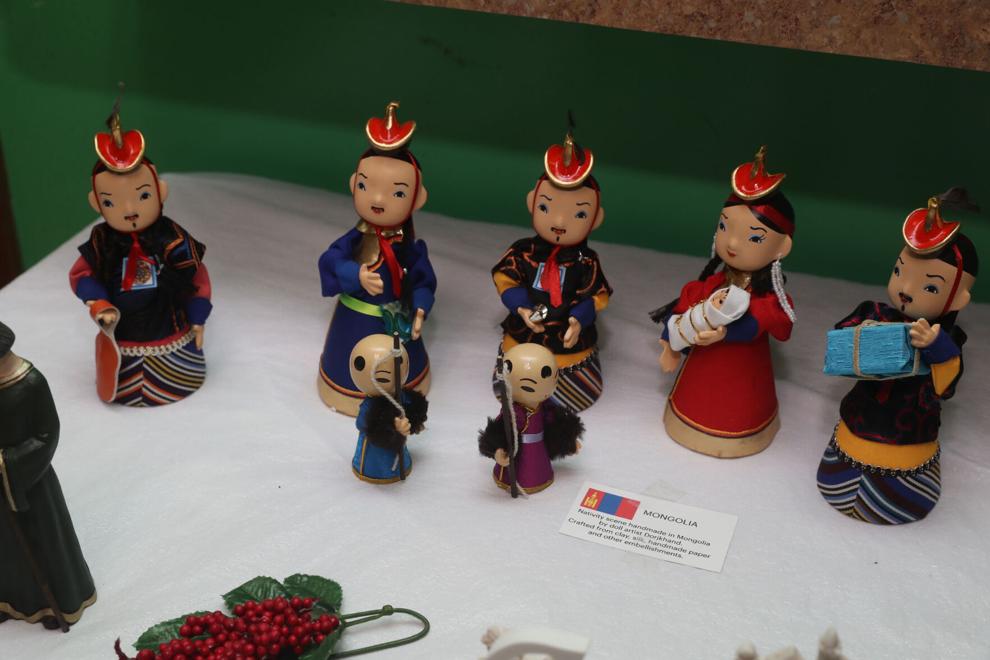 Nativity scenes are a very popular tradition in Italy, where Margherita was born, added Teresa Russo.
"They didn't have Christmas trees. They had the manger. It's a very customary thing that they pass on and people visit each other to check out their mangers," she added.
The Nativity scenes on display come in all shapes and sizes. One creche uses the inside of a walnut shell; another that is no longer than the length of a human thumb has single hand-painted grains of rice. Herberger also received donations of fancy heirloom sets by Armani, Boehm and Lenox. There's a whimsical "hipster" set that has wise men on Segways delivering Amazon prime packages to a manger with solar panels on the roof, Mary holding a latte and Joseph taking a selfie with his newborn son. A hand-painted set from Ireland features three wise men in green jackets carrying a rainbow, a pot of gold and a sack of potatoes – instead of the traditional gold, frankincense and myrrh.
The cookie dough set, made in El Salvador, is back in full form again, after being damaged by a hungry mouse or two while at SS. Columba & Brigid. The set was fully shellacked, but the critters sensed it was edible anyway.
"The mice," said Herberger, "would come and eat the head off the camel."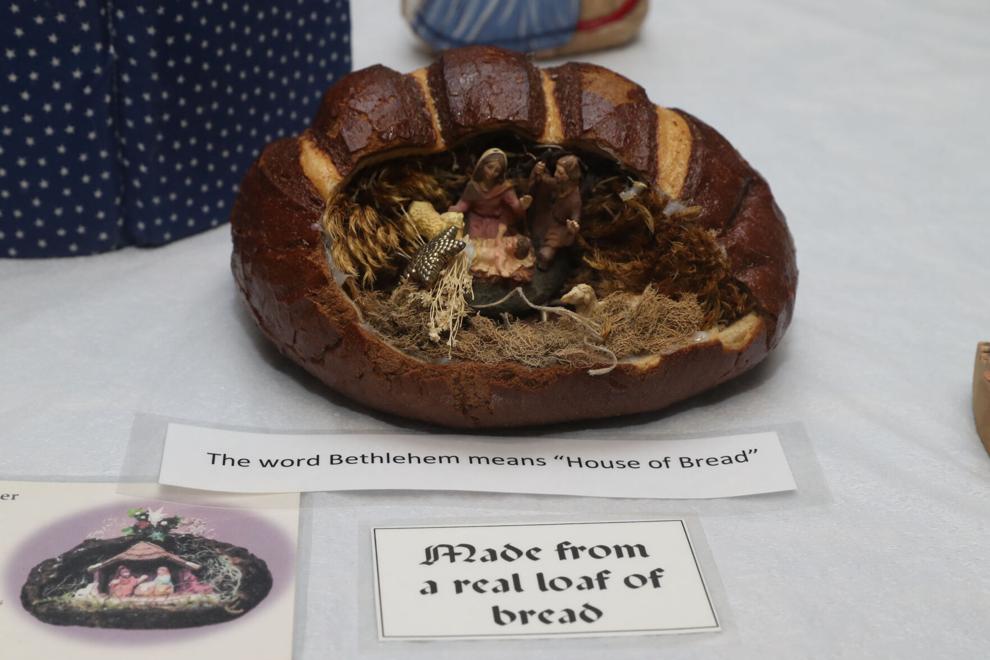 Herberger, whose Nativity collection has drawn attention for years, has worked in recent years to clear his name after an abuse allegation against him stemming from the 1980s was found to be "completely false" after an investigation by a local attorney. In 2018, the Buffalo Diocese cleared Herberger of the allegation. Herberger's accuser then filed a Child Victims Act lawsuit in 2019. Herberger sued the accuser in 2020 for defamation, and said he was trying to take a stand against anyone who makes a false abuse claim.