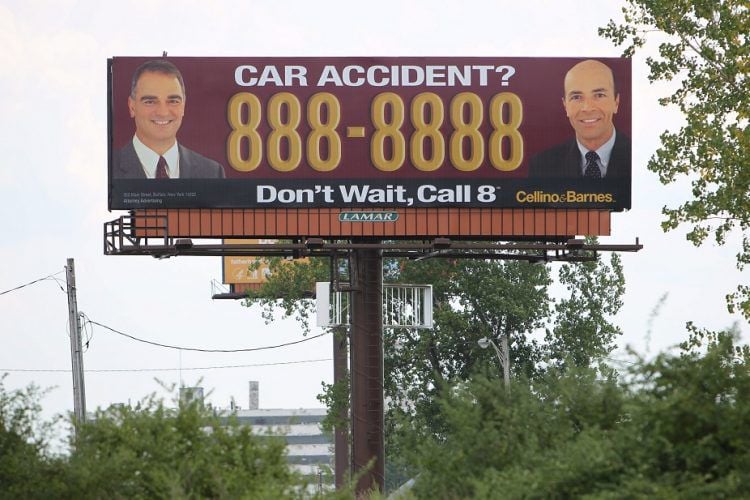 Ross Cellino and Steve Barnes have been smiling down on Buffalo expressway commuters for two decades, while their constant jingle with all those "8s" plays out on the car radio and television ads.
Their law firm's ubiquitous billboards also greet New York City subway commuters near major hospitals, and its jingle reverberates during Yankee games on WFAN and throughout its vast radio network.
In Los Angeles, buses carry the Buffalo lawyers' smiling countenances throughout the nation's second-largest city.
So even though the possible breakup of the Cellino & Barnes personal injury law firm will play out in a Buffalo courtroom later this week, ramifications will be felt in Manhattan, Long Island and several California cities where the personal injury firm maintains major offices.
The threatened breakup between longtime partners Ross M. Cellino Jr. and Stephen E. Barnes is getting national notice. All three New York City dailies Friday covered the story of the show cause order on the potential breakup, in part because the firm has become so well known in a relatively short time.
"They just came from nowhere a few years ago with an incredible amount of advertising," said Thomas P. Giuffra of the Manhattan firm of Rheingold, Giuffra, Ruffo and Plotkin. "It's been very effective."
Giuffra, who specializes in medical malpractice, product liability and other areas, said he has watched with interest as Cellino & Barnes invaded New York City. The firm's office is located on Lexington Avenue across from Grand Central Terminal, and the Buffalo lawyers quickly established themselves in the Big Apple's highly competitive legal field even without an elite, "white shoe firm" reputation.
"Their model is personal injury focus on high-volume cases," Giuffra said. "It's a good business if you spend millions of dollars on advertising. You'll make a lot of money if you have enough of that, and name recognition has become very effective for them."
Giuffra noted the firm is good at its specialties – car accidents, slip and falls and other cases of personal injury. But the firm shies away from the major cases involving product liability or medical malpractice, he said.
Cellino and Barnes has not established themselves among New York's legal elite and avoids significant participation in the New York City Bar Association and other professional organizations, Giuffra said.
Legal observers say the Cellino & Barnes firm is liable to settle cases and then advertise monetary awards reaching into seven figures. Giuffra said its Manhattan office consists mainly of young lawyers.
But there is no question Cellino & Barnes has become a major presence in New York City's legal community, mainly because of the billboards and broadcast jingles.
Advertising by attorneys, once taboo in the legal profession, has become much more accepted over the past 35 years, Giuffra said. Top firms with top verdicts mostly avoid it, he said, but advertising that Cellino & Barnes pioneered has become part of the legal profession.
"If you have enough of it in enough places," Giuffra said, "it must be effective."
And Eric M. Turkewitz, a New York City blogger on the personal injury litigation business, said the dissolution will rank as a major story within the profession.
"At stake in the suit are potentially thousands (tens of thousands?) of injured clients, whose cases now face the prospects of chaos, delay and disarray," he wrote on his New York Personal Injury Law Blog. "It could be years before the entanglements of the two are sorted out, as issues involving its very expensive phone number (all 8s), marketing campaign (and jingle) and leases are sorted out while the lawyers jockey over how to manage the clients."
He predicted the dispute could spawn new firms, and that current employees may be jockeying for clients.
"There are two main reasons for a law firm to dissolve – money and ego," Turkewitz speculated. "So the leading contenders are that there are financial problems of some kind lurking in the background, or that Cellino (or Barnes) feels he deserves a bigger piece of the pie for some reason. Time will tell."
Giuffra, however, said the breakup will not have that much effect in the vast legal New York City legal system. He said big firm dissolutions are common, and that a firm like Cellino & Barnes lacks longtime and loyal clients like some of the more established partnerships.
"The impact is really quite marginal," he said. "Firms break up ... and this one has no core group."