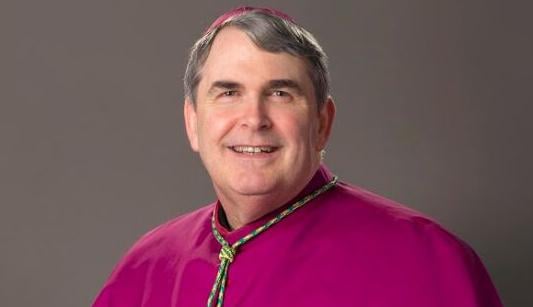 Buffalo's new bishop introduced himself with a simple request.
"I hope you will call me Bishop Mike," said the Most Rev. Michael W. Fisher, the auxiliary bishop of Washington named Tuesday as the 15th bishop of the Diocese of Buffalo. 
"One thing you should know about me, is that I am a parish priest in my heart and at my very core," Fisher in a video news conference.
"The term Father Mike was always endearing to me," he said.
Fisher, 62, a native of Baltimore, also brings a background in business, which could put him in good stead dealing with the diocese's bankruptcy proceedings and financial issues affecting 161 Catholic parishes and 34 elementary schools as well as the nonprofit organizations such as Catholic Health, Catholic Charities, Baker Victory Services and the Foundation of the Roman Catholic Diocese of Buffalo.
He received a degree in business administration and accounting at the University of Maryland in 1984. With his business and accounting degree, Fisher worked as a comptroller for a psychiatric practice in Bethesda, Md.
Fisher has been an auxiliary bishop of the Archdiocese of Washington, D.C., since 2018. 
Pope Francis made the announcement from the Vatican at noon Rome time.
Bishop Michael Fisher acknowledged he is taking the helm of the diocese at a time of upheaval – from the impact of Covid-19 to bankruptcy and the revelations about decades of clergy sex abuse.
"I can't tell you how excited I am in accepting this new assignment," Fisher said from Washington, D.C.
He said he looks forward to being in Buffalo, aiming to be here as soon as possible. Travel plans were thwarted by Covid-19, he said.
"I look forward to becoming a Buffalonian ... and being a part of this vibrant community," he said, mentioning the Buffalo Bills and chicken wings.
The embattled Buffalo Diocese has been without a bishop since Bishop Richard J. Malone stepped down in December 2019, more than a year after Western New York area Catholics began calling for his removal over his handling of a clergy sex abuse scandal.
Albany Bishop Edward B. Scharfenberger took over as apostolic administrator of the Buffalo Diocese, overseeing a time in which the diocese declared bankruptcy in February. Last week, the New York State Attorney General's Office sued the Diocese of Buffalo, alleging misuse of funds in covering up sex abuse cases.
"Though the challenges that currently confront the Diocese of Buffalo are many and significant, they are not equal to the resolve of so many committed lay women and men, devoted priests, deacons and religious across Western New York, who are no less determined to reveal God's transformative love that has the power to bind every wound, renew and make us whole," Fisher said. 
"We would do well to recall the promise in Paul's First Letter to the Corinthians: 'No eye has seen, nor ear heard, nor the human heart conceived, what God has prepared for those who love him.' "
In his video news conference, he also said that the church needs to acknowledge racism in society and within the church.
Racism "is a sin," Fisher said. "It is a sin against the dignity of every human being."
Fisher has two brothers and a nephew who are in law enforcement.
"I know what they've experienced in this year," he said. "We need to be talking. We need to be interacting with one another. We need to hear our brothers and sisters."
Fisher's installation is scheduled for 2 p.m. Jan. 15, in St. Joseph Cathedral. Timothy Cardinal Dolan, Metropolitan Archbishop of New York, will preside and Archbishop Christophe Pierre, Apostolic Nuncio to the United States, will be in attendance.
"This is a blessed and wonderful day for the good people across Western New York," Scharfenberger said in a release. "In Bishop Michael Fisher, they have been given a priest, pastor and bishop whose passion to serve, to listen, to heal and comfort have distinguished his 30-year ministry.
"It has been among my life's great joys to get to know and assist this faith-filled community, to accompany them in their initial steps on the path toward renewal and redefine the enormous potential of the Church to accomplish so much good across this region. I pledge my fraternal support to Bishop Fisher and my abiding love and care for the family of faith of this diocese now and in all the days ahead."
Cardinal Wilton Gregory, Archbishop of Washington, D.C., said in a release: "Today the Archdiocese of Washington is privileged to share a generous gift with the Diocese of Buffalo."  
"Bishop Fisher is an exceptionally compassionate and skilled servant of the Church. His distinguished history as pastor, vicar for priests, and member of our pastoral administration have prepared him well for his new responsibilities in that diocese. While we will miss his deft pastoral talents, they will be warmly welcomed by the faithful, religious and clergy of the Diocese of Buffalo. May the Lord bring joy to his heart and to the hearts of the people who will welcome him."
Fisher was ordained to the priesthood by Cardinal James A. Hickey on June 23, 1990.
He was assigned to Sacred Heart parish in La Plata, Md., and in 1995 as a pastor of Holy Family parish in Hillcrest Heights, Md. Four years later, he became pastor of St. John Neumann parish in Gaithersburg, Md.
"All I ever wanted to be when finally discerning and accepting the call to ministry was to serve a parish family, to walk with its members and accompany them on their own journey toward holiness; to share in their joys, their heartaches and to have some part to play in revealing the incomparable love and grace of God as they experience life's defining moments," Fisher said.
In 2005, Fisher was named a chaplain to Pope John Paul II, a distinction that entails the title of "monsignor." He was appointed that same year as vicar general for the apostolates, which entailed overseeing archdiocesan ministries for education, ethnic ministries, social justice and service, parish life and youth ministry.
The following year, Fisher was appointed vicar for clergy and secretary for ministerial leadership, with responsibility for vocations, formation and care of the clergy for the archdiocese. Upon the appointment of Gregory in 2019, Fisher maintained his responsibilities as secretary for ministerial leadership.
Named an auxiliary bishop for the Archdiocese of Washington by Pope Francis on June 8, 2018, Fisher was ordained to the episcopate on June 29, 2018, at the Basilica of the National Shrine of the Immaculate Conception.
According to the Vatican, Fisher has been involved with the continuing education of priests, particularly in aiding new pastors in their roles and the planning and implementation of ongoing clergy training via convocations and retreats.
Fisher was born March 3, 1958, in Baltimore. He is the oldest of five children born to Margo and William ("Bill") Fisher; both of whom are deceased.
"I owe everything to my loving parents," Fisher said. "I was blessed with the best parents one could ask for."