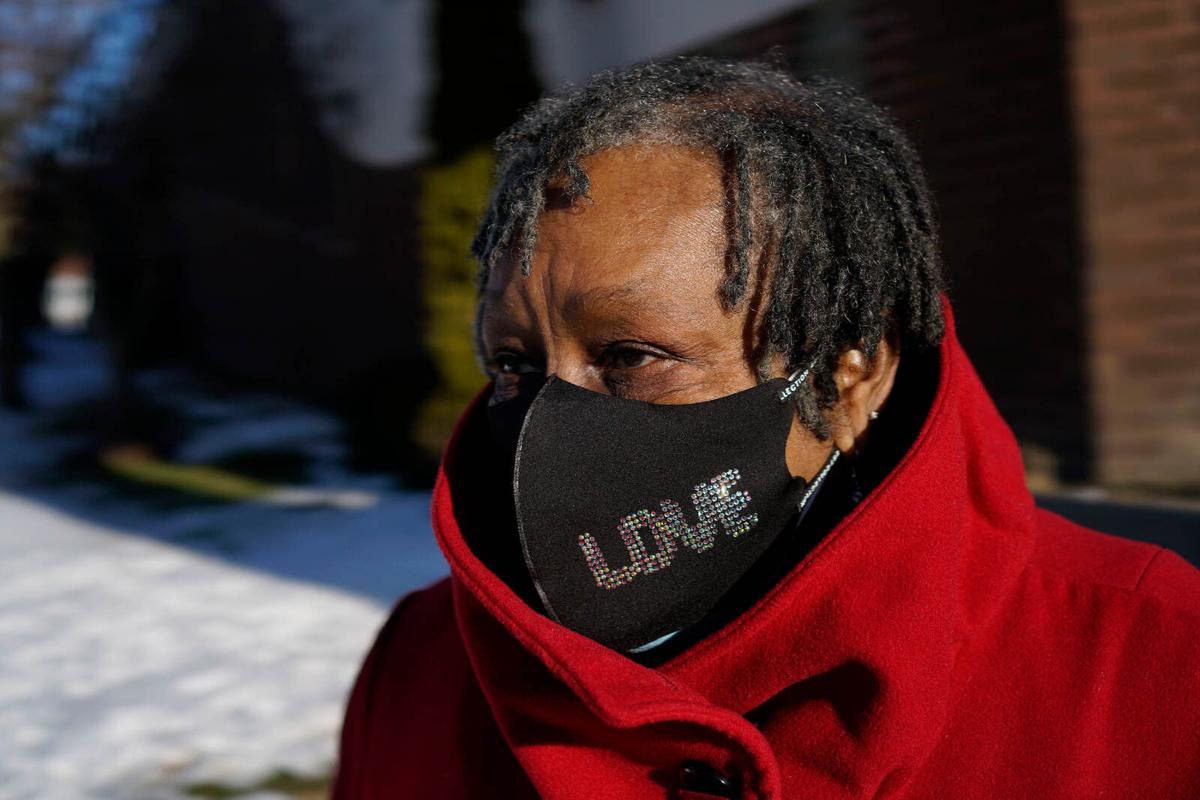 The Rev. Diann Holt waited in a crowd outside the Belle Center on Maryland Street on the Lower West Side Thursday morning, eager and a little anxious. She had a 9:30 a.m. appointment at the "pop-up vaccine clinic" inside the community center.
As the executive director of Durham's Maternal Stress-Free Zone, an organization that provides support to pregnant and breastfeeding women, a member of the state's vaccine distribution task force and a Black woman, Holt said she wants to show that the vaccine is safe.
"I'm a little nervous. I have what I call 'needle-fear,' " said Holt, who was wearing a cloth mask bedazzled with the word "LOVE" over a paper mask. "But I trust God that it'll be OK ... and the science."
The vaccination operation at the Belle Center was a one-day event – a pop up clinic – where about 350 people were scheduled to get Pfizer's Covid-19 vaccine. It was one of three arranged Thursday in Western New York as part of New York's strategy for reaching Black and Latino communities. Two more are scheduled for Friday, one in Lackawanna and the other in Niagara Falls. Statewide, 35 pop-up clinics are planned this week, in addition to a large scale vaccine site at Yankee Stadium specifically for residents of the Bronx.
"Our massive distribution network, which includes targeted community-based vaccination sites like Yankee Stadium in the Bronx, allows us to get more shots in arms and prioritizes Black, Latino and poor communities who have suffered the most at the hands of this deadly virus," Gov. Andrew M. Cuomo said in a statement Wednesday.
At the same time, state health officials are trying to overcome strong hesitancy to the vaccine within Black and Latino communities.
Two prominent doctors who run community health centers in Buffalo's poorest neighborhoods say that while the pop-ups are taking place in the neighborhoods that need them most, a better way to reach the most vulnerable people in these communities would be to give the doctors the vaccines and let them distribute them.
Dr. Raul Vazquez, founder of Urban Family Practice and Greater Buffalo United Accountable Healthcare Network, and Dr. Myron Glick, founder of Jericho Road Community Health Center, say they have medical facilities in the same neighborhoods. They can identify the patients who need them. They know how to reach them, especially those who can't navigate the state's complicated vaccine appointment process. But most importantly, they say, they already have their patients' trust.
"I've been in this area going on 30 years. My practice – going on 25 years," Vazquez said. He estimated that between his clinics and Jericho Road, they serve about 50,000 patients, most of them Black, Brown, new immigrants and the poor.
"They are our patients," Glick said. "We give them flu shots. Why can't they trust us to give the vaccine to us? If they're serious about vaccine equity, why are they willing to sideline the doctors who are actually taking care of these people? That's the part that's so frustrating."
Local leaders have been frustrated with the rollout of Covid-19 vaccines. Most vaccines are currently being distributed to pharmacies authorized to provide them to seniors. The state is operating a mass vaccine site at University at Buffalo South Campus and county health departments have held vaccine clinics as well, but Erie County ran out of doses and is now rescheduling appointments. All of the sites have different methods for getting appointments, which have frustrated those trying to get them for themselves or for their older, less tech-savvy loved ones.
The state is doing "everything possible to get as many New Yorkers vaccinated as quickly as possible," said state Health Department spokesman Jeffrey Hammond.
The governor has repeatedly addressed the challenge of getting vaccines to Black and Latino communities. "When it comes to this vaccine, access has to be fair all across the board. We're working with 300 churches to distribute the vaccine. We're working with public housing authorities all across the state," Cuomo said Jan. 23.
State health officials also said that federally qualified health care centers including Jericho Road are part of the state's distribution network and should prioritize giving vaccines to the people in the top priority for getting vaccinated – mostly health care workers.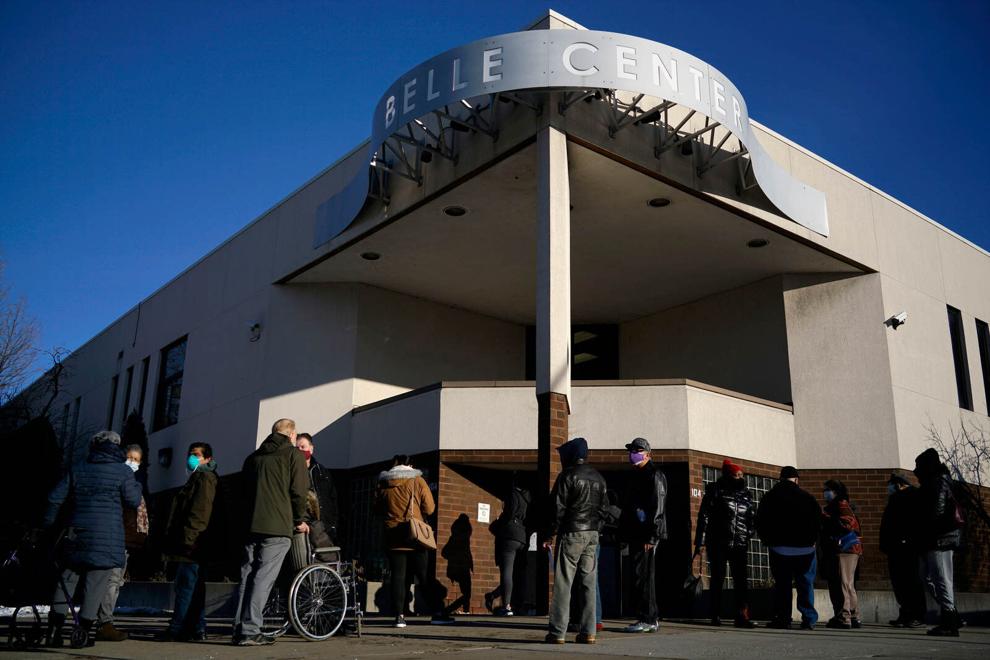 Vazquez and Glick aren't against pop-up clinics – they're happy to see as many people as possible get the vaccines.
Vazquez, in fact, coordinated the Belle Center's pop-up.
"It's not a bad thing," he said. Many of his patients who had signed up through his clinics were among those who got appointments Thursday.
But he said he believes he would be able to reach more people if the state provided a steady flow of vaccines to community medical providers.
"We have databases that can screen out who is eligible," he said. He also has five vans that can transport patients, along with a mobile unit that can go out to communities.
Glick said his staff includes 30 translators who can not only act as interpreters for non-English speakers but also know how to reach out to immigrants who may not be able to navigate the state's vaccine appointment website.
"We can get it out to people," Glick said. "Instead, you're inventing a whole new system."
The community health centers would also be more than happy to provide vaccines to the general population, too, the doctors said.
This summer and continuing this winter, Jericho Road conducted more than 20,000 "barrier-free" Covid-19 tests at its clinics and other sites, which meant anyone, even people without insurance, could get a test. The community health centers could use the same system, Glick ordered.
Doctors across New York are calling for the state to distribute vaccine through community-based physicians.
"These individuals practice in a wide range of communities, including those that serve the Black/Brown/LatinX/Asian patient population and in the rural, urban, and suburban communities," said Dr. Bonnie Litvack, president of the Medical Society of the State of New York, in a statement Wednesday. "We hear every day from physicians who are asking when they will be getting vaccines. Patients are requesting immunization from their physician rather than going to a (mass vaccination site) or a pharmacy where they believe they risk greater exposure to COVID-19. Many of these physicians care for the state's most vulnerable — seniors, those with significant co-morbidities, individuals of color, and those who speak different languages."
And earlier this week, Erie County Executive Mark Poloncarz expressed frustration at how the state has been managing the vaccine rollout in general, citing examples of poor communication and lack of joint planning. The county has had its own comprehensive vaccine rollout plans, which have been superseded by the state, he said.
"We have the staff, we have the facilities that are capable of doing it, but it's not our decision," he said Tuesday. "I'll give you an example: We were asked to try to help out three pop-up clinics that are going to occur Thursday and Friday. And the problem was they scheduled the pop-up clinics on the same day we had three other clinics scheduled. So, it's like, well, we can't do it at this point because our staff is working at these three clinics. If they gave us more lead time and said we want you to assist two weeks from now, we could work on that."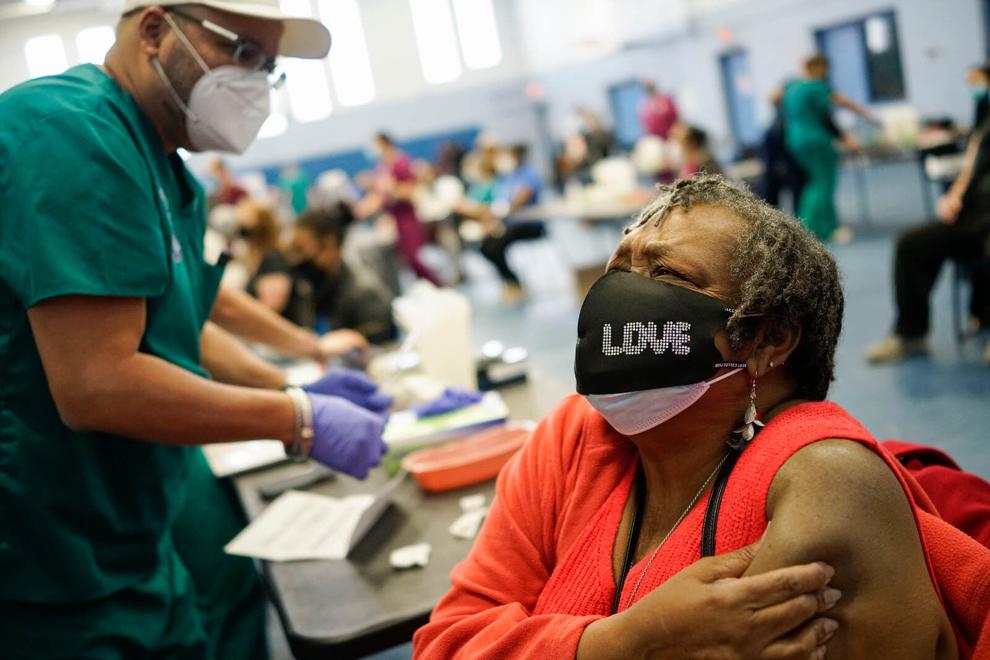 As for Holt, she was able to get her vaccine after waiting about 45 minutes. Vazquez, whom she has known for years, did the honors.
"I hate needles," she said, sitting in a chair with the sleeve on her left arm rolled up inside the Belle Center's auditorium. The doctor quickly injected her. She said she barely felt it at all.
She couldn't wait to share the news that she'd been vaccinated with her loved ones.
"I'm going to go all over Facebook now," she said.  
News Staff Reporter Sandra Tan contributed to this article.