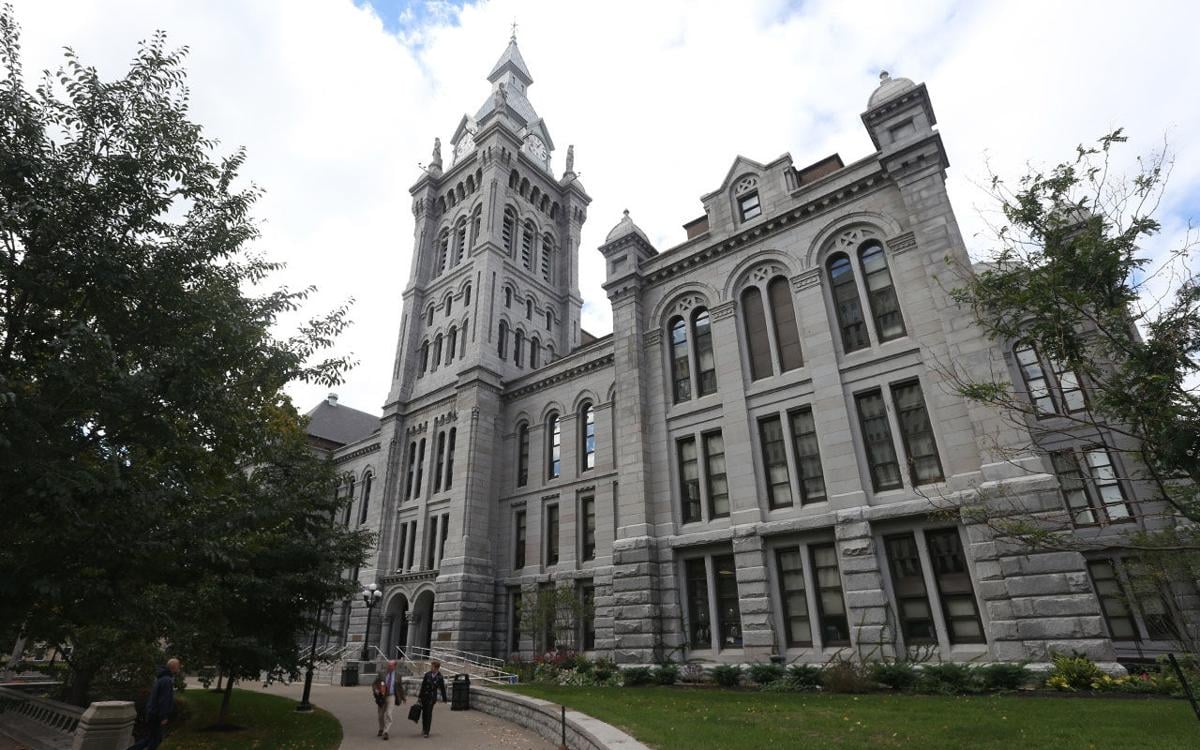 The Erie County Legislature on Thursday unanimously voted to terminate the sweeping emergency spending authority it handed to County Executive Mark Poloncarz a year ago, the latest sign that the Covid-19 health crisis is waning and government can start getting back to business as usual.
"We got to common ground, and I think everyone was good with that," said Democratic Majority Leader Timothy Meyers. "You see everything around us, not just here, but statewide and throughout the country, that everything is starting to come back."
Legislators have been wrestling with the issue of fiscal oversight since March. At the time, Republican-supported legislators had aggressively pushed for a rollback of the emergency powers.
Erie County Executive Mark Poloncarz might keep his emergency spending authority a while lon…
Democratic majority members wished to proceed more cautiously, though some expressed concern that the bulk of $160 million in federal CARES Act money was spent without their approval last year. As part of last year's budget process, Democratic legislators curbed some of Poloncarz's authority by requiring Legislature approval for emergency contracts over $250,000.
But Republican-supported legislators argued that wasn't restrictive enough, especially in light of the millions more in federal funds being directed to the county as part of the American Rescue Plan.
Although the minority caucus was the first to introduce a resolution to curb Poloncarz's spending authority, the Democrats submitted their own resolution, which the minority caucus agreed to cosponsor.
"I think it's long overdue," Minority Leader Joseph Lorigo said. "The resolution that the Democrats put forth today was virtually identical to what we proposed."
• Terminates the ability of the Poloncarz administration to enter into Covid-19 related contracts or to spend Covid-19 response money in excess of $10,000 without Legislature approval
• Revokes the administration's right to bypass county purchasing policies and procedures related to the health crisis response  
• Ends the administration's power to accept coronavirus-related grants, hire grant-funded positions and approve related subcontracts without Legislature approval. 
The county's deputy budget director signaled that the administration would not fight an effort to revoke the county executive's emergency spending authority.
Deputy Budget Director Benjamin Swanekamp signaled last week that the county administration would not fight an effort by the Legislature to revoke the county executive's emergency spending power.
Erie County vaccination numbers have risen, positive case numbers and hospitalizations have fallen and the positive test rate for Erie County now sits at only .6%. Numbers of new cases have fallen dramatically week over week.
Lorigo objected to the idea that the Legislature needed the administration's blessing to agree to give up its emergency spending authority.
"It was never theirs to give up," he said. "It was ours to take away."
Poloncarz has previously expressed reservations about how the Legislature only meets in full session every other week, but offered no comment on the matter Thursday. 
The county's budget office had previously requested that the administration be allowed to transfer up to $10,000 between Covid-19-related budget lines without having to seek Legislature approval.
The Legislature agreed to allow that provision to remain Thursday. 
In another sign of returning to business as usual, the County Legislature will cease its remote meetings and reconvene in person in the Legislature Chambers of Old County Hall starting July 8.