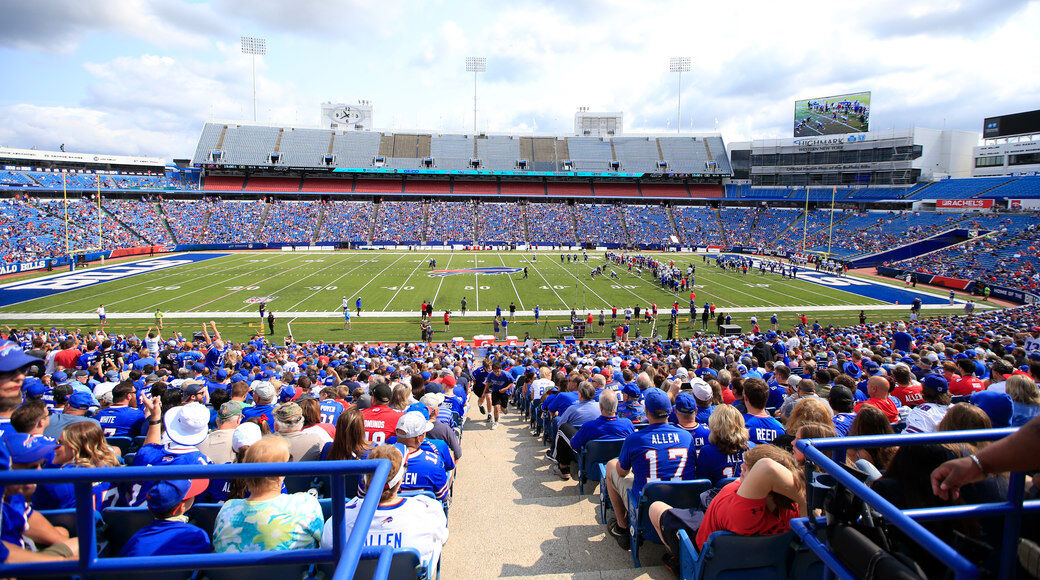 Erie County Executive Mark Poloncarz on Wednesday said county and state negotiators haven't offered a limitless pool of money to the Buffalo Bills as the sides discuss how much the public will pay toward stadium construction or renovations for the team.
He also insisted that Bills executives haven't threatened to move the team to another city if their financial demands are not met.
"There is no blank check," Poloncarz told reporters at a news conference. "There will hopefully be a compromise in which we all come together, one way or another, and do what's best for this community and ensure the integrity of the football team as the Buffalo Bills for decades to come."
Poloncarz said he understands fans' interest in the negotiations, but he urged patience while saying he doesn't expect the parties to reach a deal "any time soon" to replace the team's nearly 50-year-old Highmark Stadium in Orchard Park.
The county executive spoke several days after The Buffalo News reported that representatives for Buffalo Bills owners Terry and Kim Pegula have asked the state and county to contribute at least $1.1 billion toward the cost of a new stadium, to be constructed in Orchard Park, with the team paying nothing, according to sources familiar with the negotiations who spoke on condition of anonymity.
A spokesman for Pegula Sports & Entertainment said the $1.1 billion figure for the stadium's cost was inaccurate, but declined to say whether the figure was higher or lower.
After the article was published, a Pegula Sports and Entertainment spokesman said the $1.1 billion figure was inaccurate, but he declined to say whether the correct figure was higher or lower.
Poloncarz referred to rampant "speculation" on the status of the talks among the Bills, the county and the state, but he declined to go into detail on where things stand or what the team has requested. He also didn't directly address whether the parties have agreed to move forward with a new stadium or whether renovating the existing stadium remains an option.
"I want people to understand negotiations are a process," Poloncarz said.
Some fans are worried that the Bills could leave for another city if the team doesn't get what it wants in the stadium negotiations.
Pegula Sports and Entertainment, the team's owners, have pitched a $1.5 billion proposal for a new stadium in Orchard Park and to help cover some renovation costs at KeyBank Center downtown.
The News article stated that the Bills haven't explicitly threatened to leave, but its representatives made clear there are other cities interested in hosting an NFL team. An NFL writer for ESPN on Sunday tweeted  that an "ownership source" told him Austin, Texas, is a potential destination.
Poloncarz sought to tamp down this conjecture.
"There was no statement by the Bills: 'We're going to Austin,' " Poloncarz said, nor did the team mention San Antonio, a regular would-be destination for NFL teams seeking better leverage in stadium or lease negotiations.
"At no time has the team representative said, 'If you do not build this and pay for it, we are moving.' They have not said that," Poloncarz said. "And I want the public to understand there's been no gun put to the head of Erie County and New York State."
A reporter also asked Poloncarz whether he thought Gov. Andrew M. Cuomo's weakened position – because of the release of the bombshell sexual harassment report by the state Attorney General's Office – makes it more difficult to reach a deal on a new Bills stadium.
Representatives met Tuesday at Highmark Stadium to begin the process of planning discussions about the future of stadiums and arenas in WNY.
Poloncarz said Cuomo isn't personally involved in the stadium negotiations up to this point. He said other officials, along with outside attorneys and consultants hired by New York, have represented the state's interests in the negotiations.
"I do feel confident that the players in place right now can still move ahead, regardless of what's happening in Albany," Poloncarz said, referencing the widening political scandal engulfing the governor.
Poloncarz added that Erie County has hired its own outside counsel for the talks, as well.
As for the prospect of Cuomo resigning under pressure, Poloncarz noted that Lt. Gov. Kathleen C. Hochul, a Buffalo native, would replace him.