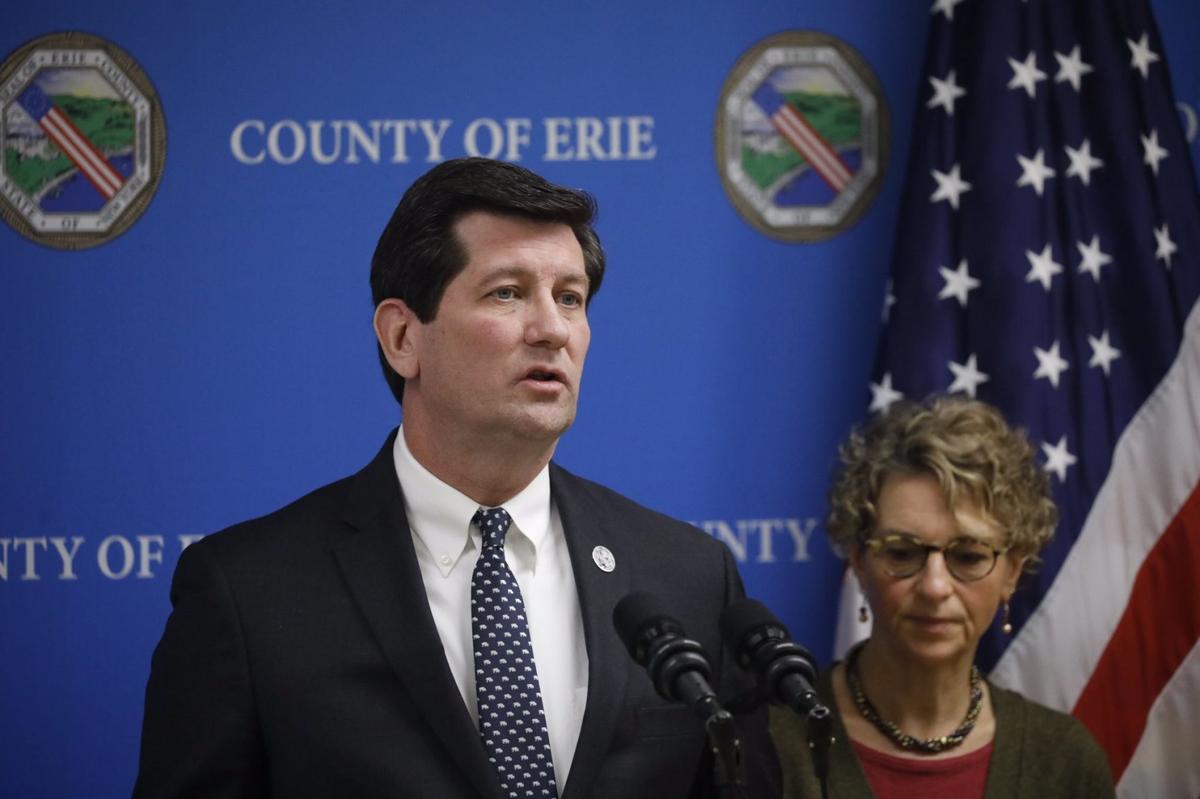 An angry and frustrated Erie County Executive Mark Poloncarz lashed out this week against individuals who have made anti-Semitic comments about the county Health Commissioner Dr. Gale Burstein, who is Jewish, and likened Poloncarz to Hitler on social media.
"The doctor is not going to say it, but I'm going to," Poloncarz said Thursday. "Unfortunately, there have been some very serious, anti-Semitic attacks against Dr. Burstein in social media, direct accusations against her and her religion. And then there's, of course, attacks on her integrity and the work that she's doing." 
He described the criticism as "unacceptable and unconscionable."
"I actually had someone post on my Facebook page today that Covid-19 is a mongrelization and attempt to destroy the white Catholic race," he said. "Well, I'm Catholic. That is not the case. We need to realize there is science, and science comes above all. But the nastiness, the racist, bigoted and anti-Semitic tones that I've been seeing from people in our own community is unacceptable."
He noted that he has been likened to Hitler and shared that a relative of his grandfather was killed in Auschwitz because she was a Polish freedom fighter.
"My God, folks. Do you really understand the past?" he said.
"The accusations that we're Hitler, that we're Nazis, because we are implementing protocols to create the safer society for all is just ridiculous," Poloncarz said. "I'm going to call it out every time I see it. So to those of you who are fomenting hate, shame on you. The protocols that have been put in place are there to protect the public, to save lives. Nobody wants to do it.
"And just in the last week alone, I've written many condolence cards – individuals I know who've lost loved ones – and I've got to write a few more."
He noted that on Wednesday, more than 3,000 people died of Covid-19 and reflected on the hard work done by county employees to help keep people safe.
He also condemned those who have treated county health inspectors "horribly." 
"We must do better," Poloncarz said. "We can do better." 
He praised the hard work of the county's contact tracers, Covid-19 hotline call takers, front-line health care workers and others who have worked tirelessly to try to respond to the long-running public health crisis.
"If there's one thing the holiday season reminds us, it's that we are all one big family," he said. "Regardless of whether you are a Muslim, Jew or a Christian, we are all the sons and daughters of Abraham, and are all one big human family. Let us do our best to keep as many of our fellow brothers and sisters alive during this difficult season until we can get them vaccinated, until we can protect them."