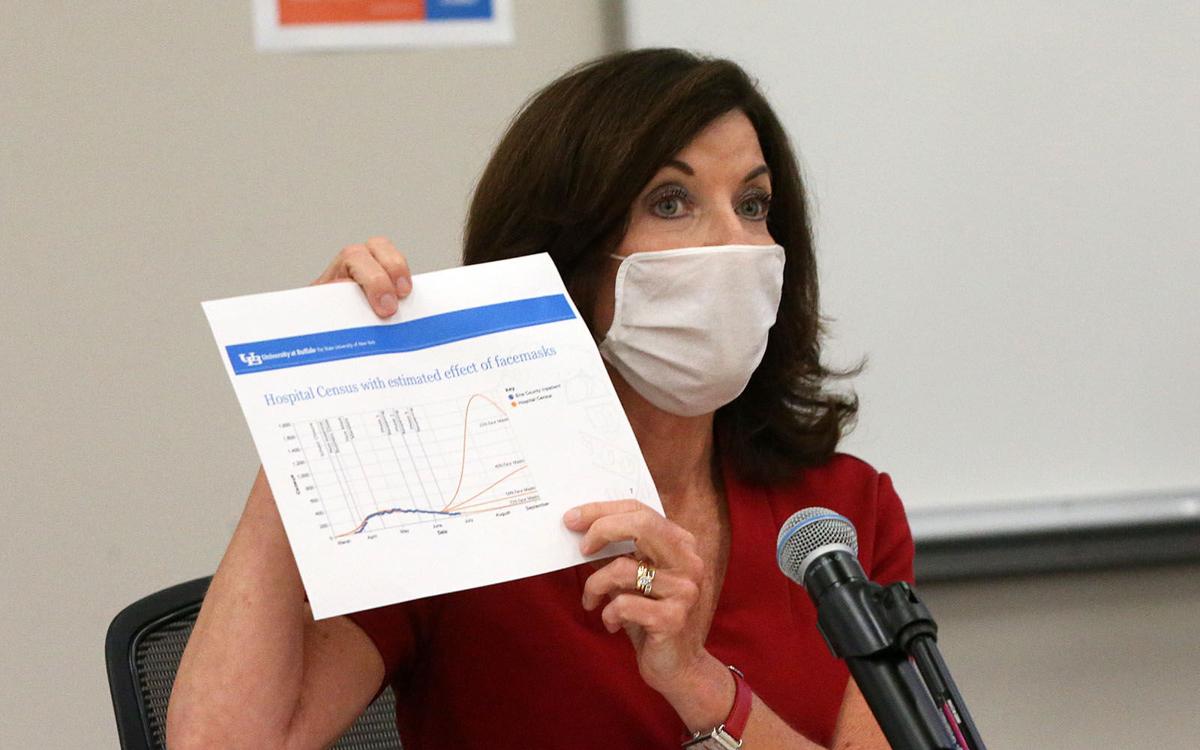 Erie County Executive Mark Poloncarz on Wednesday praised a judge's recent ruling against a private Williamsville school that sought to be exempted from public health orders mandating masks be worn by students and staff.
State Supreme Court Justice E. Jeannette Ogden's ruling against Christian Central Academy struck a blow at anti-masking activists, he said.
Justice E. Jeannette Ogden rejected the school's request for a preliminary injunction against enforcement of the mask mandate. She set an Oct. 1 hearing for further arguments and will then decide whether to approve or dismiss the school's petition.
"The complete dismissal of this lawsuit, as well as other Covid-related lawsuits that have been dismissed recently, is a vindication of the life-saving efforts of my administration," Poloncarz said in a release.
But the attorney who represents the school said Ogden's ruling this month gives state and county executive branch officials the kind of power former Gov. Andrew Cuomo wielded when handing down Covid-19 restrictions.
"Justice Ogden's ruling implicitly allows the New York and Erie County health departments to reimpose most, if not all, of Gov. Cuomo's Covid-19 executive orders, without any legislative oversight whatsoever," attorney Todd Aldinger told The Buffalo News. "I don't see how this can be the law."
During a court hearing before the judge ruled, Aldinger contended the emergency mask mandate lacks a basis in the state's public health law, saying the New York State Legislature's failure to reach an agreement on in-school masking does not give the executive branch authority to do whatever it pleases.
The school said it relied on assurances from former Gov. Andrew Cuomo that individual schools would be able to develop and implement their own masking policies for the 2021-22 school year.
"Fortunately, there are multiple other in-school mask mandate lawsuits pending throughout New York State," Aldinger said. "It is my hope that other judges will come to a very different conclusion. In the meantime, I will be discussing the option of an appeal with my clients."
In her decision, Ogden found the Erie County health order for masking complies with the state health order for masking in schools and that the state and county can impose regulations for the safety of students in public and private schools.
The mask rules are in line with the Centers for Disease Control and Prevention guidance for children in a school setting, county officials have said.
"Public health is a serious responsibility, and we all have a role to play in defeating the Covid-19 pandemic," Poloncarz said. "Having my administration's approach to winning this battle affirmed by Judge Ogden shows once again that we are doing the right thing for Erie County." 
The suit names Gov. Kathleen Hochul, the New York State Department of Health, and its commissioner, Howard Zucker, as defendants.
Christian Central Academy in September sued Poloncarz and Gov. Kathy Hochul – among others – over the mask mandate that it said threatens its very survival. The lawsuit came 10 days after the state Health Department filed an emergency regulation requiring face masks for everyone entering schools. By the time the emergency regulation came, Christian Central Academy had already formulated its parent-choice masking policy, according to its lawsuit. Dozens of parents chose to enroll their children on the basis of the parent-choice masking policy, and the school said it feared many of them would pull their children out of the school because of the mask mandate, according to the State Supreme Court lawsuit.