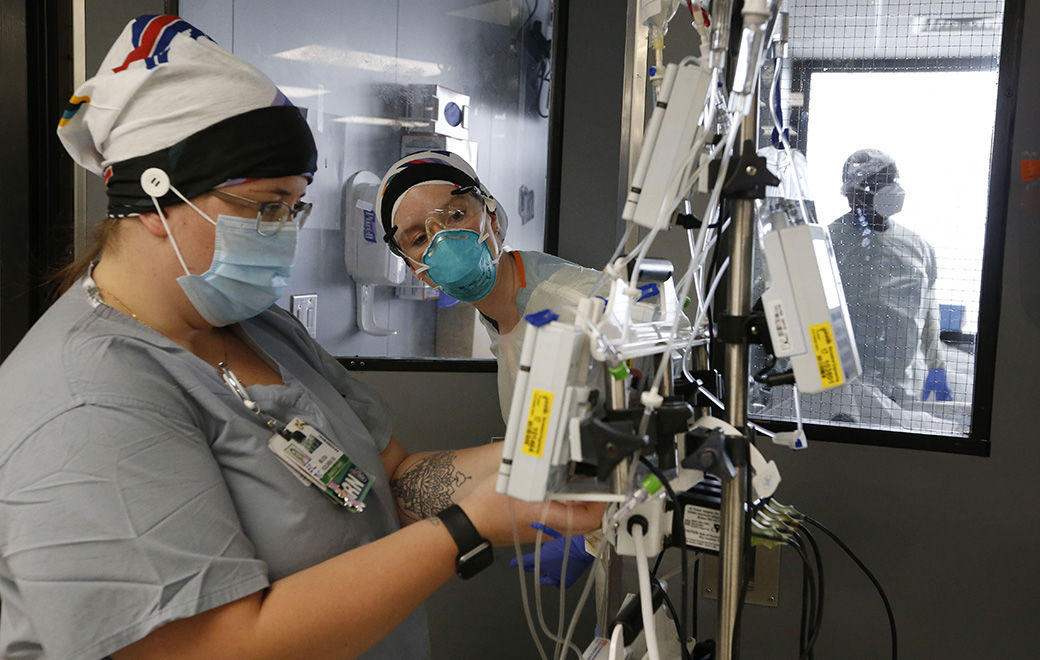 It's "a little disappointing" that Western New York can't begin to reopen for business while the Finger Lakes region can, Erie County Executive Mark Poloncarz said Friday.
Western New York has made recent progress in the number of people hospitalized for Covid-19. The trend in the Finger Lakes region, which includes Rochester, is upward, Poloncarz said.
This is a key metric the state uses to determine whether regions in New York State can begin the gradual reopening process.
"It's really in the hands of the public," Poloncarz said, adding it requires residents to follow guidelines on social distancing and staying home.
The Erie County Health Department also announced 20 more deaths of county residents due to Covid-19, bringing the county's death toll for the pandemic to 420 people.
Western New York is back to meeting five of the state's seven criteria to begin reopening, though it remains at least 13 days away from being able to do so.
The measure of new Covid-19 hospitalizations for the five-county region again meets the standard established by the state, a day after it had risen beyond what's been required.
In order to meet the standard, the figure must remain below an average of two new patients each day who are hospitalized with Covid-19 for every 100,000 residents.
The two metrics the region fails to meet involve showing 14-day declines in hospitalizations and hospital deaths. There has been one day of declining hospitalizations and two straight days of declining deaths, according to the latest figures released Friday on the state's online regional dashboard.
The state defines the Western New York region for this purpose as Erie, Niagara, Allegany, Cattaraugus and Chautauqua counties.
On the Erie County level, the number of Covid-19 patients in hospitals in Erie County has gone back up again after a previous one-day improvement.
New data released Friday by Poloncarz showed 201 people hospitalized with Covid-19 in the county as of Wednesday, the latest date for which county-only figures were available.
That's an increase of five patients from Tuesday but well below the peak of 242 who were hospitalized on April 30.
The number of Covid-19 patients in intensive care beds has fallen to 63 from a high of 102 on April 30 and the number of patients who require an airway assist also has fallen to 50 from a high of 86 on April 29, Poloncarz reported.
The number of patients hospitalized with Covid-19 in Erie County is a key measure that indicates the spread of the novel coronavirus and weighs heavily upon the regional total – and it fluctuates day to day.
" 'Maddening' is a good word. 'Frustrating' is a good word. I've been talking about it – that is something that is out of the control of Erie County. It's out of the control of New York State," Poloncarz said.
He said he's had a number of conversations with state officials about why the Finger Lakes can reopen even with that region's hospitalizations trending up.
Poloncarz said it's driven by the average number of patients hospitalized over a three-day period.
He added that four coronavirus patients in Erie County hospitals are New Yorkers who live outside Western New York's five counties yet still count against this region's total.
Poloncarz further pointed out that the county has seen a recent increase in hospitalized Covid-19 patients in the 64-and-younger age group.
It's not just seniors living in nursing homes who are becoming seriously ill from the virus, Poloncarz said, in once again urging the public to practice appropriate social distancing.
Also, 241 new confirmed cases of Covid-19 were announced for Erie County, bringing the total number so far to 4,820.
Some 28,663 tests for the virus have been performed on county residents. Poloncarz said the county for the first time has cleaned up the data to remove duplicate tests of the same person and tests of nonresidents performed in Erie County.
Five of the state's 10 regions meet all seven of the reopening criteria, which are based on guidance from the Centers for Disease Control and Prevention, state officials said.
Those five regions were allowed to begin reopening Friday. They include the neighboring counties of Orleans, Genesee and Wyoming counties, part of the Finger Lakes region.
Also on Friday, Poloncarz and Dr. Gale Burstein, Erie County's health commissioner, said:
The county does not yet have a confirmed case of the potentially dangerous inflammatory illness linked to Covid-19 in children. Three patients were treated at Oishei Children's Hospital with suspected cases of the illness and state health officials continue to monitor those cases, Burstein said.
Parents should take their children to their pediatricians' offices for all scheduled wellness visits and vaccinations. Burstein said county officials have seen a drop in vaccination levels and worry that, on top of Covid-19, they'll see a rise in cases of the mumps, measles, whooping cough and similar preventable illnesses.
The public should take advantage of widespread Covid-19 testing opportunities in Erie County. Call 858-2929 to make an appointment. However, officials have seen a troubling number of no-shows and urged people making an appointment for a test to follow through.
Though New York will open many state beaches in time for Memorial Day, Erie County will not open any of its county beaches this month. Poloncarz said the county typically doesn't open its beaches until mid to late June and the county also doesn't yet have enough lifeguards.
Poloncarz signed an executive order that took effect Friday requiring all visitors and workers in county government buildings to wear a protective mask. The only place masks aren't required is if a county employee is at an individual workstation socially distanced from the public and co-workers, he said.
Slight increase in hospitalizations on May 13 for the WNY region and @ErieCountyNY. Region increased by 6 cases, Erie County by 5. Admissions exceeded discharges in Erie County by 5. Have some more interesting data to release later today. pic.twitter.com/FFoxoUYYCr

— Mark Poloncarz (@markpoloncarz) May 15, 2020