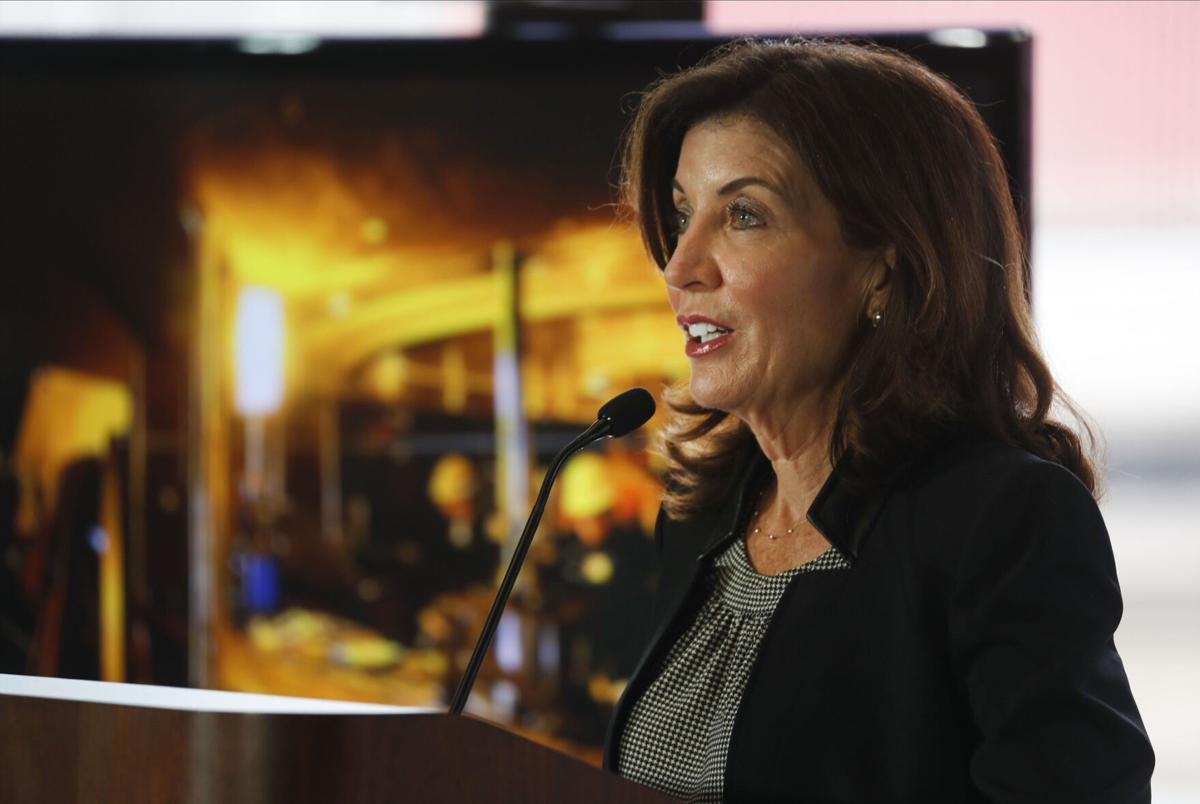 ALBANY – The good news for Gov. Kathy Hochul: A new poll shows her leading some of her potential Democratic primary opponents in 2022.
The bad news: June 2022 is a long way off and her job performance rating has dipped into negative territory just two months on the job.
Siena College this morning released a poll with three different primary race possibilities for Hochul, who is working hard to try to gain the Democratic Party's convention backing next February as a means to dissuade some Democrats challengers who might want to block her bid for a full term as governor.
In a head-to-head matchup against Attorney General Letitia James, Hochul leads 47% to 31%.
In a four-way race, Hochul gets 39% of the support among registered Democrats, compared with 20% for James, 10% for New York City Mayor Bill de Blasio and 8% for New York City Public Advocate Jumaane Williams.
Hochul, a Buffalo Democrat who became governor in August, scored better among upstate and downstate suburban voters than those from New York City.
A final scenario – adding disgraced ex-Gov. Andrew Cuomo into the field with those four candidates – Hochul still leads with 31% of the vote to Cuomo's 17%. James trails at 14%, Williams at 7% and de Blasio at 6%.
The new Siena poll found Hochul's job performance is now at a negative 43% to 45%, compared with a September poll that had 37% of all voters viewing her job performance as negative. They gave her more negative ratings on "cleaning up corruption in Albany," as well as her efforts to strengthen the state's economy and for tackling issues "important to you."
Siena pollster Steven Greenberg said Hochul and James are largely unknown to about one-third of Democratic voters. He noted independent voters by a 2-to-1 margin rate her job performance unfavorably; two-thirds of Republicans gave her a negative rating. However, among Democrats, who have the first crack at deciding whether Hochul will run in a general election, she gets a 59% favorable rating for her job performance.
One of Hochul's chief priorities in office has been increasing Covid vaccination rates. The state, by party affiliation, is mixed on that priority.
Just under 60% of all respondents said boosting vaccine rates among New Yorkers is very important. Among Democrats, 76% said it's very important and 44% of independents gave the same response. Among Republicans, though, just 39% said they think boosting vaccination rates is "very important."
Among all respondents, the poll said it has a 4.1% margin of error. Among Democrats, it poll the error margin at 5.4%.
If Hochul's unfavorability rating has declined since September, according to the poll, she is becoming better known across the state. In April, when asked if they had a favorable view of Hochul, 69% said they had no opinion or didn't know enough to have an opinion. In the new poll, 32% gave that response.