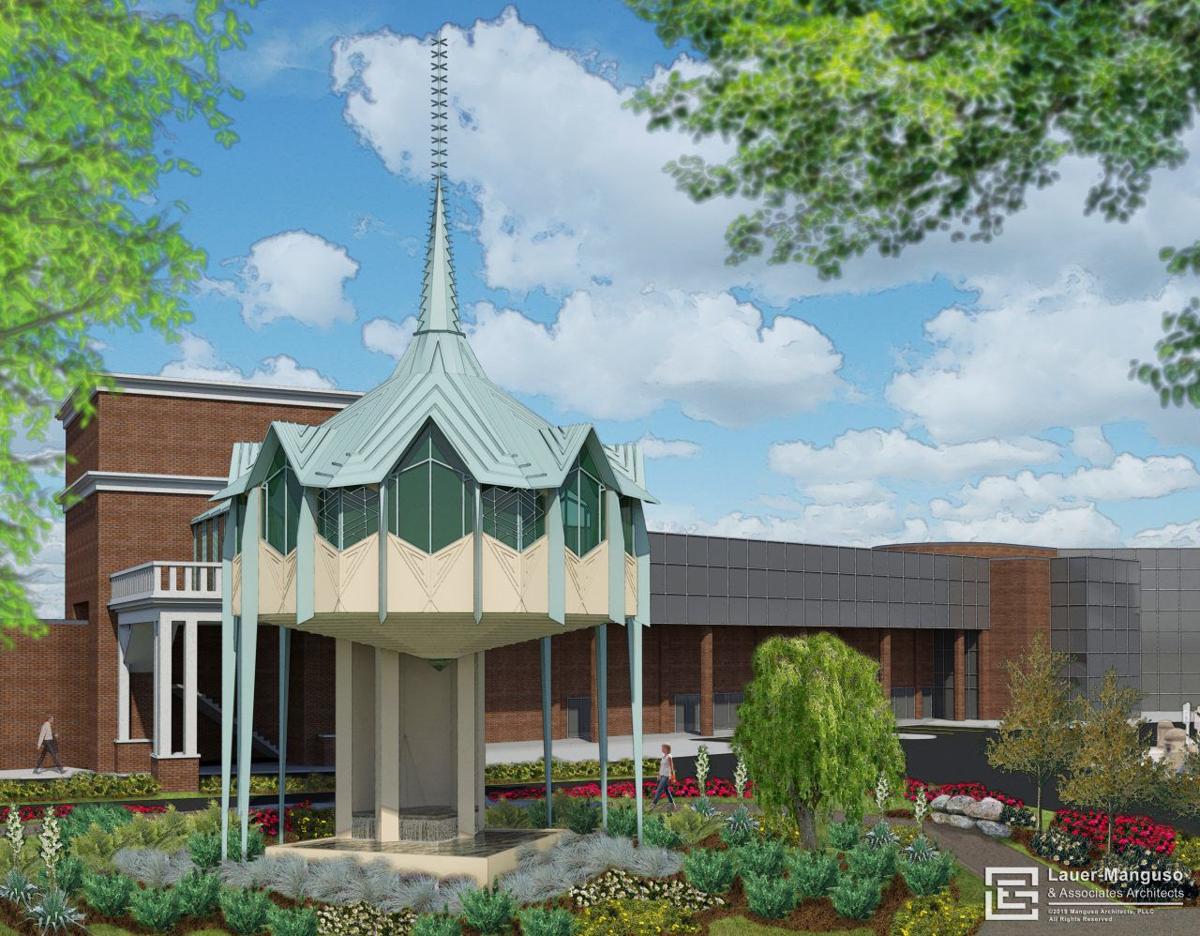 Developer Douglas Jemal's latest plan to expand One Seneca Tower's massive concrete design won approval from the Buffalo Planning Board Monday night, while Ellicott Development Co. got the go-ahead for a long-delayed new warehouse on Dingens Street.
Jemal received approval in January for an addition and facade improvements to the west side of the tower complex's plaza level, extending the structure out to Pearl Street while introducing a new and friendlier look of black brick and glass down to the sidewalk along the street. Now he wants to extend those improvements around the southern corner onto Upper Terrace.
"We love the idea so much that we're now going to be extending it out toward Exchange as well," said Jon Pierowicz, associate attorney at Phillips Lytle, representing Jemal. "We're just going to be wrapping it around to Upper Terrace. The current view, it's less than aesthetically pleasing, so we thought we'd upgrade it."
In the process, he's adding 8,300 square feet of space on the south side, with 6,000 square feet allotted for a future commercial tenant while the rest is tied into the South Annex building for amenities and a vestibule for apartment tenants
No changes are planned for the garage level, although the overhead doors may be replaced. "It's essentially remaining the same, but they are going to be painted or replaced so that it's more in line with the aesthetic color palette of our addition," Pierowicz said.
Meanwhile, the Planning Board also approved Ellicott's plan for a 90,207-square-foot warehouse at 246 Dingens, at James E. Casey Drive.
A similar project, for a 100,000-square-foot warehouse, had been approved in 2015, with a specific tenant in mind, but "that deal fell through so we pulled the project," said Ellicott Director of Development Tom Fox. The $7.1 million project – for a 30-foot-high, one-story building – is slightly smaller in overall footprint, but the structure's design is largely the same, and it's still planned for the same vacant green site, he said.
The project would include 141 parking spaces on the 4.3-acre property, along the south side and at the northeast corner, while a deep loading dock area, with six bays, is planned for the north side. The tan metal building will feature a 4-foot-high "knee wall" on one side with a precast concrete cap on top and an accent band, while the three retail entryways would be flanked with taupe-colored brick veneer pilasters.
The plan was approved with 24-foot driveway entrances, but Ellicott is seeking a variance from the Zoning Board of Appeals to allow for a wider one for trucks. Fox said officials hope to start construction by the fall.
The Planning Board also approved a "coastal consistency determination" for Canadian developer Harry Stinson's plan to construct a Frank Lloyd Wright-inspired wedding chapel – based on the famed architect's original plan for a California hotel – as an 8,500-square-foot addition to Stinson's Buffalo Grand Hotel, formerly the Adam's Mark Hotel, at 220 Lower Terrace. New gardens and landscaping are also included.
"It'll be quite a spectacular selfie photo op at the entrance to the city," Stinson said. "We have had more emails and phone calls from people fascinated by this than by anything else we're doing."
But the project still needs a zoning variance for setback before the Planning Board can review the site plan.
The board also delayed action for at least two weeks on several other proposals, despite voicing support for the plans, because it must wait for the completion of other steps.
It tabled plans by Mod-Pac Corp. to construct a parking lot and two large athletic fields for Nardin Academy at 1801 Elmwood Ave., on a vacant 8-acre portion of its property. The Department of Environmental Conservation has approved a cleanup plan and use of the property, but a formal environmental land-use review is still in process.
The project would include two large multi-use turf fields and lighting for soccer, lacrosse, field hockey and softball, with a small cement-block building for locker rooms and bathrooms, as well as 117 parking spaces. Food service is not envisioned right now.
Plans also include rebuilding access roads for Mod-Pac to its facilities and employee parking.
The board also decided to hold another public hearing on judge-turned-developer Anthony LoRusso's plan to expand his new Campus West project at 129 West Ave., adding nine more apartments to his planned 39-unit microapartment building.
LoRusso's APL Property Group already received approval to construct the four-story building, with 550-square-foot one-bedroom apartments designed for moderate-income tenants. But his lender insisted on more revenue to support the loan, so LoRusso is scrapping the first-floor office and community space and replacing them with nine additional apartments, for a new total of 48 units. He also wants to expand the basement and remove one rooftop patio at the rear of the 40,500-square-foot building to provide more living space.
There's no change to the building's overall shape or exterior design – aside from the patio – and there's still enough parking, said attorney Marc Romanowski, who  represents LoRusso. Board members felt a new public hearing was warranted because the differences were significant.
"The number of units is a pretty dramatic change," said Board Vice Chairwoman Cynthia Schwartz. "If this were in my neighborhood and it was 39, and it's now 48, I would think it's been bait-and-switch."
The board delayed action on Hormoz Mansouri's project to construct a five-story mixed-income apartment and retail project at 47 E. Amherst St. Located on the 3.3-acre site of a former Central Park bowling alley, the project would include 171 apartments and 153 parking spaces, plus a new decorative public art feature. About 40 percent of the apartments will be affordable housing, while the rest will be market-rate units, and most will be one-bedroom units. The building will also include 34,000 square feet of commercial and retail space.