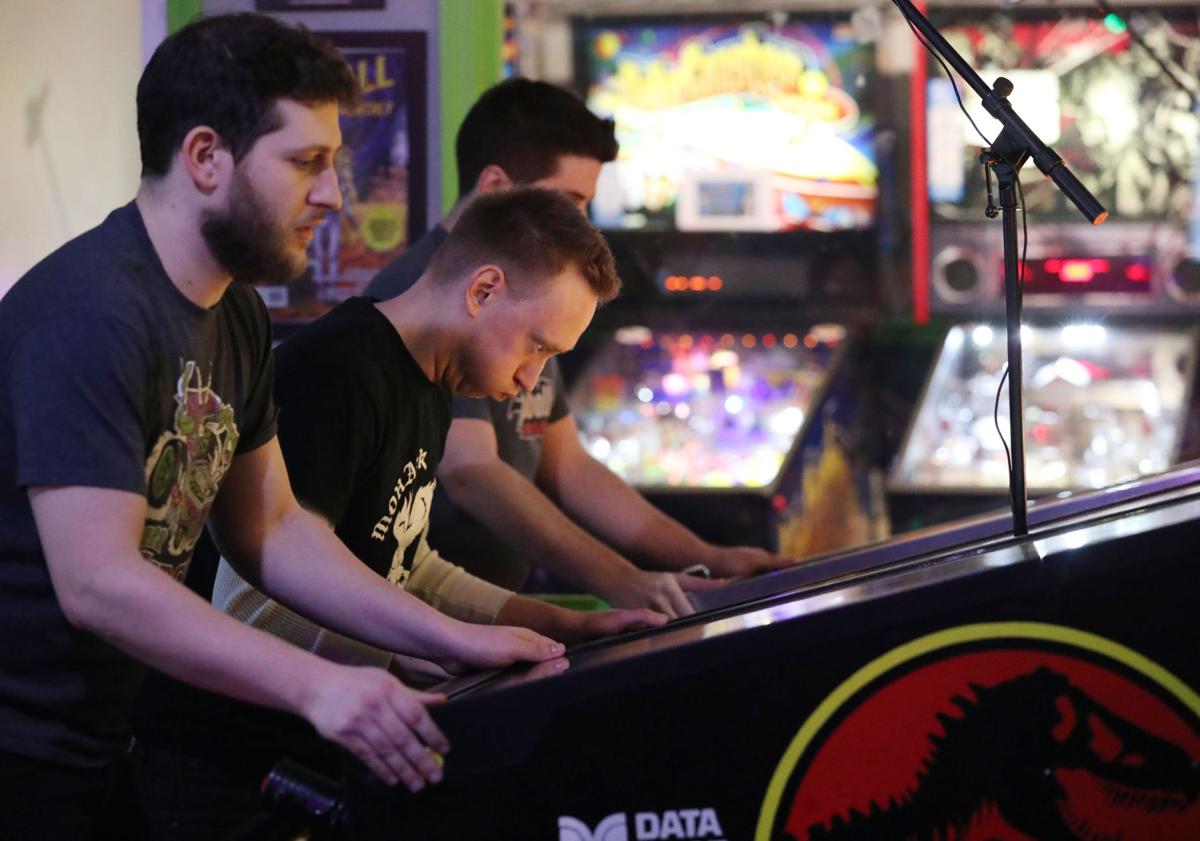 On a winter day when temperatures spiked at a welcome 40 degrees, it was even warmer inside the Delaware Avenue gaming center where Nick Lane and Kevin Manne carried the mantle of Western New York into battle.
Over the course of the day, Lane and Manne would attempt to do what the Bills and Sabres couldn't — flip, tilt and bang back their way to a championship.
Even more important, perhaps, they would do it in their backyard, in the first ever New York State Pinball Championship held outside New York City.
"I'm a gamer," said Lane, a 37-year old University at Buffalo employee. "We definitely want to have a respectable showing."
With 14 other pinball players, all ranked by the International Flipper Pinball Association, Manne and Lane gathered at GameOn in the Town of Tonawanda to pursue a title that six years ago didn't exist.
Now, with the explosion in pinball's popularity, there is an increasing number of competitive players, not to mention tournaments, leagues and state championships like the one held Saturday in the back of a video gaming center here.
In 12 years, membership in the competitive IFPA has gone from 500 to more than 56,000, and an event organized by its sister organization last year attracted 400 competitors, the largest pinball tournament in history.
The revival was evident Saturday as Manne and Lane, proud to host the first state title outside New York City talked about the reasons behind the renaissance, which they admit came late to Buffalo. The tournament was streamed live on twitch.tv.
Some of it is the baby boomers who played pinball as kids and now have the money to buy a machine, maybe two or three, for their man caves. Most of today's players are men, and that was the case with the all-male field in Tonawanda.
But there are also millennials who learned about pinball by playing virtual or digital versions of the game. And then there are players like 2016 state champ Greg Poverelli, a 27-year-old who plays out of the Sunshine Laundromat and Arcade in Brooklyn, now a pinball hotspot.
Poverelli played the game for a short time as a young boy, gave it up and then rediscovered it seven years ago. He thinks the sudden rise in popularity is because of pinball's ability to provide a competitive head-to-head gaming experience in a highly social environment.
"There's a true renaissance of the game," Poverelli said.
In the first round Saturday, Manne took Poverelli, who has played in two world championships and is currently ranked 115th in the world, to a seventh and deciding game before losing to him.
Manne, who is currently 740th out of more than 50,000 pinball players across the world, often jokes that he was destined for the game. He points to his father, who once admitted to him that he often skipped class during college to play pinball.
"It's in my blood," Manne said with a smile.
When you talk to pinball players and ask them why pinball, the answers are often the same. And yet they speak to why the game is going through a resurgence.
Lane, who also runs a business, Buffalo Pinball and Arcade, will tell you that every pinball machine is different and that with the differences come the need to adjust your approach to the game.
Throw in the wide-ranging variety - there are hundreds of different pinball machines - and you can quickly understand the competitive appeal of the game.
"They all have quirks you have to learn," said Lane as he looked at the games in play Saturday. "Fathom is different than Jurassic Park, and Jurassic Park is different from Monopoly."
For him, learning the strategies of playing those games, not to mention Metallica, AC/DC and Game of Thrones, keeps him coming back.
For Manne, who also works at UB, it's as easy as comparing pinball to bowling.
"You go to a bowling alley and all the lanes are the same," he said. "I come here and there are 10 different games, each one requiring a different strategy."
None of the world's top-ranked players were on hand Saturday, but for someone in the field of 16, there will be an opportunity to compete with those world-class players in March.