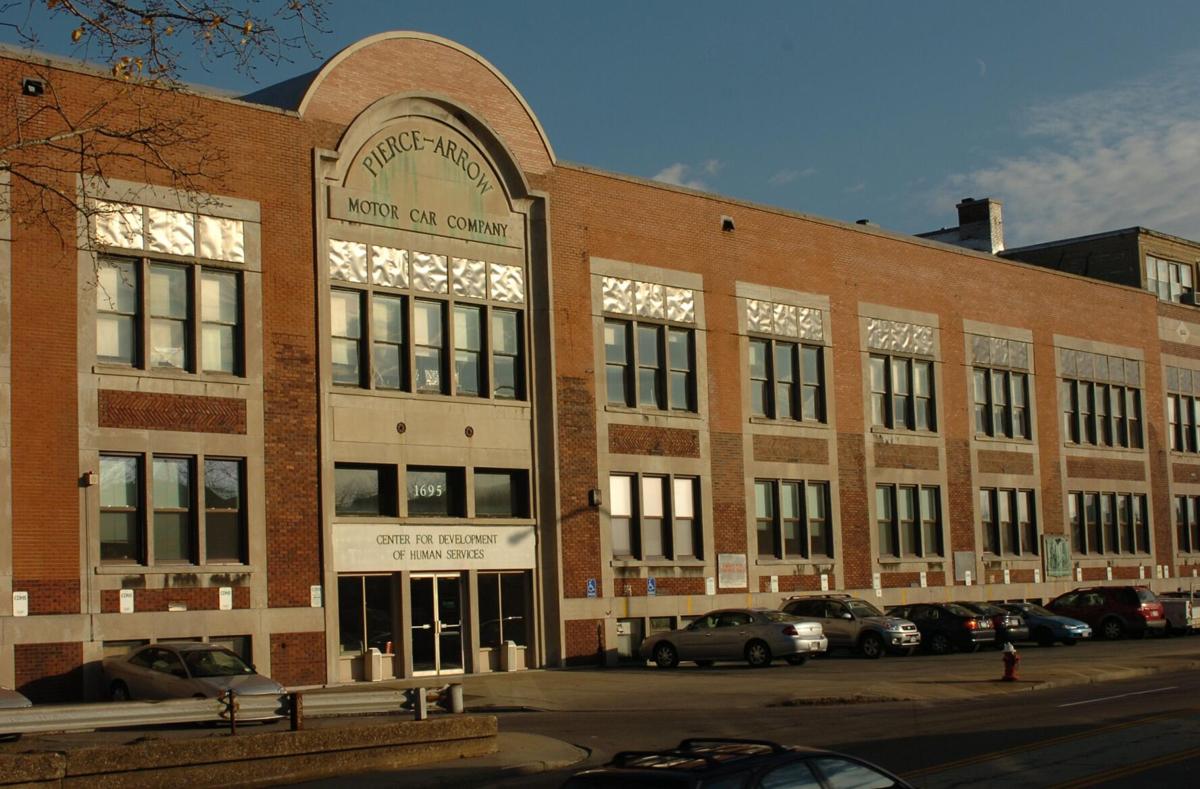 The former owner and head of the ImmediateCare network of urgent-care clinics has acquired the Pierce Arrow Administration Building and a related warehouse on Elmwood Avenue from a downstate developer who had planned to turn it into a new apartment complex.
The purchase by Dr. Gregory F. Daniel's Nidus Development marks the third owner in less than three years for a highly visible part of the former Buffalo manufacturing complex of the Pierce-Arrow Motor Car Co.
It also brings the ownership back to local hands, after Robert Wolf's Read Property Group of Brooklyn took over control in May 2016 from North Buffalo investor Joseph Hecht, who still remains part of the development group after owning the building since 2005.
Late last month, Nidus, acting through Pierce Arrow Kanaka LLC, paid $4.3 million to Pierce Arrow LLC, which is controlled by Read Property. That's a nearly $500,000 profit for Wolf, who paid $3.83 million for the properties less than two years ago.
The deal includes the main 123,099-square-foot office building at 1695 Elmwood, where Pierce-Arrow executives ran the company, as well as part of the manufacturing facility at 1721 Elmwood.
Hecht, who is still leading the development effort as Daniel's representative, could not be reached for comment, but Daniel said Wednesday that the plans for the building remain the same as before.
"I'm following through on his plans," Daniel said of Hecht. "He's the guy that has the knowledge base. He's owned this building since 2005. He's a very sharp, very intelligent individual, and I've enjoyed working with him over the last few months. He brings a wealth of knowledge and expertise to this game that will allow us to complete this project hopefully in a very short period of time."
Interior demolition work has now begun, Daniel added, and he hopes to open by spring 2019.
Daniel started, ran and grew the ImmediateCare network in Buffalo, Rochester and Austin, Texas, as part of a medical practice management and staffing company called Exigence Group. He sold it in 2012, and then tried unsuccessfully to get into medical marijuana before shifting his focus to real estate, where Nidus specializes in free-standing medical centers, mixed-use campuses and commercial office buildings.
His past projects included all nine urgent-care centers, but he also bought a 20,000-square-foot multi-tenant office building at 1 John James Audubon Parkway in Amherst, and completed a 10-acre commercial redevelopment in Round Rock, Texas. He also owns several professional office buildings in suburban Rochester and development-ready land in Erie and Niagara counties.
Additionally, he is seeking to develop a 30-acre medical campus in a rural county southeast of Atlanta. And he's working with developers Nick Sinatra and David Pawlik to bring a "medical mall" facility to a new-build project at 1200 Jefferson Avenue, on Buffalo's East Side.
Wolf and Hecht had planned to renovate the long and slender administration building into the new Pierce-Arrow Apartments, with 107 units throughout the three-story brick-and-stone facility. That $30 million project was even approved by the Buffalo Planning Board in September 2016, but never got underway.
Plans by Flynn Battaglia Architects and Studio T3 Engineering Pllc had called for a mixture of one- and two-bedroom apartments at the Pierce-Arrow, with some two-bedroom loft units on the second floor, where ceilings are 19 feet high. Tenant amenities would include a fitness center and small lounge area with WiFi - likely in a portion of the building's former auditorium space - but the original plans did not include any retail or restaurant space.
That's the only change that Daniel is bringing. He and Hecht plan to add a mixed-use component, with a couple of restaurants in an open area of the building that would have remained empty before. They are already talking with a couple of "higher-end" local restaurants, although Daniel would not identify them yet.
"We want it to be self-contained, so that when individuals that are living there, when they wish to order their food from downstairs or go downstairs on a snowy night in Buffalo, they'd be welcome to do so without having to leave the facility," Daniel said. "This is going to be a very high-quality product."
The secondary building, meanwhile, will still become a new indoor parking facility for 64 vehicles for the new residential tenants. The property already contained 26 existing parking spaces, and the developers had agreed to put 31 more in the rear and front, based on suggestions from the city. Hecht also had told the city at the time of the Planning Board approval that he wanted to eventually put on an addition to the parking building to handle another 22 cars.
But the complex has been on the National Register of Historic Places since 1975, so any changes require approval from the State Historic Preservation Office and National Park Service. That clearance was still pending as of the Planning Board decision.
It's also critical because the developers wanted to obtain lucrative state and federal historic tax credits to offset the cost of the project. They also wanted the building to be included in the state Brownfield Cleanup Program, so it could qualify for state brownfield tax credits as well.
Work was to have begun by March of last year, but Daniel said he did not know why Wolf pulled out. Daniel and Hecht began talking last summer after they were introduced to each other by a mutual friend who is also a physician.