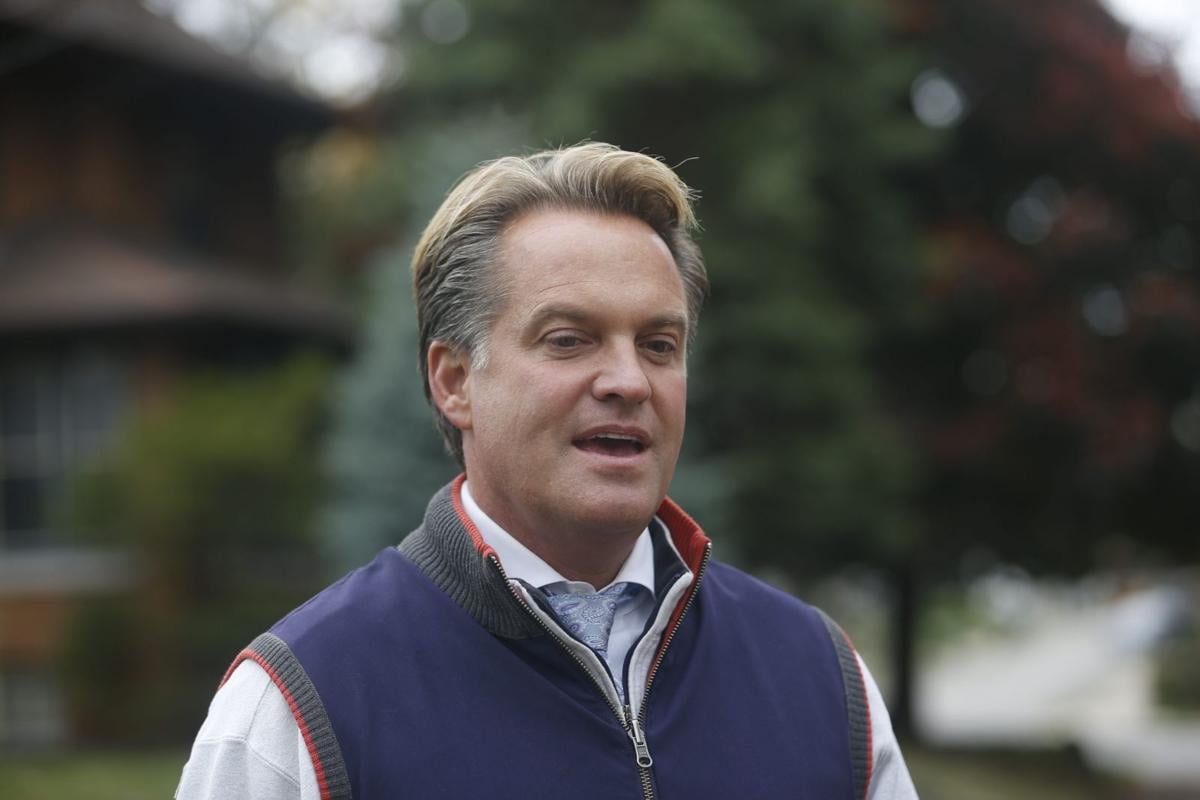 Kenmore attorney Kevin T. Stocker has made good on early indications that he will run for the 140th Assembly District this year, filing Democratic petitions late Friday with the State Board of Elections.
Stocker, a former Republican who scored well in a 2014 State Senate contest, said for months that he will run for the seat being vacated by retiring Democrat Robin L. Schimminger. But he has made no public declaration, and his new filing means a Democratic primary will take place on June 23 against endorsed Democrat William C. Conrad III.
Robert E. Pecoraro filed on Republican and Conservative. Conrad filed on Working Families and Independence. Pecoraro also filed on Independence, though it remains unclear at this point which candidates in several contests have the party's authorization to file on Independence.
The timetable for filing petitions as well as the number of required signatures were reduced by Gov. Andrew M. Cuomo's emergency order earlier this month in response to Covid-19. More petitions could arrive by mail over the next few days, and challenges could knock off some candidates from the ballot, a process which is also expedited by the governor's decree. Early results now include:
• 26th Congressional District: Democratic businessman Emin "Eddie" Egriu has launched several candidacies in the past but traditionally encountered difficulties in gaining enough signatures to qualify for the ballot. The emergency decree reducing the required signature total from 1,250 to 375 has increased the likelihood of his primary challenge to incumbent Democratic Rep. Brian Higgins. Egriu will also challenge Higgins on the Libertarian line.
Republicans nominated Ricky T. Donovan Sr., a former activist in the local Independence Party. Higgins also filed on the Working Families and Serve America Movement (SAM) parties.
• 27th Congressional District: The much anticipated Republican primary for the seat vacated by Republican Chris Collins becomes official after Republicans Christopher L. Jacobs, Beth A. Parlato and Stefan I. Mychajliw Jr. filed petitions. Democrat Nate McMurray also filed, making him eligible for the November general election.
But first McMurray will face Jacobs in an April 28 special election to fill the Collins vacancy. The GOP primary is slated for June 23.
McMurray also filed on Working Families, while Jacobs will have the Independence line. Scott P. Flynn of Niagara Falls will challenge Duane J. Whitmer of Lakeview for the Libertarian nomination.
• 23rd Congressional District: 2018 candidate Tracy Mitrano of Penn Yann has filed again for the Democratic line to challenge Republican incumbent Tom Reed of Corning. But she will first face Scott Noren of Ithaca in the June 23rd Democratic primary.
Reed filed on the Republican, Conservative and Independence lines;  Mitrano on Working Families. Andrew M. Kolatee of Jamestown filed on Libertarian.
• 61st Senate: A three-way Democratic primary is shaping up for the seat now held by retiring Republican Michael H. Ranzenhofer. Endorsed Democrat Jacqualine G. Berger, an Amherst Town Board member, will face Williamsville businesswoman Joan Elizabeth Seamans and Kim Smith, a retired Monroe County employee. County Legislator Edward A. Rath III filed on Republican, Independence and SAM lines. Brian F. Curran of Rochester filed on Independence. Adam R. Massaro of Akron filed to challenge Rath on Independence.
• 60th Senate: Democrat Sean M. Ryan, a current assemblyman, will face Republican Ross M. Kostecky, a senior clerk in the Erie County Legislature (though party sources say a substitute could still be found). Albert Monaco filed on Conservative. Ryan will run on Working Families, and face an Independence primary from Darren P. Woods. Brian V. Phillips will face Ryan on SAM.
• 63rd Senate: Nobody filed against Democratic incumbent Timothy M. Kennedy, guaranteeing his re-election in November.
• 59th Senate: Democrat Jason W. Klimek will face incumbent Patrick M. Gallivan, who has Republican and Independence. Klimek filed for Working Families.
• 57th Senate: Frank V. Puglisi of Franklinville filed on Democratic and Working Families to challenge George M. Borrello, the incumbent Republican who also has Conservative, Libertarian and Independence. Puglisi has Working Families.
• 149th Assembly: A surprise third Democrat ‑ Adam L. Bojak ‑ will face former Niagara Council Member Robert Quintana and county official Jonathan D. Rivera, who also has Working Families, Independence and SAM. Daniel S. O'Connell is the GOP candidate.
• 146th Assembly: No Republican appears on the Board of Elections website, but Republican Robin Wolfgang is expected to file against Democratic incumbent Karen McMahon, who also has Working Families. Ruben Cartagena Jr. of Amherst is the Green candidate. Jonathan G. Lavell of Williamsville is on Independence.
• 142nd Assembly: As expected, Assistant District Attorney Matthew S. Szalkowski – a Republican also running on Conservative – will challenge Democratic incumbent Patrick B. Burke. Both filed on Independence. Madison L. Klimowicz will challenge Burke on Working Families.
• 143rd Assembly: Frank C. Smierciak II will run on Republican and Conservative against Democratic/Working Families incumbent Monica Piga Wallace. Both filed on Independence, while Michael A. Miller filed on Green.
• 147th Assembly: Incumbent Republican David J. DiPietro will face a Republican primary challenge from Zachary R. Wiedeman of Arcade. DiPietro will run on Conservative and Independence.
• 148th Assembly: Democrat Daniel J. Brown of Great Valley will face incumbent Joseph M. Giglio, who has Republican, Conservative and Independence.
• 144th Assembly: Republican incumbent Michael J. Norris is unopposed.
• 145th Assembly: Democrat Michael Clark of Lewiston will challenge incumbent Angelo J. Morinello, who has Republican, Conservative, Libertarian and Independence.
• 141st Assembly: Republican Sean Miles will challenge incumbent Democrat Crystal D. Peoples-Stokes.