When our body or mind, for one reason or another, fails us, professional caregivers are the front-line heroes who nurse us back to health, who hold our hands when we are alone or hurt, who administer medicine to heal us and who help us when we fall.
But who helps paid caregivers when they are in need?
Caregiver burnout has been a growing problem, especially since the Covid-19 pandemic hit hospitals, skilled nursing facilities and senior communities hard.
There is sometimes an assumption that professional caregivers can handle the stress. After all, it's their job. Yet there is a cost for not addressing the health of paid caregivers.
The Centers for Disease Control and Prevention list the negative effects of poor mental health among employees: reduced job performance and productivity; a lack of engagement with one's work; a decrease in communication with co-workers; and poor physical capability and daily functioning in the workplace.
Keeping caregivers healthy in mind and body is as important for them as those who depend upon them.
That's why employer-based support is so important.
Nurses during the pandemic said the most common reason they planned to leave their job was that work had negatively affected their health and well-being, according to a 2021 Statista survey. The second most common reason: insufficient staffing. In 2020, the average turnover rate for registered nurses across the United States was 18.7%.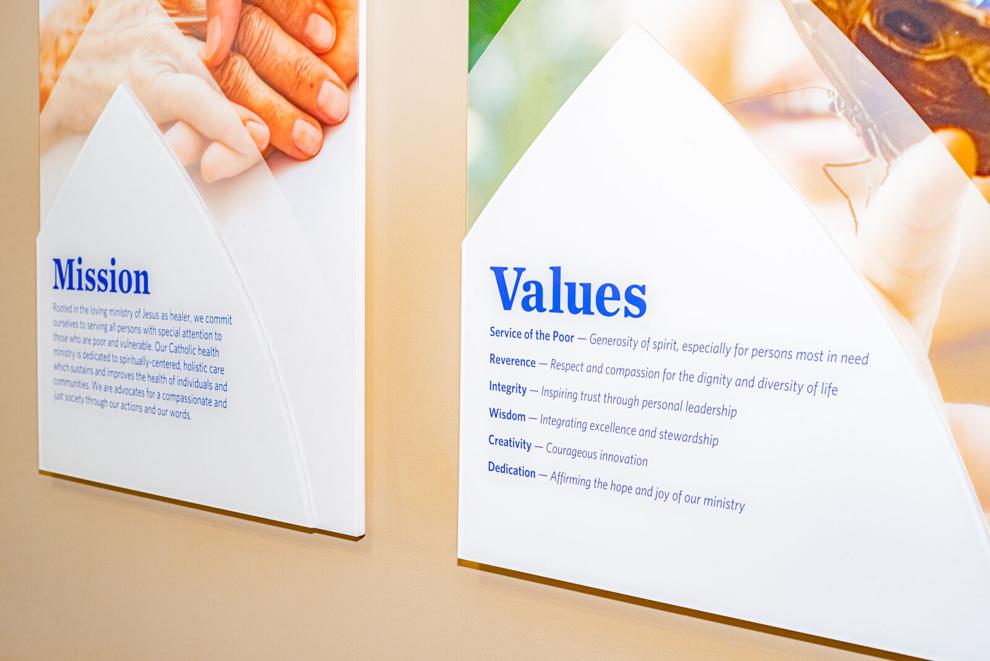 In the hallways of hospitals
Angela McIntyre and Kelly Asselmeier are registered nurses at Ascension Borgess-Pipp Hospital, a long-term acute, special needs and emergency care facility in Plainwell, Mich. McIntyre has worked in nursing for almost four years; Asselmeier, for 12. Their usual shift is 12.5 hours, with a three- to four-day work week.
"You're coping with all of these in-the-moment things but you also know you're losing your person. That never leaves your mind," says Darcy Thiel, a Buffalo mental health counselor.
"In nursing, you see the whole gamut," McIntyre said. "Many of our patients are on ventilators, many are critically ill. You have to think with your head and your heart at the same time."
"During Covid, we weren't always able to get to everyone in time, and that was horrible ..." Asselmeier said. "We love our work, but that was hard."
Health care employers know the importance of taking care of their workers.  At Ascension hospitals in southwest Michigan, employees have access to MyCare, a website that connects workers to resources including online therapy, virtual or in-person spiritual care, a list of crisis hotlines for substance abuse, suicide and more.
"I like to think of MyCare as something like a spare tire," McIntyre said. "You know where it's at, where it's located, but you don't want to be at the point where you need it. But sometimes, as nurses, we do need to go to others for support. It's a wealth of resources."
Both nurses look first to their direct management and co-workers for support. Incentive pay for the extra hours and holidays can also keep nurses motivated.
"Appreciation from our own team means the most," Asselmeier said. "And we get that from our patients, too. They are the reason we are there."
Debriefing meetings after a patient dies is a valuable check-in on caregivers' mental health needs. Transparency about work issues keeps the team feeling included rather than managed.
Not to be ignored are the small but meaningful shows of appreciation. A recently installed "massage room" at the hospital allows nurses on break to relax in a comfortable leather massage chair under dimmed lights. A quiet space gives nurses an opportunity to defuse stress and meditate.
"Little things matter," McIntyre said. "All of these things matter."
Ascension offers tuition reimbursement – a benefit McIntyre used to complete her bachelor's degree in nursing.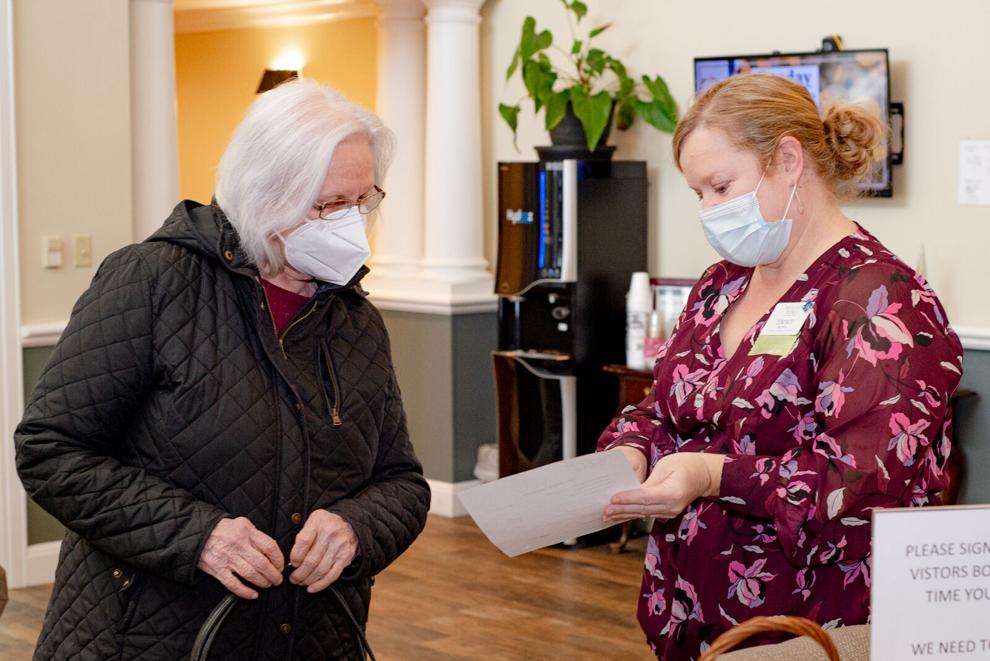 Long years of staff service is an example of what works to prevent caregiver burnout at Friendship Village, a senior community that spans care from independent living to memory care in the Kalamazoo region.
"We were not immune to staffing struggles during the Covid pandemic," said Ashley Jamieson, director of nursing for Woodside Assisted Living at Friendship Village. "But perhaps we did not experience it as badly here as those at hospitals and other facilities. In great part, I believe, that is because of the relationships we develop. … Our staff has a lot of longevity because of that kind of attention."
Maintaining a ratio of 1 nurse to 10 residents in assisted living, around the clock, helps to keep staff from becoming overwhelmed. RNs support other caregiving staff as needed.
"During Covid, we locked our doors for a time to prevent contagion, and when there was a breakout in November 2020, those were 45 days of pure hell," Jamieson said. "We lost 23 residents, five in our worst day and 40 residents tested positive. Our staff went into autopilot, working 60 and more hours a week. We shared staff across the facility, wherever the need was greatest. But if anything good came from that, it was that our people bonded and became closer than ever. It was combat nursing."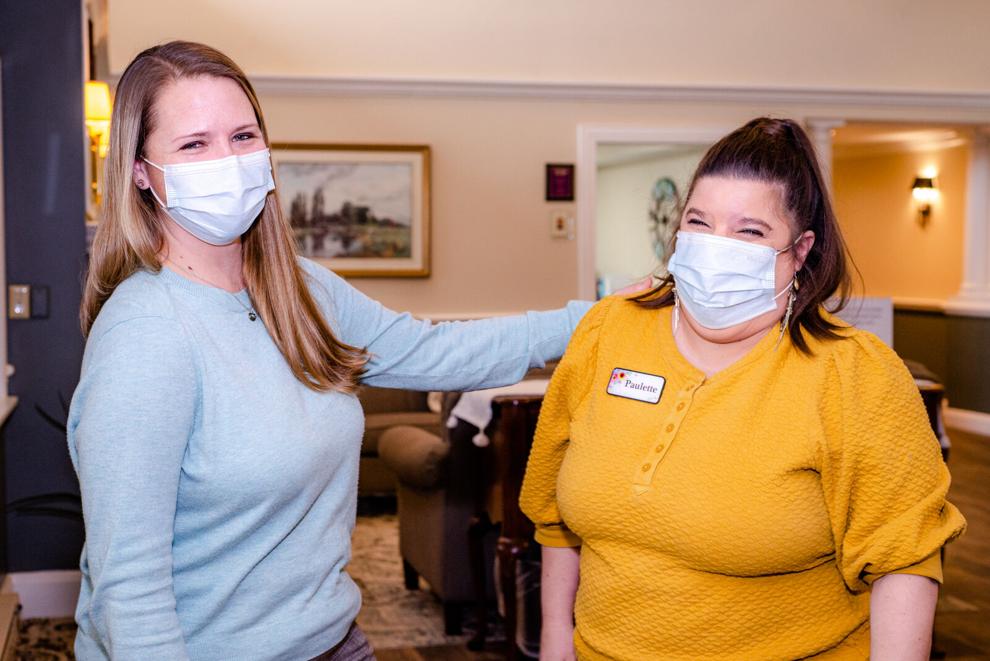 Freedom Village caregivers understand they have the permission and flexibility to care for themselves.
"We include empathy training in our orientation for new hires," said Diana Duncan, director of sales and marketing. "Our staff is explicitly told that they have permission to walk away if they are feeling overwhelmed – let someone else step in." 
Friendship Village provides its caregivers access to professional assistance, too.
"We also offer a number of employee assistance programs for employees and their family members," said Stephanie Edwards, director of human resources. "Our counseling program offers five visits per episode or work situation where a person feels they need to talk. And legal help is available, or referral to a specialist."
To show staff members they are valued, Friendship Village recognizes caregivers with gifts and awards, and encourages professional growth by offering tuition reimbursement for full-time team members, as well as conferences and training opportunities.
"We are in the business of people," Duncan said. "It's not just one solution. It's a matter of a multidimensional approach to caregiver mental health and wellness. We take care of our own."