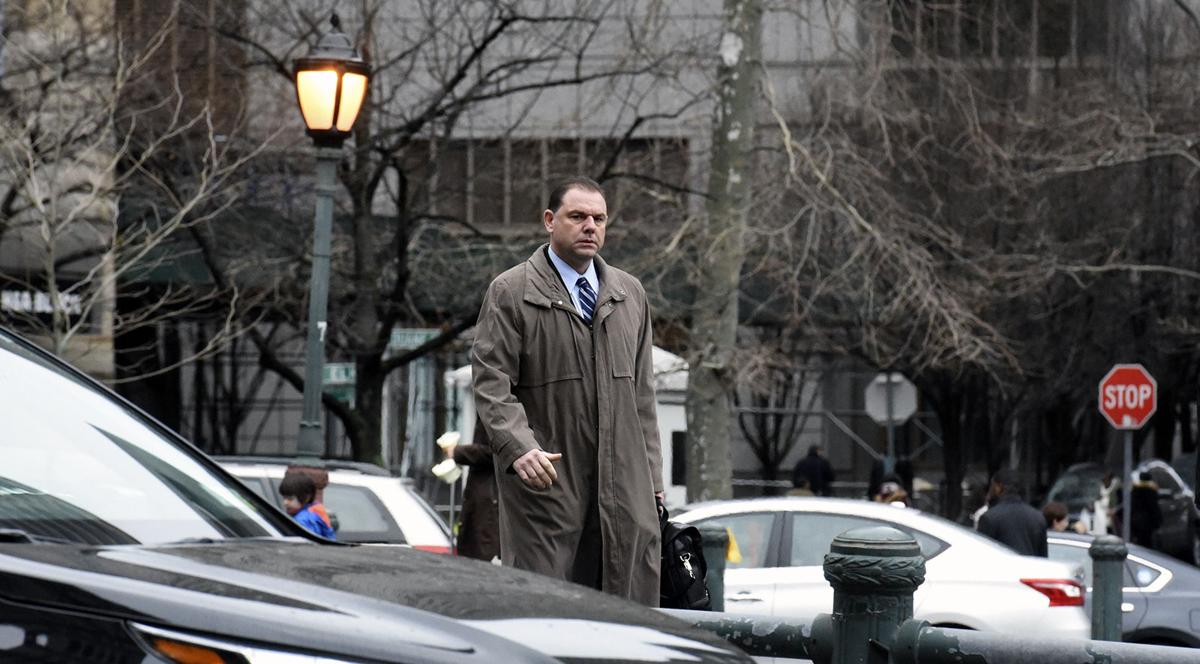 ALBANY – Tuesday was a bad day for Gov. Andrew M. Cuomo.
The corruption conviction of his onetime right-hand man and political fixer Joseph Percoco, who is now facing a possible 50-year prison sentence, opened Cuomo up in an election year to a barrage of relentless public attacks from Republicans and no rush from many Democrats to support the head of their party in New York State.
He was not charged with any wrongdoing and his name was not mentioned once during the last day of the nearly eight-week trial, but Cuomo nonetheless now finds himself with a dent in his longtime soaring rhetoric about how his administration brought a new level of cleanliness to a tarnished state government in Albany.
Percoco, who served as the insider among insiders to Cuomo, was convicted of three felony counts for his role in a bribery scheme in which corporate interests got special attention before Cuomo's administration in return for a steady flow of bribe money paid into Percoco's personal bank account.
Percoco faces a prison term of up to 50 years when he is sentenced on June 11.
The verdict represents not just a legal defeat for Percoco, but a political blow to Cuomo after years of portraying his administration as above Albany's corruption minefield.
The guilty verdict on three of six felony counts Percoco faced in the case came just 24 hours after jurors, for a second time in a week, said that they were deadlocked in the trial, which began Jan. 22.
Percoco was convicted of conspiracy to commit honest services fraud; conspiracy to commit honest services wire fraud; and solicitation of bribes and gratuities in connection with a low-show job given to his wife by an energy company with a downstate power plant interest before the Cuomo administration. Percoco got nearly $300,000 in bribes through the scheme. Another $35,000 came his way in 2014 from a Syracuse development firm while he was, for eight months, off the state payroll running Cuomo's re-election campaign.
Percoco was acquitted of three felony counts. Joseph Gerardi, a Syracuse-area development executive, was found not guilty for his role in the case while Steven Aiello, the head of that firm, Cor Development, was convicted on one count of conspiracy to commit honest services fraud. Jurors said they were deadlocked on charges against a former energy company executive accused of bribing Percoco.
The scandal involving Percoco – and which featured a trial in which a who's who of Cuomo administration current and former officials testifying or mentioned in evidence by prosecutors – is the most serious to tag someone so close to Cuomo, who rode into office in 2011 pledging to end Albany's notorious reputation as a hotbed of corruption.
The jury, after eight days of deliberations at a lower Manhattan courtroom, said it reached a verdict at 11:42 a.m. Tuesday.
Beyond the direct impact on Percoco and the other defendants, the trial brought out some disturbing revelations about Cuomo or his administration at a time when the governor is planning to seek re-election. The trial displayed testimony and evidence that offered a number of unflattering portrays of Cuomo and his administration about the influence of campaign donors and political insiders. It revealed a governor who could show considerable anger when things did not go his way, a fascination with fast cars owned by deep-pocket donors with major business before the state, a willingness to grow his campaign fund with donations that skirt donation rules, and the oversight of an administration that let Percoco, then a private citizen, continue to use state resources in a taxpayer-financed office with a prime Manhattan address.
The trial revealed top Cuomo aides conducting state business via personal email accounts, thereby masking some communications from state sunshine laws. It also portrayed an administration where senior officials bullied and threatened underlings into not leaving their Cuomo government posts, lobbying laws of a longtime Cuomo loyalist being all but ignored and a massive amount of state workers – and resources – used to carry out each of Cuomo's highly choreographed public appearances.
It's not over yet. Another corruption trial – involving six defendants, including three developers involved in the Buffalo Billion program at the solar manufacturing plant at RiverBend – is due to start in June before U.S. District Court Judge Valerie Caproni, who presided over the Percoco trial. The Buffalo Billion trial includes pay-to-play allegations involving upstate economic development projects that were a major priority for Cuomo. The governor has not been accused of wrongdoing in either the Percoco or Buffalo Billion case.
U.S. Attorney Geoffrey S. Berman of the southern district in Manhattan said Percoco sold "something priceless that was not his to sell: the sacred obligation to honestly and faithfully serve the citizens of New York.''
"As every schoolchild knows, but he corruptly chose to disregard, government officials who sell their influence to select insiders violate the basic tenets of a democracy,'' Berman added.
Four hours after the verdict, Cuomo released a written statement speaking of Percoco in the past tense. "While I am sad for Joe Percoco's young daughters who will have to deal with this pain, I echo the message of the verdict – there is no tolerance for any violation of the public trust,'' he said.
Cuomo said that the ideals of public service and integrity "have been violated by someone I knew for a long time. That is personally painful; however, we must learn from what happened and put additional safeguards in place to secure the public trust."
Two potential GOP challengers to Cuomo in this fall's race for governor used the verdict to slap at Cuomo; Dutchess County Executive Marc Molinaro said the verdict shows "the rich and powerful get special treatment in the Cuomo administration.''
One national GOP group, America Rising PAC, said the verdict will raise "a glaring red flag" for those pushing for a Cuomo run for president in 2020 – a possibility made far more complicated shortly before noon Tuesday in a lower Manhattan federal courtroom.
A group of five government watchdog groups, within minutes of the verdict, released a laundry list of ethics, campaign finance and oversight laws that need to be strengthened in New York. "Percoco's trial spotlighted a state government riddled with pay to play, influence peddling and unethical behavior,'' said the groups that included the New York Public Interest Research Group and Common Cause.
The verdict came just 24 hours after jurors said they could not reach a consensus. Caproni suggested that if she received another such deadlock note – in what would be the third in one week – the case could be declared a mistrial.
At 10:01 a.m., less than an hour after deliberations began Tuesday, the foreperson sent a note to the judge. For those who thought the first note of the day would be another deadlock note, it was a bit of a surprise. "As we continue to deliberate a question arose, we are curious if we can return a verdict on some counts and not all?'' the foreperson wrote the judge.
Only a day before, prosecutors unsuccessfully argued that the judge – in sending jurors back to deliberate more after their deadlock note – should affirmatively tell the panel that they have a legal right to return a partial verdict. On 10 counts, that could mean a jury, as seen before in at least one Albany-related corruption trial, convicts on some counts, acquits on others and issues no verdicts on some charges.
Percoco was charged with the following felonies: conspiracy to commit extortion under color of official right; extortion under color of official right; two counts of conspiracy to commit honest-services wire fraud related to alleged bribes from two companies; and solicitation of bribes or gratuities from the two companies that allegedly paid him more than $300,000 between 2012 and early 2015, when he last left Cuomo's office for good.
Percoco's troubles began in 2012, according to testimony during the trial that began Jan. 22, after he and his family moved from a modest house on Staten Island to a tony hamlet in Westchester County. His closest friend, Cuomo, lived just a few towns away. But the nearly $900,000 home, 3,900-square-foot home set on 4 acres proved to be too much for Percoco, who was making $156,000 in his job serving Cuomo and who was suddenly the sole breadwinner after his wife, Lisa, gave up her New York City school teaching post when the couple moved north.
That year, prosecutors alleged, the first bribe scheme began not long after Percoco, who had been a member of Cuomo's tiny inner circle, had dinner at a Connecticut restaurant with Peter Galbraith Kelly, an executive with an energy company that at the time was trying to build a gas-fueled power plant in Orange County. Percoco pushed that night to get his wife a consulting job with the firm, Competitive Power Ventures, which eventually happened after Kelly was later invited to Percoco's house for a dinner with Joseph and Lisa Percoco.
The company started a new education program, with Lisa Percoco making $90,000 a year for what was labeled during the trial as a "low-show" position that sought to educate grade school children about the benefits of the power industry. Prosecutors called it all a bribe deal intended to influence Joseph Percoco, who later took a number of steps – mostly via email – to help the company with a couple of its snags on issues before state government.
The other bribery case in the trial involved allegations that a Syracuse real estate company, Cor Development, paid Percoco $35,000 in 2014 in money steered through an entity controlled by Howe, who was a lobbyist at the time working for both Cor and Competitive Power Ventures. (Howe was also a lobbyist for Buffalo's LPCiminelli on the Buffalo Billion matter that will be subject to the June corruption trial.)
Two of Cor's founders, Aiello and Gerardi, were charged with Percoco in the corruption case.
Percoco, prosecutors said, was later able to help Cor with several issues, including getting an expensive "labor peace" arrangement with local unions waived by state officials for a Syracuse Inner Harbor project. They said Percoco also got stalled state reimbursement payments released for Cor and was instrumental in getting a $10,000 pay raise for Aiello's son, who was working for Cuomo at the time.
In all, prosecutors brought 10 different felony counts against Percoco and the three business executives.
The trial had its memorable and bizarre moments. At the top: the arrest of prosecution star witness Todd Howe, who was whisked out of his hotel room in the midst of his multiday testimony and placed in a federal jail. Howe, long close to Cuomo and Percoco, admitted on the witness stand that he tried to contest with his credit card company a charge for a Manhattan hotel. Howe, it turns out, did stay at the hotel, and prosecutors had to have their chief witness arrested during his testimony for possible violation of a 2016 cooperation deal he signed with the U.S. Attorney's Office in Manhattan. Howe pleaded to eight felonies as part of that deal and is awaiting sentencing.
The trial's most famous term – "ziti" – was uttered often over the past six weeks by both sides. Ziti was allegedly the code word that Percoco and Howe would use to describe bribe payments. "The government began its closing statement with the words: Where the hell was the ziti? Now, here is a better question for you: Where the hell is the proof? Because you heard no evidence of a corrupt bargain that Joe Percoco agreed to make," Percoco's lawyer, Barry Bohrer, told the jury last week.
Moreover, there was a timing issue for at least one of the alleged corruption schemes, defense lawyers argued before jurors. Percoco left the state payroll in the spring of 2014 to become, once again, Cuomo's campaign committee chairman. It was during that period that the Cor money flowed – through Howe and then with checks written to Lisa Percoco – to Percoco. Defense lawyers argued that there was no agreement by Percoco to do anything specific for Cor and that, besides, the money came when he was not a public official.
Two things happened from the perspective of prosecutors. First, Percoco, while as a private citizen, was able to keep his government-issued building access swipe card and still had use of his government-funded state office in a midtown Manhattan tower just a couple doors down from Cuomo's office. The trial did not produce evidence as to who approved such an unusual arrangement, one that violated state laws pertaining to use of public property for campaign purposes. During the period, evidence submitted in the trial showed that Percoco still appeared to act as a protector for Cuomo, taking care of such things as brewing personnel matters.
After Percoco returned to the state payroll in December 2014, following Cuomo's re-election, prosecutors showed jurors what they insisted were official acts that Percoco took on behalf of Cor. But lawyers for Aiello and Gerardi said their clients were duped by Howe and that they did not know Howe was making payments to Percoco. They knew Howe and Percoco were friends and that Howe had many contacts in the Cuomo administration, but the money they paid was meant to take advantage of Howe's contacts as both a lobbyist and Cuomo insider.
Howe, in the words of Aiello's lawyer Steven Coffey, had done some solid government representation work for Cor and they continued paying Howe because of his contacts and that past performance. "Todd Howe even had contacts with the big enchilada. The big tuna. He was on a first-name basis with Andrew Cuomo. That is the kind of contacts he had,'' Coffey told jurors in his summation.
But, Coffey said, Aiello didn't engage in any bribery scheme with Howe and Percoco. "He didn't know he was being played," Coffey said of Aiello and what was going on behind the scenes with Howe's sending Percoco $35,000 in 2014.
The same for Competitive Power Venture, or CPV, according to Daniel Gitner, the lawyer for Kelly. "[Howe] knew the right people in New York State government. He knew the right people in the Cuomo campaign,'' Gitner said. And he did what lobbyists and consultants do: He arranged meetings for CPV.
In the end, defense lawyers tried to make a case for a referendum on Howe, who the trial showed had a checkered past and was accused of lying to everyone from the IRS to his former employer. On a Thursday night in the midst of his testimony that lasted a week, marshals went to Howe's hotel last month and brought him to a federal jail in Manhattan after Howe admitting that day before the jury that he might have violated the terms of his cooperating deal by his 2016 attempt to get a hotel tab erased from his credit card.
In the ongoing world of Albany corruption, which has been going seemingly nonstop for well more than a decade, the Percoco case was closely watched because of the involvement of someone who Mario Cuomo, the late governor's father, thought of as a son and who Andrew Cuomo thought of as a brother.
It was Percoco who took care of matters big and small for Cuomo, both inside and outside government. A union leader or state legislator publicly criticizing Cuomo? Percoco would make the call. Arranging the details of a public event? Percoco, who started as an advance man for Mario Cuomo, made the final call. Indeed, Percoco was Cuomo's ultimate fix-it man, whether problems with staff, local government officials or the governor's own family.
The trial produced unseemly details about how Cor used a campaign loophole to steer $125,000 in contributions to Cuomo at a time when the firm was expanding its taxpayer-funded business in New York. It depicted the power an outside player, Howe, could have by tapping his long alliances with Cuomo to influence state officials. It showed, without revealing costs, the enormous personnel and hours needed to plan public events to burnish Cuomo's image around the state.
Before the jury reached its verdict, government watchdog groups said the trial showed the need for major changes in state government. They say they will step up efforts to close campaign donation loopholes that benefit politicians and companies, and will press for more independent government ethics monitors and tighter restrictions on Albany's long pay-to-play culture by individuals, groups and corporations with business before the governor or Legislature.
For his part, Cuomo declined to comment during the trial about any revelations, saying he had a "respect" for the judiciary and jury while the proceedings were ongoing.
Neither side in the case debated one thing about the trial: it was long. Caproni lost her temper more than once about the sloth-like pace of the presentations, especially by the four legal teams representing the four defendants. On paper, the case stretched out over nearly 7,000 pages of transcripts and lasted longer than what Caproni told jurors they should expect to serve.
The Buffalo News: Good Morning, Buffalo
The smart way to start your day. We sift through all the news to give you a concise, informative look at the top headlines and must-read stories every weekday.