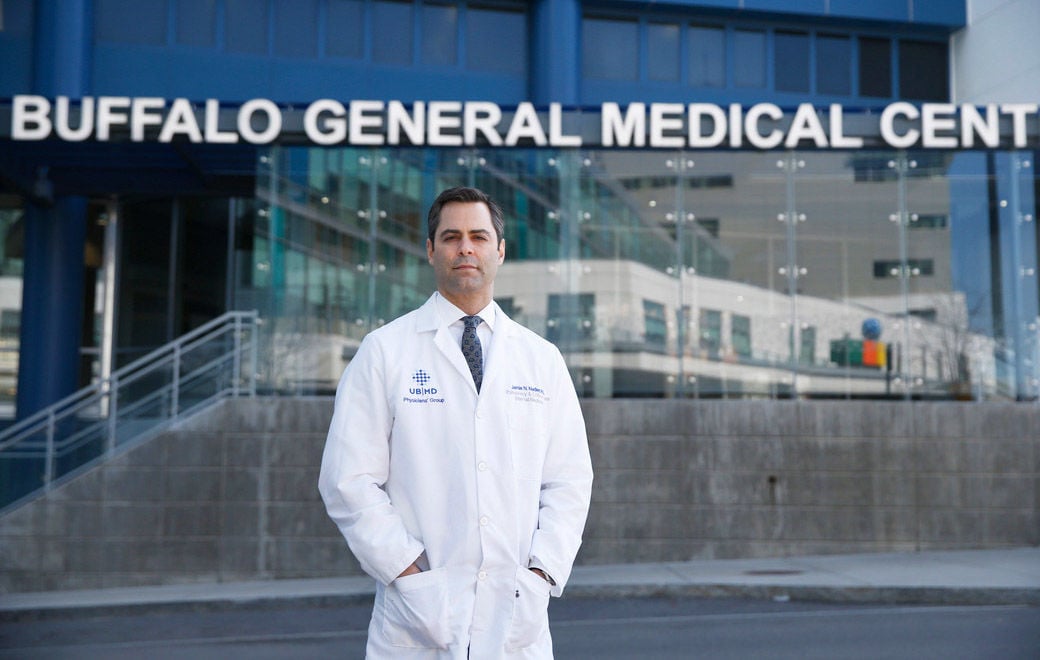 Western New York so far this fall hasn't had to deal with overflowing hospitals and rationing of critical care going on in some southern and western states.
While the numbers of Covid-19 cases and hospitalizations in the region have continued to rise, the percentage of those hospitalized who end up in intensive care has remained within manageable levels.
ICU patients accounted for about 31% of the 122 Covid-19 patients hospitalized in Western New York on Aug. 24, according to New York State data. On Wednesday, they made up about 22% of the 196 hospitalized with Covid-19.
However, two of the region's top Covid-19 doctors say they wouldn't be surprised if intensive care caseloads jump again, and soon.
"I think we're on an upward trend and that upward trend is likely to manifest with increasing hospitalizations and increasing ICU cases," said Dr. Michael S. Gough, a critical care intensivist and pulmonologist at Kenmore Mercy Hospital.
Because the Delta variant spreads more efficiently than earlier strains, Gough said, those who work in hospitals are concerned that the health care system could be overwhelmed going forward. Gough said he hopes the community will come together on masking and social distancing precautions to contain an additional surge.
"I think the thing to be concerned about moving forward is, what's going to happen in the fall as people move indoors and start congregating closer?" said Dr. Jamie Nadler, critical care physician and medical director of quality and patient safety at Kaleida Health's Buffalo General Medical Center and Gates Vascular Institute. "Is there going to be a spike simply due to that?"
He said the percentage of ICU patients "seems to be matching what happened in previous waves."
The doctors said their hospitals are seeing some "breakthrough" infections in fully immunized patients, including some with severe illness requiring ICU care. Most of those patients are immune-compromised or are very elderly, said Gough, the president of Catholic Health's medical staff.
Area doctors point to the region's relatively high number of vaccinations as a big factor in keeping the hospitals from being overwhelmed.
"Even though we're seeing some breakthrough infections and people ending up hospitalized," Nadler said, "hospitals should be all full of Covid patients, given how infectious the Delta variant is. That is proof positive the vaccines are doing what they're supposed to do."
Nadler added: "At least for us, it's predominantly the unvaccinated that end up in the ICU."
Gough said the region saw ICU cases rise in August, after the Delta variant become more predominant.
"It's held relatively steady since," Gough said.
Nadler credited the vaccine with keeping the number of hospitalized patients at a "slow level of consistent admissions" during the last few Covid-19 waves.
"My hope is that's happening because higher vaccination rates are keeping people's coronavirus infections from becoming more severe and more extreme, to the extent that they would necessitate care in an ICU," Gough said.
A crunch of the hospitalization numbers since last Thanksgiving shows that no matter what has happened in terms of vaccinations, weather, holiday parties or any other factor, about 25% of those sick enough with Covid-19 to be in hospitals are in intensive care, on average, with some dips and upticks.
In June and July, Erie County never saw more than nine Covid patients in ICUs on any given day. The number dipped as low as 2 during those months. 
Then came Delta, and the caseloads rose again.
As the number of hospitalized patients in Erie County rose from 40 on Aug. 1 to 87 on Aug. 15, the ICU count rose from six to 18. That was an increase from 15% on Aug. 1 to 20.6% on Aug. 15.
By Aug. 26, when Erie County's hospitalizations reached 115, the ICU count had reached 33, which was 28.7% of the total.
A look at all hospitalizations in the five counties the state Health Department calls Western New York – Erie, Niagara, Chautauqua, Cattaraugus and Allegany – shows a similar percentage.
Last Wednesday, there were 43 Covid patients in Western New York ICUs. That's 21.9% of all hospitalized patients.
The mortality rate for ICU Covid patients is still high, but about two out of three patients now survive the insertion of a breathing tube, Nadler said.
"We're about 30% to 35% for somebody who ends up intubated in the ICU right now, which is significantly lower than it was when this all started," he said.