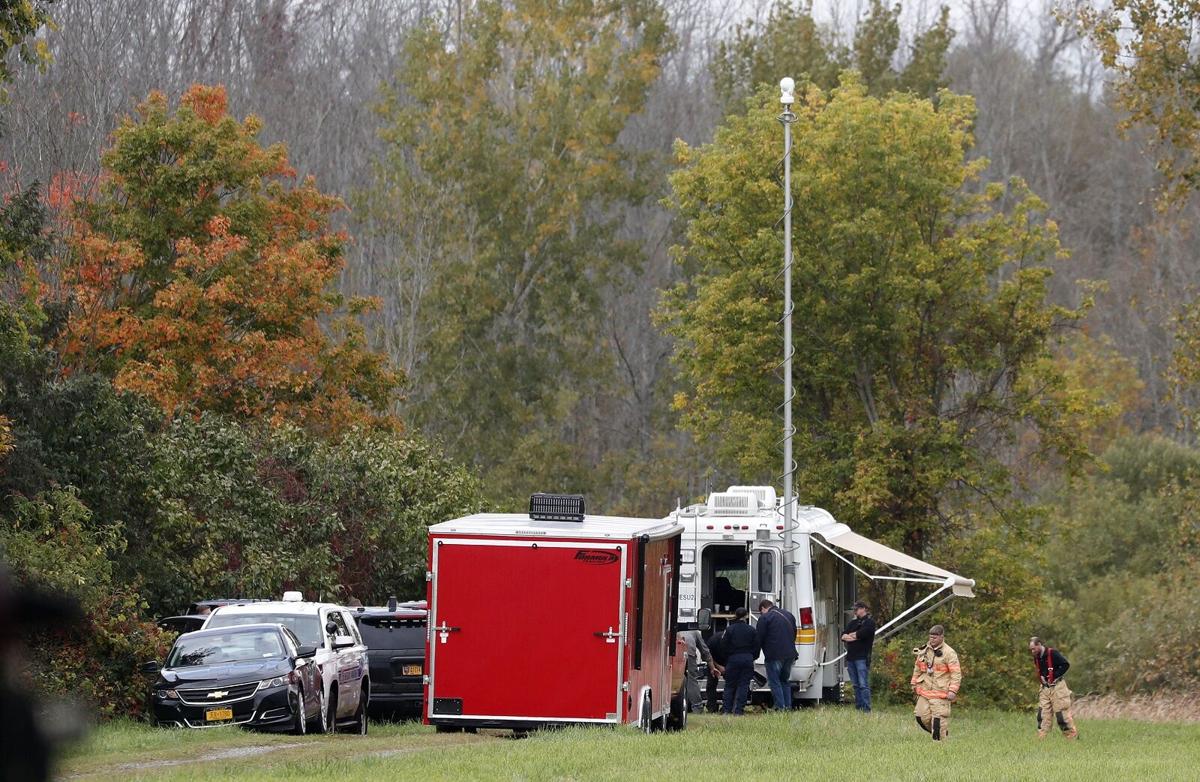 Paul Kogut was getting ready to watch the news late Friday morning when he heard a loud noise. Then his house shook.
Kogut was inside his home on Genesee Street in Pembroke, less than a mile from where a single-engine plane crashed, killing prominent Buffalo attorney Stephen Barnes and his niece, Liz Barnes.
"It sounded like a superbike, like a motorcycle. A whining (noise)," said Kogut, 58. "And then it got louder and louder, and then a big boom. My house actually shook a little. I could feel the house. And walked out, I thought something hit the house."
The crash happened at about 11:45 a.m. off Boyce Road. Stephen Barnes was piloting the aircraft, which was returning to Buffalo from New Hampshire.
Kogut said he went outside, but he didn't see anything. He said he later learned the crash happened just off his property behind his home.
The area around the crash site is one he's walked through many times, a heavily wooded area with a lot of pine trees and some swamps, he said.
He said the sound of the plane before the impact was quite loud, and it sounded like the plane was "coming straight down."
"It was definitely not like sputtering or nothing," he said. "It was just whining, like it was getting louder and faster, almost like you'd see in any movie of a plane going straight down. That's kind of what it sounded like."
An investigation was underway Saturday as to how the plane crashed.
Investigators from the Federal Aviation Administration were on the scene Friday. But investigators from the National Transportation Safety Board, who were expected to arrive at the crash scene Saturday, will not be traveling to the scene in part due to the Covid-19 pandemic, the agency announced Saturday.
The agency, in considering safety risks, is "now adding additional factors for hazards related to the risks associated with Covid-19," NTSB spokesman Christopher O'Neil said in an emailed statement.
Staff travel "is being curtailed or canceled until it can be completed safely, or conducted by another means," O'Neil said.
Annually, the agency typically sends investigators to about 350 of the roughly 1,200 to 1,300 aviation crashes and serious incidents in order to physically examine aircraft wreckage and other evidence, he said.
"Even more investigations require follow-up travel to conduct examinations and tests of recovered hardware and components," he said.
Travel by NTSB investigators is determined on a case-by-case basis and based on factors including the circumstances of the incident, the amount of information available from other sources and travel risks associated with the pandemic, he said.
Flight data recorded on the plane, if it's found, may hold key information in determining what went wrong.
Barnes' plane, a Socata TBM 700, was equipped with a "glass cockpit," which refers to flight instruments with digital displays and memory that records information about what the aircraft and its systems are doing during flight, said attorney Daniel Rose. Rose is a partner with Kreindler & Kreindler, a New York City-based law firm that focuses on litigation involving aviation accidents. The firm has represented families in cases involving aircraft made by the same manufacturer as Barnes' plane.
In this case, the memory would be "akin to a black box," Rose said, referring to flight data recording equipment.
If investigators are able to recover the memory and it's in a condition to be fully analyzed, "it would likely provide a lot of information that would be useful," he said.
The NTSB will issue a preliminary report on the crash in the next few weeks, the spokesman said. A full investigation will take between a year and two years to complete.