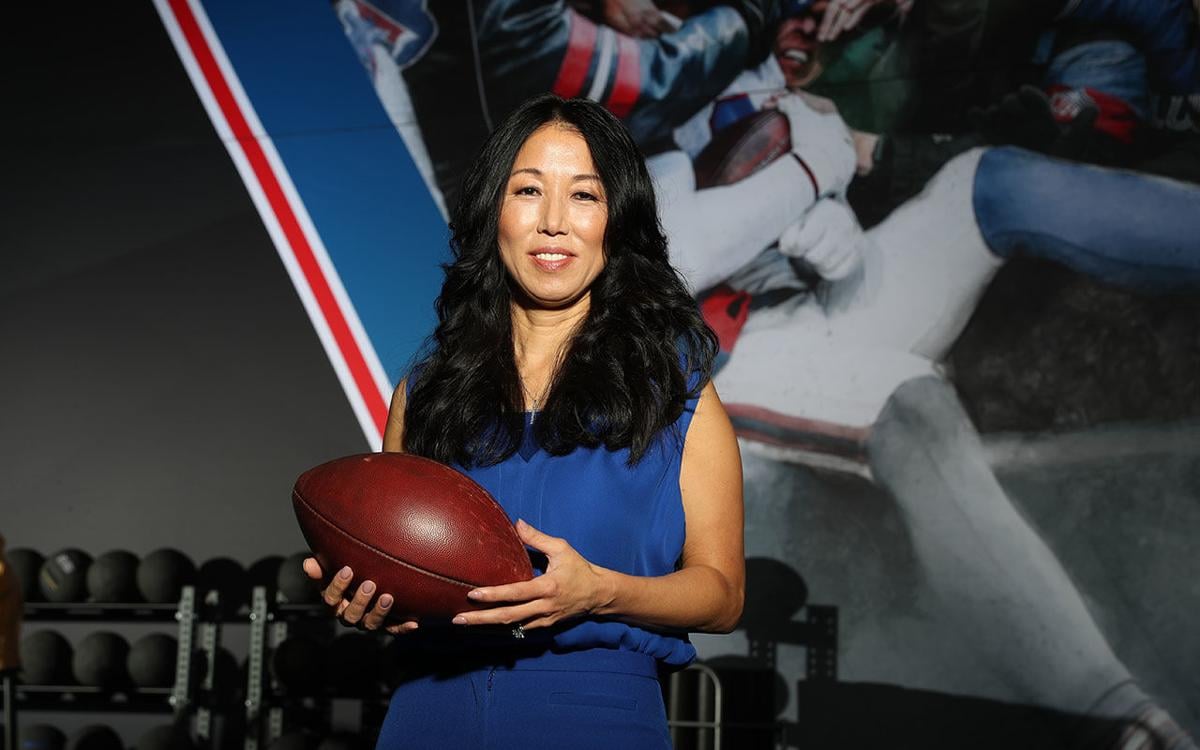 Kim and Terry Pegula built a sports and entertainment empire in Western New York that spearheaded the revival of Canalside under the ethos, "One Buffalo" over the last decade.
The coronavirus has accelerated major changes in the Pegulas' business in less than five weeks, leading to layoffs and temporary furloughs and pay cuts. Despite what Kim Pegula called "painstaking" efforts to keep their businesses intact, the disruption forced by the global health crisis caused Pegula Sports and Entertainment to take another round of cost-cutting measures Tuesday.
PSE announced that 21 people were laid off, 104 were being furloughed and more than three dozen would take a temporary tiered percentage pay cut. Furloughs are expected to begin Wednesday.
"We tried to hold out as long as possible, but it was hard," Kim Pegula, PSE president and CEO, told The Buffalo News. "Some of the decisions we had to make were people who have been here a long time. Some of it is going to be businesses that are not going to restart at the point they ended before this pandemic started. ... The uncertainty we're all facing has been really difficult to plan for and unfortunately that comes with the difficult decisions we've had to make. That affects a lot of people. They're not only part of our business, but they're part of our community, too.
Among the 21 are three long-serving vice presidents: Chris Bandura, Sabres' VP of media relations; John Sinclair, Sabres' VP of tickets and service; and Jennifer van Rysdam, PSE VP of live events. Bandura confirmed the move and declined to comment. A source confirmed the other two dismissals.
Bandura was in his 15th season with the organization. Sinclair had been an employee since 1988 and Van Rysdam has worked for the team since 2005 and was previously the vice president of arena events for the Sabres.
A source told The Buffalo News that Sabres General Manager Jason Botterill is among the executives across PSE's businesses, hockey staff members, broadcasters and contracted employees to take pay cuts.
The Bills, meanwhile, will operate at "normal levels," according to a news release, because the start of the National Football League's season has not been affected by the coronavirus. The NFL plans to hold its annual entry draft remotely April 23-25 with Commissioner Roger Goodell announcing picks from his home.
PSE will continue to pay for health insurance for all furloughed employees. This is the third set of PSE employees affected financially by the global health crisis, which caused professional sports leagues around the globe to halt competition last month. Of the NHL's 31 teams, seven are paying 100% of employees, nine have instituted layoffs or furloughs, and 15 have yet to announce a decision.
PSE owns and operates the Bills and Sabres, the Rochester Americans minor-league hockey team and two National Lacrosse League teams: the Buffalo Bandits and Rochester Knighthawks. PSE's holdings also include Black River Entertainment, ADPRO Sports, PicSix Creative agency and numerous hospitality properties.
The National Hockey League still hopes to complete its regular season – the Sabres had 13 games remaining when play was suspended March 12 – and award the Stanley Cup. Commissioner Gary Bettman announced Tuesday that the players' self-quarantine deadline has been pushed back from April 16 to May 1. The American Hockey League is likely to continue to be in lockstep with the NHL and the NLL canceled the rest of its regular season with the hope it can hold a postseason.
Pegula acknowledged that the cancellation of the NHL, AHL and NLL regular seasons and playoffs would have a profound affect on PSE's business. Its holdings in Western New York strengthened their footprint across professional sports, but they also left themselves more susceptible if multiple leagues are unable to resume competition.
"It would be big," Pegula said. "That's what the business is. It's the games, it's the entertainment. It's getting fans into our building. Certainly it's going to have a huge impact financially on our business and all the ancillary businesses that come with it. One of the things that we've done from an efficiency standpoint is put our assets and organizations under one bigger roof to help operate. We're all connected.
"Even though lacrosse is different than hockey and hospitality is different than football, the common thread is Terry and I. When one affects the other, we personally have a bigger trickle-down affect than someone who maybe has one business they own and all they do is that one business. Unfortunately, we're going to get hit pretty big across all of our entities."
The uncertainty surrounding the sports and hospitality industries forced the Pegulas to consider a number of scenarios when the coronavirus took hold in North America. Initially, the NHL introduced a return-to-play plan that would allow players to resume small-group workouts at team facilities within two weeks of the league suspending its season.
However, the virus' spread created significant obstacles for holding public gatherings, forcing the Pegulas to consider how their business can remain viable in the short- and long-term. The latter can be difficult to predict given the astounding unemployment rate and the uncertainty surrounding professional sports.
There will be significant financial implications if fans are unable to attend games for the foreseeable future at KeyBank Center, Blue Cross Arena and New Era Field.
"It's tough with long-term planning," said Pegula. "We've been trying to plan for different scenarios. You have to remember our business is predicated on our fan base and if our fan base doesn't have the discretionary income because of they've lost their business or lost their jobs.  ... We're running through all these different scenarios. What does it look like if there are half of the fans in the building? What does it look like if there are no fans? What does it look like if we're back to normal?"
Amid criticism, PSE announced last month it would pay all part-time arena employees in Buffalo and Rochester for wages lost if the NHL, AHL and NLL cancel their regular seasons. The Bandits had three home games canceled and the Knighthawks four.
PSE also closed LECOM Harborcenter and most of its hospitality operations in downtown Buffalo, including (716) Food and Sport, Healthy Scratch and Bakery 55. Tim Hortons at Harborcenter and the Draft Room on Perry Street were also closed.
Laid-off hospitality employees are not guaranteed to get their jobs back when those businesses reopen and instead must reapply for their respective positions. PSE has not announced how many workers were affected.
The decision sparked outrage among Sabres and Bills fans on social media because PSE has emphasized family and community under its "One Buffalo" mantra. The Pegulas, though, say the cost-cutting measures are to ensure they can keep their business strong enough so that it can continue to contribute to the Buffalo community for the distant future.
PSE donated $1.2 million to Covid-19 related causes in Western New York, including the community response fund formed by 18 local foundations. The money also went to FeedMore WNY, the Rural Outreach Center in East Aurora and support for front-line health care workers.
"It's not forever. We're trying to make sure these businesses are where they need to be, as any good business needs to do," Pegula said. "We need to be here for our community. … I wouldn't say the 'One Buffalo,' family part of it is gone because that's what we're trying to do. We're trying to be here for our community. Right now, the difficult choices we have to make don't sit well with people and I totally understand that because it's not something we enjoy doing. We know that's what we need to do for us to be here for our community."
The Buffalo News: Good Morning, Buffalo
The smart way to start your day. We sift through all the news to give you a concise, informative look at the top headlines and must-read stories every weekday.