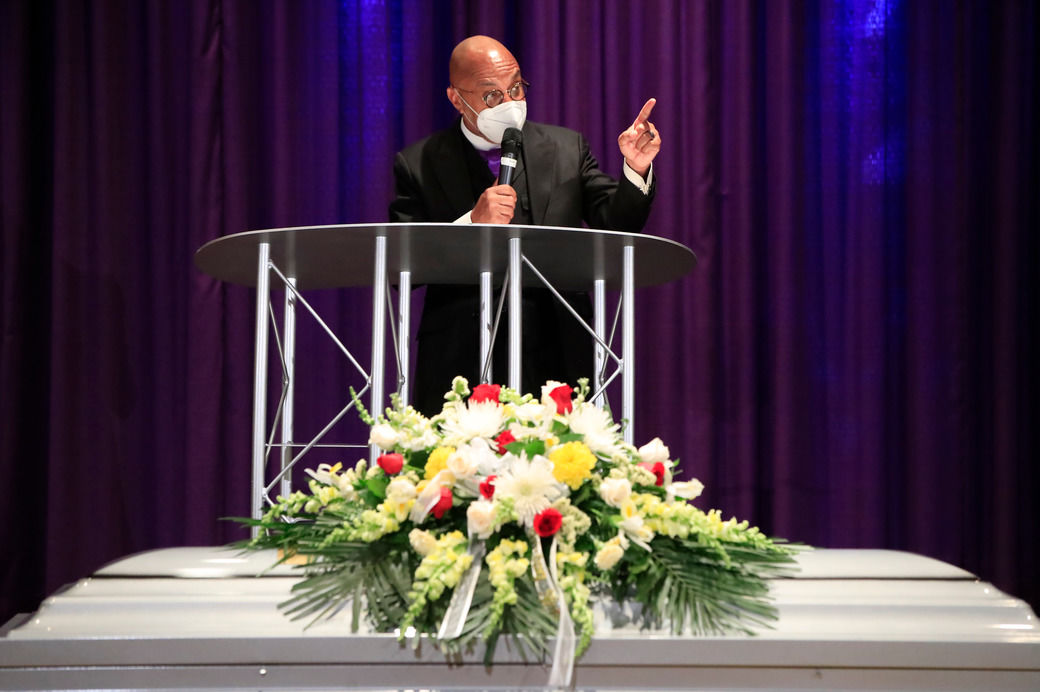 Buffalo Common Council President Darius G. Pridgen is criticizing state officials for putting retail outlets, drive-in theaters and other activities ahead of houses of worship in their phased plan to reopen the state.
Gov. Andrew M. Cuomo on Monday said churches, mosques and synagogues would be allowed to open in the final phase of the state's rolling efforts to emerge from a two-month shutdown aimed at preventing the spread of Covid-19.
Pridgen, who is pastor of True Bethel Baptist Church, questioned why churches were put into the "abyss" of phase four and said they should be allowed to open slowly, with proper safety guidelines and protocols in place.
"I want the churches to have the same conversations that the business community has had, that those who are opening drive-ins have had," Pridgen said. "I've got a deluge of pastors calling me about it. There are some who are very upset to be in the fourth phase. The drive-in is open, and the church is closed? Well, that's interesting."
A spokesman for the Buffalo Catholic Diocese also acknowledged that many Western New York parishioners, eager to get back to attending Masses and celebrating the sacraments, are puzzled by the state's pecking order.
"You take something like peoples' faith and worship – it's a very personal thing that for many is vital in their lives, fortunately," said Greg Tucker, the spokesman. "It defies logic for many that certain places are allowed to open even at an earlier stage than churches, which you would think you could implement social distancing measures."
But Tucker said the diocese must be "very diligent in thinking through all of the issues and all of the scenarios" that could expose people to Covid-19 when weekend Masses, funerals, weddings and other gatherings are restored in parishes.
Churches were designated in the state's phased reopening plan as an activity involving "mass gatherings" – along with education, arts, sporting events and recreation.
"Anywhere you have the concentration, the density, gatherings – that is the issue," Cuomo said. "You have a couple hundred people and you have one person who's infected, and you have a problem."
Pridgen contracted Covid-19 in March and recovered in time to lead a socially-distanced outdoor service in the True Bethel church parking lot on Easter.
He said he was not advocating for churches to open without guidelines or to begin offering services in sanctuaries filled to capacity.
But he said most area churches don't fill up on Sunday mornings and have fewer than 150 people in attendance – a smaller crowd than what some restaurants see on a regular basis.
Watermark Wesleyan Church, which has a sanctuary in Hamburg that seats 1,400 people and two smaller sanctuaries, is in the process of drafting plans for a return to worship.
Greg Niver, the church's facility manager, said the church will adhere to the state's phasing plan.
"We don't want to cause any more commotion than what's already been created," Niver said. "Obviously we'd like to get together as soon as possible, but we're not going to create a stink."
Niver said the church could be ready to open sooner than the start of phase four, which is anticipated to begin in late June or July. But he also said church leadership wanted to give the congregation plenty of time to review any new operational plans prior to the restarting of worship services.
Bishop Sean W. Rowe said this week he wasn't certain yet if all Episcopal churches in Western New York will open when the fourth phase allows for it.
"We may not return to buildings on the timeline of the public health. We may return much later," Rowe said. "We have a number of other considerations to think about. Number one is safety. Number two is meeting the needs of the community around us."
The Buffalo Diocese has 165 parishes in eight counties and because they vary dramatically in size, the plans for returning worship to them safely may also vary, Tucker said.
"We don't want people opening churches and being premature about it in any way," he said. "We're pleading with folks to be a bit more patient, not for any other motive but out of care and concern for those most vulnerable."
The Buffalo News: Good Morning, Buffalo
The smart way to start your day. We sift through all the news to give you a concise, informative look at the top headlines and must-read stories every weekday.