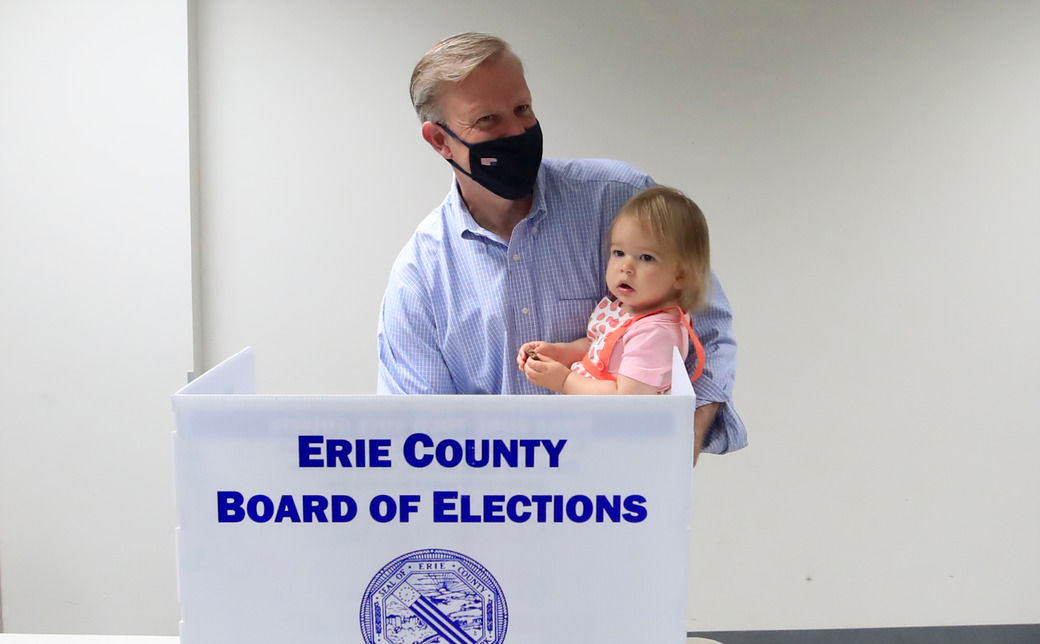 When Christopher L. Jacobs began thanking supporters for his Tuesday primary victory in the 27th Congressional District, he quite appropriately could have put Republican leaders at the top of his list.
At a time when some say the power of party organizations has waned in New York politics, it's apparent that the influence of local, state and even national Republican leaders helped bring home not only a victory for Jacobs, but a landslide.
"There are reasons we have political parties," said state Republican Chairman Nicholas A. Langworthy, a key Jacobs supporter. "The party leaders made the decision to go with Chris, and they helped with the turnout and all the things they do. They were very important functions of the party for a very good candidate."
According to party insiders, the national and state parties spent more than $500,000 on pro-Jacobs efforts, including seven staffers dedicated to the simultaneous special election. They sponsored more than 415,000 pieces of mail, approximately 158,000 paid phone calls, 260,000 get-out-the-vote calls and $125,000 worth of digital ads targeted to district voters.
It all cemented the commanding position from which Jacobs started, with strong support in his home county of Erie. As a state senator and former county clerk, he had long and successfully maneuvered through the local GOP channels.
Soon after he declared his candidacy in May 2019 for the seat then occupied by the indicted Chris Collins, Jacobs staged a fundraiser at his family's East Aurora estate that raised hundreds of thousands of dollars and included the officially neutral Langworthy just after Langworthy's election to the state party helm.
Indeed, Erin K. Baker – chairwoman of the Erie County GOP's fundraising efforts and Langworthy' wife – was already raising money for Jacobs.
But Jacobs faced stiff opposition from four other competitors (some with deep roots in other areas of the eight-county district) after Collins pleaded guilty to charges of insider trading and resigned from Congress. State Sen. Robert G. Ortt of North Tonawanda, for example, joined the fray supported by his Niagara County organization and a few smaller counties.
But he finished a close second in January when the county leaders from the entire district chose Jacobs. Recognizing the unfavorable odds against an endorsed candidate, Ortt withdrew from the race.
"If I had their endorsement I would be running in the primary," he said at the time. "There is no question it would have been a differentiating factor."
And Stefan I. Mychajliw Jr., the Erie County comptroller, who along with former Darien Town Justice Beth A. Parlato, launched his own primary campaign, joined Ortt in lambasting the candidate selection process controlled by the eight county leaders. He called it "compromised" by Langworthy as convener of the selection meeting and his wife's role in the Jacobs campaign.
Soon, however, Jacobs was capitalizing on his party connections as endorsements escalated and money poured in, even with the campaign constrictions of Covid-19. The most important stemmed from an invitation for Langworthy and Baker to an hourlong meeting with Trump in the Oval Office. Just minutes after its ending, the president issued the first of four tweets during the campaign offering his "Complete Endorsement" to Jacobs.
"Chris Jacobs will be a great Congressman who will always fight for the people of New York," Trump added. "He supports our #MAGA Agenda, will continue to Secure Our Border, Loves our Military, Vets, and is Strong on the #2A."
Ontario County Republican Chairwoman Trisha Turner noted that the effort to gain the presidential nod for Jacobs may have proven key.
"He is still popular in the district and the decisive win made that very clear," she said.
Just as Mychajliw and Parlato were also attaching themselves to the president in a district where polling revealed his strong support, the tweet propelled Jacobs as much as any other aspect of the campaign. More favorable developments for Jacobs followed:
• A powerful Washington political action committee called Club for Growth threatened to spend more than $1 million against Jacobs, sending early mail labeling him not conservative enough for the 27th District. After dallying with Mychajliw and then Parlato, the group backed off, with some observers pointing to its need to avoid any confrontation with White House political aims.
As a result, a significant source of potential funds aimed against Jacobs evaporated.
• In the campaign's final days, Donald Trump Jr. voiced automated phone calls for Jacobs throughout the district.
• The president issued three more tweets for Jacobs, often mentioning his support for Jacobs in the simultaneous special election against Democrat Nate McMurray and the primary. The tweets ended Jacobs' opponents claims that Trump's support pertained only to the special election.
• Trump and Republican National Chairwoman Ronna McDaniel joined Jacobs and Rep. Elise Stefanik of Saratoga County in a "tele-town hall"on Monday night to offer support and ensure turnout on Tuesday.
Mychajliw, who finished third in the primary, hinted that all the state and national Republican efforts will eventually be rewarded by donations from Jacobs' wealthy family.
"If the Republican National Committee or state GOP had to rely on my family for donations," he said, "the best we could do is bunch of empty Miller cans."
But he also acknowledged the efforts and strength of a "massive machine." He understood the challenge it all presented even as it unfolded, he added, but decided to try to take it on anyway.
"If I run again, voters will respect the fact that I stood up to the party machine," he said. "I stared it in the face and did my best."
The Buffalo News: Good Morning, Buffalo
The smart way to start your day. We sift through all the news to give you a concise, informative look at the top headlines and must-read stories every weekday.