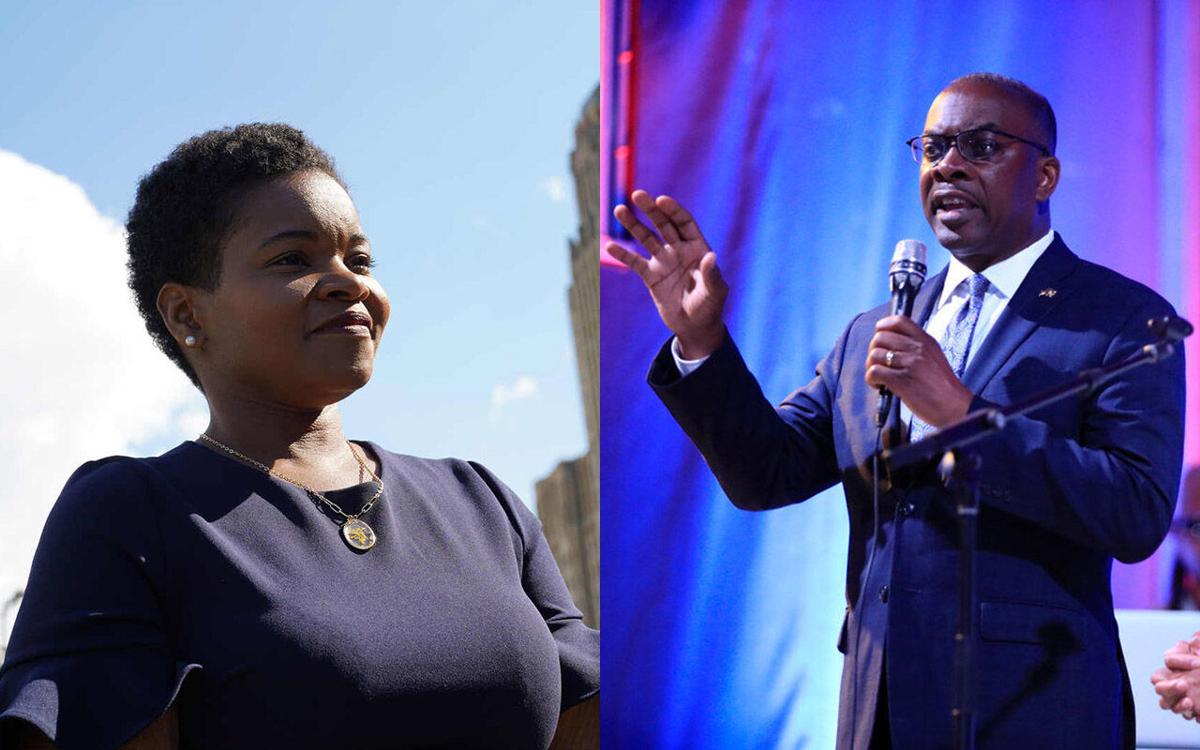 Following a push by Buffalo's business community to urge Mayor Byron W. Brown to wage a write-in campaign for November's general election, supporters of India B. Walton say they can play that game, too.
The Democratic and Working Families parties, labor unions, community groups and progressive organizations from around the country say they can also lend money and people power to counter any business-oriented effort should Brown decide to continue. It all points to plans for significant effort on both sides if Brown wages a long-shot write-in campaign following the primary that generated paltry turnout and a socialist as the Democratic candidate for mayor.
Observers saw Walton's win as yet another signal that a dynamic candidate can knock off a complacent incumbent anytime, anywhere.
"I would expect the involvement of all kinds of organizations that strongly believe the reward should go to the person who worked very hard and not to the one who didn't care," said Philip Rumore, president of the Buffalo Teachers Federation that backed Walton against Brown.
"He took us for granted; he ignored us," he added, referring to Brown. "That should send a message."
Developer Carl P. Paladino, the 2010 Republican candidate for governor, said Wednesday that a cross-section of the business community was pressuring Brown to continue his campaign. He cited fears that Walton's policy proposals might deter further investment in a city that has attracted various developers under Brown's leadership.
Paladino said the effort stems from concern within the business community that Walton's socialist philosophies will deter further investment in the city's recent revitalization.
Some in the business community are distancing themselves from Paladino, believing that controversy dogging him in the past could detract from any Brown write-in effort. Still, even those advising the mayor who are opposed to Paladino are urging the write-in effort.
In a phone interview Friday, Brown said he is indeed "very seriously weighing" a write-in campaign.
"My phone has literally been ringing off the hook with phone calls, with texts," Brown said. "Emails are coming into the office with people of every background in every councilmatic district, people in the suburbs, who are all urging me to go forward, because they want to see experienced, steady, creative leadership continue to move this city forward – which is important to all of our neighborhoods, but also important to the entire region."
Brown said he didn't "want to go back" and talk about why his supporters didn't show up on primary day. "I'm looking forward," he said.
The Walton campaign issued a statement Friday also noting the outpouring of support she has received from local and national Democratic figures, including Sen. Bernie Sanders and Erie County Democratic Chairman Jeremy Zellner.
"The business community and the development community can sustain anything that's out there, because that's what a businessman does," developer Douglas Jemal said.
"We are committed to working with anyone else willing to work with us in service to the best interest of our beloved community," Walton spokesman Seamus Gallivan said. "While Byron Brown has every right to pursue a write-in campaign backed by far-right Trump supporters like Carl Paladino, we urge him to work in the spirit of our City of Good Neighbors as we transition to a Walton Administration."
Board of Elections records show that some of Brown's supporters made last-minute contributions over the weekend totaling $118,298, demonstrating the alarm that some business leaders had leading into Primary Day. The donations included $30,000 from members of the Jacobs family associated with Delaware North Cos., and the largest single contribution of $10,600 from the Committee For Economic Growth, a political action committee traditionally associated with the Buffalo Niagara Partnership.
The flurry of last-minute 2021 campaign contributions was far larger than the approximately $27,000 the Brown campaign received in the last days of the 2017 primary campaign, according to state records.
One source who attended a Thursday meeting of business leaders seeking to aid Brown's effort said political veterans assessing the situation estimated that $2 million to $2.5 million would be needed to succeed in a write-in campaign. Some of those attending declined to participate as long as the mayor's current campaign team remains involved.
Brown, who has not conceded to Walton, has said he will decide his future only after all absentee ballots are counted. Erie County Board of Elections officials say that process will not be completed until July 8 or 9, noting that 1,640 absentee ballots stand to be counted as of Friday. (Brown lost by 1,507 votes.)
"It's simple. India Walton's base was energized, excited and aggressive," said former Mayor Anthony M. Masiello. "She got out her vote and unfortunately, the mayor's base did not come out."
Even if the mayor decides to continue, he must buck his own party. Erie County Democratic Chairman Jeremy J. Zellner, who supported Brown in the primary, has said the party is now with Walton and is making plans to put its strength behind her candidacy.
"We have a meeting with her on Monday to find out what we can do to help get her over the finish line," he said late Friday.
County Executive Mark C. Poloncarz, meanwhile, is expected to address the situation next week, according to Chief of Staff Jennifer L. Hibit. She expressed her own opinion indicating the expectation that most elected officials will respect the decision of party voters.
"Clearly, we will support the party endorsee, and that's India Walton right now," she said. "I don't see anybody with the party lining up to work with Byron Brown."
In the meantime, powerful forces are already preparing to help Walton, should the write-in campaign materialize. The Working Families Party, for example, failed in May to satisfy election law requirements as it tried to nominate Walton for the November general election, and she was rejected for the party line. But the minor party has claimed credit for its behind-the-scenes organizational efforts for Walton, including helping to raise money, contacting tens of thousands of voters and producing ads.
"This has just been an unprecedented campaign like Buffalo has never seen before. I'm extremely proud," India Walton said Wednesday.
Party sources indicate it stands ready to help again if called upon, and they expect other progressive organizations and political figures to join the effort.
"We continue to be deeply committed to her success as she heads into the general election and then transitions to governance," said state Director Sochie Nnaemeka. "The voters have spoken and we are confident that the community in Buffalo, and progressives in New York – and all across this country – will coalesce to support India as the next mayor of Buffalo."
Sen. Bernie Sanders, I-Vt., the national voice of left leaning politics, tweeted his support Friday.
"I spoke with @Indiawaltonbflo and congratulated her on a great victory," he said. "Her win in the mayoral primary is an important step forward for the working people of Buffalo, and shows the political power of an agenda that puts people first."
Brown, in the interview, said he thinks people are just now scrutinizing Walton's record and her campaign.
"I don't think they ever looked at the record," Brown said. "I don't think many of them even knew who they were before, but now I think people are taking a very, very deep look into the record. You know, whether people like me or, or they don't like me, my record is an open book. I'm probably the most scrutinized reviewed person in this in this community, so people know who I am."