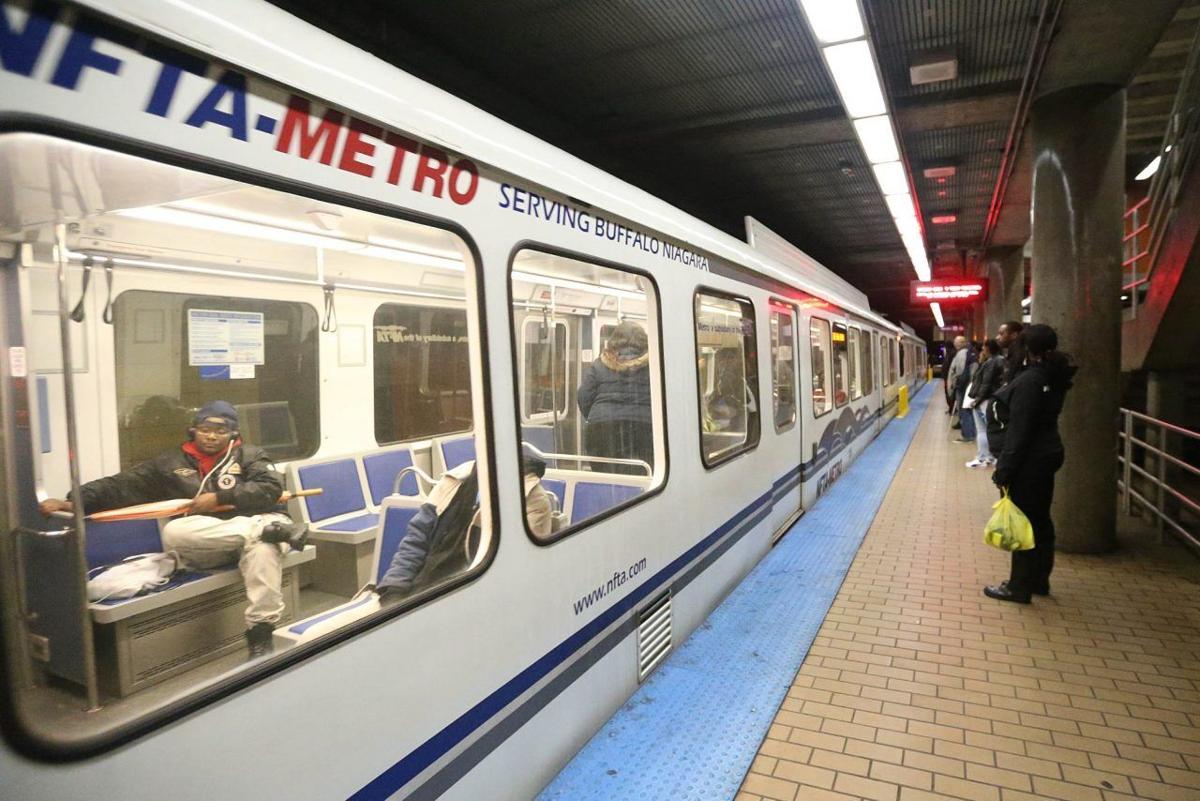 A parent group wants better Metro Bus service for thousands of students in Buffalo who rely on the Niagara Frontier Transportation Authority to get back and forth to school.
The Buffalo Public Schools pay the NFTA about $8 million a year to transport some 10,200 students, but their bus passes are "highly restrictive" to certain times and routes, according to the Buffalo Parent-Teacher Organization.
That can lead to students being late or absent, and may prohibit them from staying after school for academic help or activities, said Larry Scott, co-chair of the parent organization.
Parents have complained about the situation for several years, Scott said.
The BPTO has raised the issue with the school district, which said it is aware of the problem and has been trying to negotiate a new contract with the NFTA. However, Scott said, expanding metro access for students is going to cost the district more money.
That's baffling to the parent group, because the district pays $75 a month for each student pass — the same as the public pays per month for unlimited Metro Bus and Metro Rail rides.
"When we prodded further, there seems to be a willingness on the part of the NFTA to talk about making passes more accessible," Scott said, "and then they talk about, 'We need more money to do so.' "
"If somebody could articulate the need for more money maybe we would explore that further," Scott said, "but we can't get a good rationale for why they need more money to increase accessibility when they're already getting a full rate on a restrictive pass for each student."
The parent group was told restrictions were included as part of the contract with the district more than 20 years ago, because at the time there were concerns about youth congregating at the Main Place Mall, Scott said.
"Well, obviously that's not a major concern any more. The policies are outdated," Scott said. "Clearly, it punishes those students and families that don't have their own transportation over others that do."
The Buffalo News reached out to the NFTA for comment and spokesperson Helen Tederous released this statement: "NFTA/Metro is proud to provide more than 20,000 student trips each school day. Our long standing agreement is with the Buffalo Board of Education. Any suggestions or changes in policy and/or procedures needs to be directed to the district."
Superintendent Kriner Cash said he is supportive of the parent group raising the issue, but also wants to keep the conversation civil. The district recently met with NFTA Executive Director Kimberley Minkel to discuss concerns and the meeting left Cash encouraged.
"Our students have a fairly narrow number of rides per day. I think they get one in and one out and they get it only within certain hours," Cash said. "It really does impact our attendance. I wouldn't say it's a cause, but it's a strong correlative factor why kids are chronically tardy and in some cases chronically absent.
"Sometimes there's already a bus full, sometimes they say bus drivers pass them by," Cash said. "Sometimes kids take two or three buses to get to school and if they miss that third bus or that second connection, they won't come to school. They'll give up and go back home."
The Buffalo Parent-Teacher Organization has scheduled a press conference for Tuesday afternoon at the NFTA's Metropolitan Transportation Center on Ellicott Street, where it will demand more access to bus times and routes for students.
The group will be joined by numerous community supporters, including the Buffalo Immigrant & Refugee Leadership Team, the Buffalo Teachers Federation, Buffalo Transit Riders United, Citizen Action of Western New York, the Coalition for Economic Justice, the Partnership for the Public Good, Open Buffalo, Queers for Racial Justice, Tapestry Charter Schools and the WNY Peace Center.
The group also will announce a public forum with NFTA management and district transportation officials scheduled for Jan. 11.
In addition, the parent group is using this opportunity to raise concerns about tensions between the students and NFTA police. It asked that NFTA police receive training in "restorative practices" to help diffuse confrontations with the kids.
"We understand student behavior can be challenging," Scott said, "but there's a right and wrong way to dealing with that behavior."