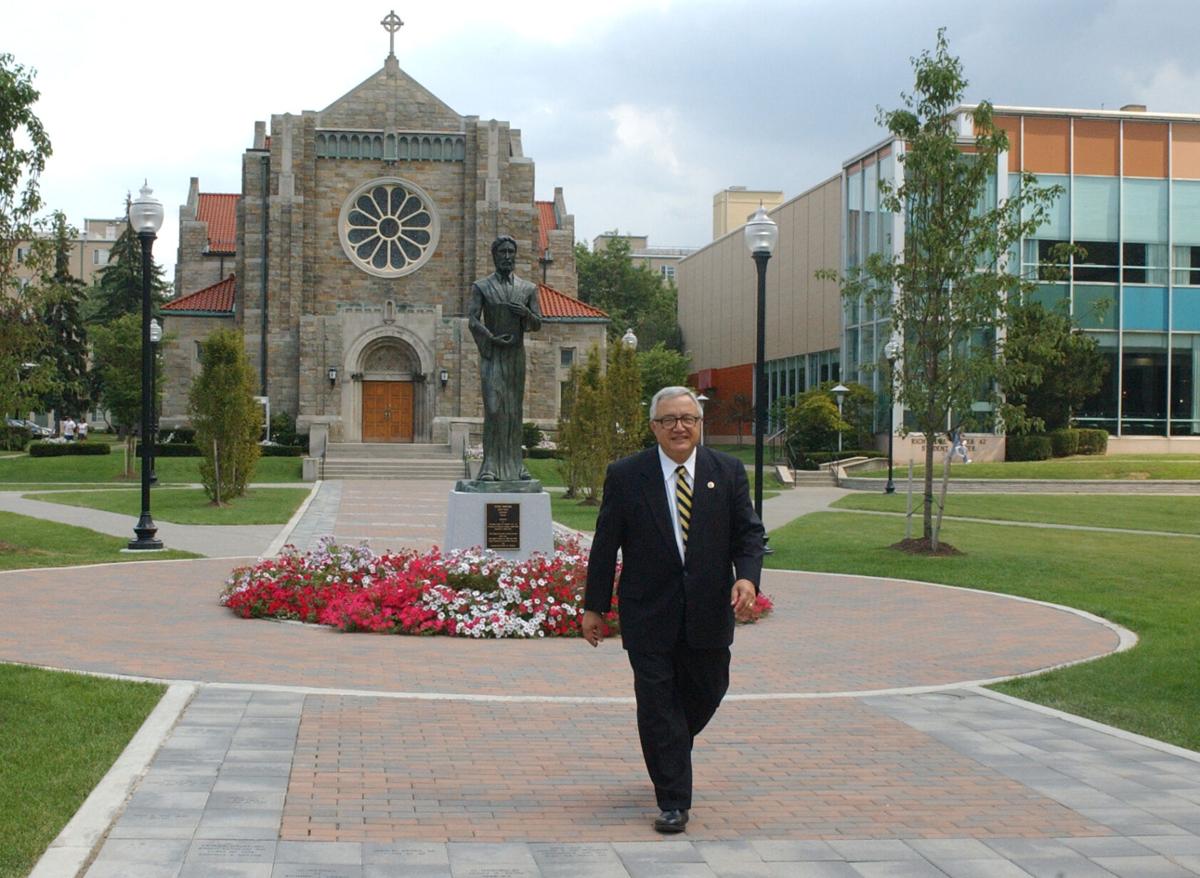 John LaFalce hadn't taken a bite of a Reuben sandwich in over a year. With a double dose of vaccination giving him a rekindled sense of freedom, he arrived for lunch last week at the Delaware Pub & Grill in Kenmore with a couple of plans: Share a book he's been reading – and enjoy that Reuben.
The sandwich went down easy; the book was even meatier. LaFalce, a 28-year veteran of Congress who retired in 2003, pulled it from his bag: "Together: The Healing Power of Human Connection in a Sometimes Lonely World."
LaFalce, who is 81, has been thinking about loneliness for years. Not specifically for himself – he lives nearby with his wife, Patricia, and even during the pandemic, has kept up by Zoom with friends from Congress and other corners of government. But LaFalce has long been interested in issues of health for people ranging from seniors to the incarcerated. When Dr. Vivek H. Murthy, the two-time and current surgeon general, wrote a book on loneliness as a health issue, LaFalce got a copy and started reading. "Individuals can be imprisoned in themselves – in their loneliness," LaFalce said. "What we need to do is visit them out somehow: reaching out, caring, helping."
That was true when Murthy's book was published one year ago, and it's even truer now:
How serious is the problem of loneliness?
Huge – before the pandemic, and even more so during it.
Loneliness, which is the feeling of being disconnected from others even if you're surrounded by people, and social isolation, which is being separate from others, have been linked to increased risk of heart disease, stroke and premature death. Loneliness has also been connected with increased rates of anxiety, depression and suicide, and social isolation heightens the likelihood of someone developing dementia. A 2015 study by the researchers from Brigham Young University likened loneliness to the dangers of smoking 15 cigarettes a day. 
One in three people ages 45 and up are lonely, and one in four ages 65 and older are living in isolation, according to a 2020 report by the National Academies of Sciences, Engineering and Medicine. The pandemic has only exacerbated those issues, which helps explain why the Centers for Disease Control and Prevention released guidance last month that supports fully vaccinated adults – like grandparents – visiting their unvaccinated grandchildren, so long as only one unvaccinated household is involved.
"It's not just risk of Covid-19," said Dr. Kevin Shiley, Catholic Health's lead infectious diseases specialist. It's the "risk of isolation and the mental health effects of that, and the risk of social and developmental issues with children related to being isolated for prolonged periods of time."
The individual impact of loneliness and isolation is one issue. But how has it affected society more broadly?
This is a much-researched question that will be debated in academic literature for years. But we do know this from previous studies: The more alone you feel, the less likely you are able to imagine how someone else is thinking or feeling. "Seeing things from others' standpoints requires mental resources," said Qi Wang, a professor and chair of Human Development in Cornell University's College of Human Ecology. "When a person is in a state of loneliness, anxiety, or depression, they may not have the needed resources for perspective-taking."
Put another way: More loneliness equals less empathy.
"What that suggests is that empathy isn't just like a fixed quantity of stuff that you have," said Sophie Scott, director of the Institute for Cognitive Neuroscience at the University College London. "It's actually a skill. Being empathetic is a skill, and it's a skill that you practice by being with other people."
Too many of us are out of practice.
What happens when we start losing our empathy?
We gravitate toward information and people that echo what we already believe.
This is our "tribe," said risk consultant David Ropeik, and we are wired to seek it out by our prehistoric ancestors, who banded together to fight off predators. "We evolved as social animals to depend on the people around us," said Ropeik, the author of "How Risky Is It, Really?" "When the lion is attacking, together we can fight it off. Alone, we can't."
This also means many people tend to reject or ignore information that doesn't fit their worldviews. Ropeik attributes tribal thinking to why so many people refuse to wear masks or get vaccinated, even though science reinforces that both of those things are highly protective and safe.
Loneliness chips at our empathy, which can drain our open-mindedness – sometimes to the point where we don't recognize what's happening in front of us.
An example: When Western New York's hospitalization and death counts skyrocketed in midwinter – reaching far beyond the numbers at the beginning of the pandemic – health care workers were largely exhausted. In a Buffalo News interview, one critical care physician said half-jokingly, "Where's the pizza?" – a reference to the regular lunches that the public was sending last spring, but largely forgot when numbers got worse than ever.
In a late-winter interview with The News, Dr. Sandra Reinhold, a licensed psychologist who provides counseling to several Buffalo-area health care professionals, noted that many nurses have said, "I've never seen this much death."
But too many people aren't listening. For many on the outside, misery rooted in distancing has managed to overshadow the often-greater tragedy happening inside hospitals. "People didn't want to know," Reinhold said. "They're on their own islands, and they were so depressed and isolated and stuck in their own houses and so angry. (Medical personnel) are out there on the front lines, but there wasn't compassion."
"Wouldn't it be wonderful if just about every block in a village or a town had a block party?" said LaFalce, the former congressman. 
Vaccination will help gatherings grow in size and frequency, but in the meantime, there are strategies you can employ individually. In his book, Murthy advocates spending at least 15 minutes a day talking or writing to someone you love – and doing it with no distractions or multitasking. And Scott emphasizes the face-to-face value of video calls versus phone conversations. "People tend to find (video calls) funny, they laugh more," said Scott, who is an internationally recognized expert on the neuroscience of laughter. "They talk for longer. They're happier."
Maybe. The pandemic – and the Black Lives Matter and Me Too movements – are elevating issues that have been long ignored.
Jay Sukow, a Los Angeles-based improviser who offers corporate training using improvisational comedy techniques, sees it in his own business. He's been heavily booked in recent months by companies across the country looking for empathy-building sessions – something that rarely happened before 2020. "People are talking about employee health, mental health," he said. "People are talking about empathy. They aren't as reticent to use that word. They know it's important."
And then there's the new surgeon general. Murthy, who held that position in the Obama administration before departing under President Donald Trump, was reappointed to it by President Biden. "I want to know if the surgeon general is going to be talking about this because of the pandemic," said LaFalce.
The answer isn't apparent – yet. Murthy was just confirmed in late March and his office didn't immediately respond to our inquiry about his priorities. But he wrote a 327-page book on loneliness, and as the world tries to emerge from an isolating pandemic, Murthy is one of the nation's leading medical voices. If he speaks, he won't be doing it alone.