Cassandra Rivier was chasing butterflies.
On a bright day in September 2019, Rivier and her University at Buffalo classmates were walking softly through Riverside Park, using large nets and tiny stickers to tag monarch butterflies. This assignment for her Ecological Methods class was part of an international effort to track the migration of butterflies from Canada to Mexico, and it had Rivier and her classmates smiling.
They had no idea that six months later, distance would replace the delight of that day – and that distance would define Rivier's studies straight through her graduation a few weeks ago. Chasing butterflies no more, Rivier spent most of her senior year chasing motivation. Online school "really didn't resonate with my learning style," said Rivier, 21, who earned a bachelor's degree in environmental geoscience. "It's more beneficial to be there, doing the actual learning."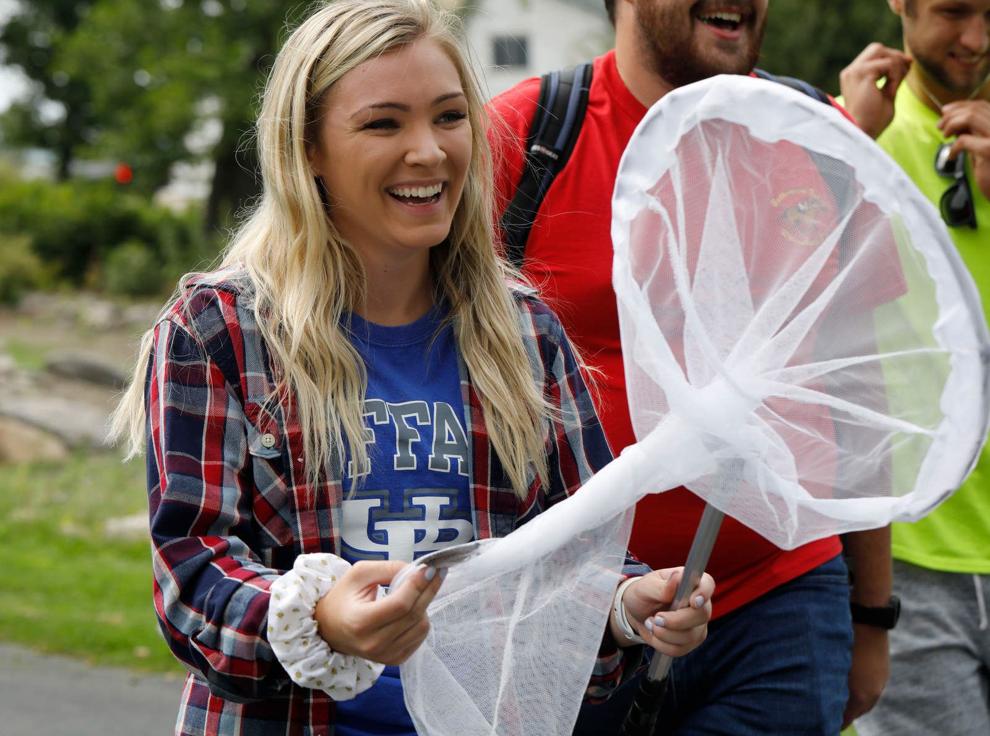 Rivier was exposed to different lessons during the pandemic, as was the class of 2021 everywhere and at every level. Whether in high school or college, they learned lessons about communication and resilience, problem-solving and adaptability. Some even discovered that in a world desperate for fixing, they may be fit with the right tools.
They just need to figure out where to get started.
What is it like to be a graduating senior this year?
Imagine a "typical" senior year as having the excitement and adrenaline of an arena rock concert. Then swap out that spectacle for a coffeehouse acoustic show.
But it's not what you anticipated.
For perspective: In a pandemic that's seen 600,000-plus deaths in the United States alone, a truncated senior year is hardly the most urgent of problems. But it's not an insignificant point, either, especially if you look beyond the surface. High school homecomings were canceled. Proms have been scaled down. College senior weeks were abridged and graduations are distant.
"The pandemic took away those milestones that give you some excitement and hope for what's to come," said Jillian Hanesworth, a Buffalo-based poet who works in social justice and leadership development. They "signify moving up into the next era of life."
The impact is psychological and motivational, but in many cases tangible, too. Many high school seniors were forced to choose a college they've never visited – or perhaps only toured this spring, just before the May 1 commitment deadline. Many college upperclassmen missed out on vital internships during their final summer and semesters.
People still earned the degrees or diplomas that empower them to take the next step. But the experience was scaled down.
"Senior year is supposed to be the last hurrah," said Matthew Evenden, a 22-year-old from Hamburg who just earned his degree in digital and broadcast journalism from Syracuse University.
It still is. Just a quieter one.
How common was online learning this year?
Nearly universal, but it looked different from school to school.
Colleges varied by institution and class. Evenden, for example, took his major classes in person and his electives – including one on ice skating – online. In terms of preparation, he did fine: Evenden, who wants to become a play-by-play announcer, soon starts his first job as a broadcast assistant with one of the major sports leagues.
Some K-12 schools – particularly private institutions that could manage smaller class sizes – offered full-time instruction for most or all of the year, with the option for students to learn remotely. Most public schools were either fully remote or offered a hybrid schedule that had students learning in class and at home on alternating days.
That was the case for 17-year-old Brooklyn Warren, a Lancaster High School senior who will be attending Mercyhurst University in the fall. "It'll help me manage everything better and look at things in a different way than I probably would have if this had never happened," said Warren, who says she learned a lot about balancing her schedule (her late-winter days began with pre-dawn hockey practices) and communicating with teachers about assignments.
When she returned to Lancaster High School full time with her classmates on June 1, Warren was struck by the contrast to the first nine months. "It feels normal to be back together," she said. "When we came back, it felt like, 'Oh my gosh, how did we do that this whole entire year — not be all together?' "
What are the job prospects for this pandemic-graduating generation?
Members of the class of 2020, who graduated college in the midst of widespread shutdowns, "often have struggled to find their footing" over the last year "because they missed out on the golden window of entering the workforce," said Jason Dorsey, president of the Center for Generational Kinetics.
But the outlook now "is much more optimistic," Dorsey said, because the job market is healthy. "There is this sense of rebound," said Dorsey, co-author of "Zconomy: How Gen Z Will Change the Future of Business – and What to Do About It." He noted that many of those jobs may be outside the graduates' targeted career fields.
"The industries they may want may not be the ones that will hire them right now," he said. Taking a leap into another area, Dorsey added, requires an open-minded mindset of "maybe it'll turn into a great career, and if not, in two years I'll go back to the one I thought I wanted to be in."
The best news may be for those graduating high school right now. By the time 17- and 18-year-olds are entering the workforce, Dorsey said, they'll have "the benefit of understanding remote work and hybrid work, but not having to have been in the front end of that when it was really clunky and difficult. And then I think you're going to get the benefit of knowing which industries are more stable and solid going forward. That could be a tailwind for them."
That quality is building in abundance. Today's graduates – and their slightly older and younger classmates – have been challenged and tested, their resolve galvanized by not only a long race through the pandemic, but by a lifetime of seismic issues. Today's graduates have grown up in a post-9/11 world defined by multiple wars, mass shootings, climate change, the #MeToo movement, Black Lives Matter, racial reckonings, the advancement of LGBTQ-plus rights and the intense political clashes of recent years.
"My generation is tough as hell," Evenden said. "My generation is special. We approach things with words and thoughts. We care about mental health. My generation is going to fix a lot of the problems in this country and this world."
The poet Hanesworth, who is also director of leadership development for Open Buffalo, said she hopes students who are grappling with disappointment over lost experiences now can also harness their energy to push for the change they want.
"This is a moment that we have to constantly create our own culture, and pivot," she said. "We can make things look exactly how we need them to look for us, as long as we're consistent. We can hold people accountable."
Rivier feels that. Climate change drew her into the environmental sustainability field, and her original idea was to graduate and then pursue a master's degree in business administration.
"With Covid, I just felt like I could not go through more school right now," she said. Rivier is exhausted with online classes, but not by her mission. She still loves the idea of chasing butterflies – and big issues.
"I do feel really empowered," Rivier said. "This is a crazy time to be alive and it's going to be my generation's problem to tackle. That's very inspiring. I feel like I want to go out and change the world."