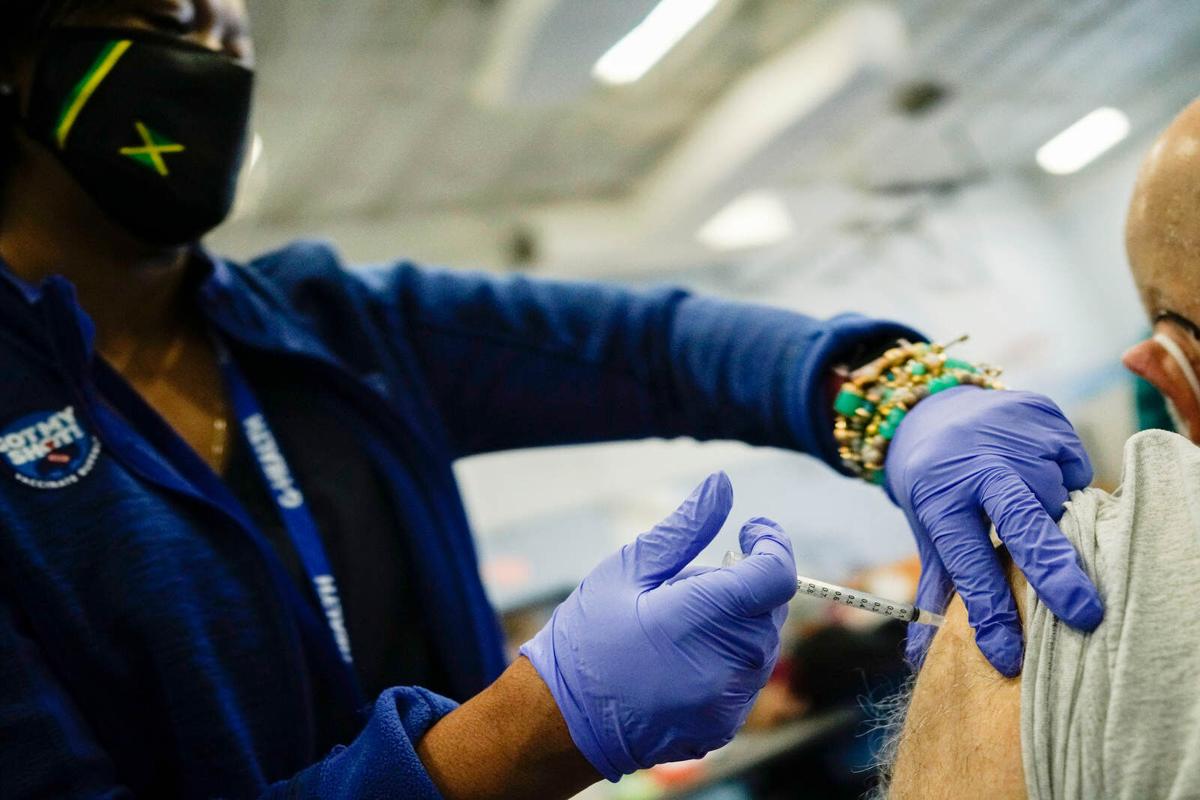 One of Dr. Thomas Russo's colleagues at the University at Buffalo became infected with Covid-19 about a month ago. She recovered, but then received another bit of bad news: Her mother, who lives in Florida, had a medical problem and needed surgery.
"I want to go down there and be with her for the surgery," Russo remembers his colleague saying, "but I'm nervous because I know traveling increases the risk."
Russo, an epidemiologist who is chief of infectious disease at UB's Jacobs School of Medicine and Biomedical Sciences, recounted the conversation during an interview last week. He responded by telling his colleague she could probably travel without worry.
"Since you've been infected," he said, "you actually have – now – a significant degree of protection."
Now – but for how long? And how reliable is that natural immunity versus the protection provided by vaccines? As vaccination eligibility expands in New York and overlaps with the at-least temporary resistance built by antibodies inside people who have had Covid-19, we explore what you should and shouldn't do when you have that immunity.
How much protection will immunity afford you?
That depends how you got it.
If you had Covid-19, your body is likely producing antibodies that will give you protection for three to six months. That's helpful, but the protection provided by vaccination is generally considered to be better.
Natural immunity "tends to be more variable and in some cases not as robust as the response that's observed with vaccination," said Russo, noting that people who have recovered from Covid-19 should still get vaccinated. But if they are less than 90 days out of the infection, they should consider waiting until the three-month mark because of the current vaccine shortage.
For those first three months, data indicates that your Covid-19 resistance will likely be reliable. That's why Russo advised his colleague that traveling to Florida for her mother's surgery was probably OK.
The immunity "is not perfect," he recalled telling her. "It's probably not as good as if you were fully vaccinated. But it's still pretty good, so your risk is way, way, way less now in terms of traveling to be with your mom than it was before you got infected."
How about other activities – like eating in a restaurant?
As virus levels drop in Western New York and statewide from their post-holiday highs, many restaurants are reopening their dining rooms. But should you go?
It's chancy – less so if you have some form of immunity, but still imperfect – and also depends on the setup of the dining room. The safety of a restaurant is determined by a variety of factors, including how crowded it is, size and spacing, ventilation and air flow, and how long you spend there. A South Korean study published in November detailed how one person in a restaurant infected two others who were in different parties and seated 15 or more feet away. An analysis of the airflow in the building revealed the two people infected were in an airstream that likely carried virus particles from the first person to them.
It's difficult to say whether that's an isolated case or an alarming warning. But Dr. Linsey Marr, an aerosol scientist at Virginia Tech and expert in virus transmission, told The News late last year that she won't eat in a restaurant "until the pandemic is over." That's because people are unmasked and talking, which releases 10 times as many aerosols as breathing, and they often stay for an hour or more. Twenty tables occupied is "20 times the risk," Marr pointed out.
Having protection from a vaccine or recent bout with Covid-19 may lessen the risk for you – but it's not guaranteed, and you might still put others at risk.
Here's why: Natural immunity has limits and will vary by person. Vaccine-induced immunity, once you're two weeks past the second dose of Pfizer or Moderna, has about 95% protection. That's about as good as a vaccine gets. But, as Russo points out, "There's still one out of 20 that could have a symptomatic infection."
The bigger issue is a detail we don't know about the vaccines: It's too early to tell how often fully vaccinated people can become asymptomatic carriers of the coronavirus. Studies on that question are underway, but there's no conclusive data yet. It's entirely possible that a vaccinated individual can be unknowingly exposed and develop no symptoms of infection, yet be carrying the virus. That same person can go to a restaurant, a party, visit parents or grandparents or an immunocompromised friend and pass along the virus.
At least until more is known about that question, vaccinated people need to do exactly what they should have been doing before the shots. "Still continue to wear a mask, distance and do hand hygiene," Russo said, "until we sort out what the likelihood is that you could be asymptomatically infected."
And if you go to a restaurant – whatever your immune status – he has a tip: Sit by the wall. "You don't want to be the central table," he said. "Have your back covered."
If vaccines won't give me that much freedom, why should I bother?
They won't give YOU full freedom individually. But collectively, as a society, they will blunt the pandemic – and time is urgent.
Epidemiologists generally say that achieving herd immunity will require up to 80% of the population having virus resistance, either through vaccines or by contracting and recovering from Covid-19. We're not nearly close.
Nearly 27 million Americans have been confirmed as having contracted Covid-19 – an astounding number, but not even 10% of the population. The actual number – accounting for unreported cases – may be many times higher. Russo, for example, believes that about a third of the U.S. population has been infected.
That's still not close to herd immunity. The vaccination rate needs to speed up considerably to get us there.
In Erie County, for example, 9% of residents have had one vaccination, and 3% have had both shots. Those numbers, reported last week by County Executive Mark Poloncarz, are higher than the state and national averages and will likely rise as more doses become available. But it's still a long climb. At the same time, we're racing against a variety of variants that are emerging as the virus mutates.
"If the general population gets this vaccine, we could see Covid-19 reduced from the level of a pandemic to more of your common cold," said Dr. Careen-Joan Franklin, a clinical assistant professor in Howard University's College of Pharmacy. "Chances of getting it would be reduced severely."
OK, say we get vaccinated. What about getting together to socialize with vaccinated people only?
That's still not foolproof, but it's safer.
At your restaurant table – filled only with people who are two weeks beyond their second shot – the chances of spread are tiny, since everyone presumably has 95% immunity. But a vaccinated person could still be a source of asymptomatic spread to unvaccinated people at other tables.
Russo offers an even safer scenario: a vaccination gathering. "You guys should all get together in your house, and you should cook," he said. "That would be safe with all of you indoors, because if you get just vaccinated people together, then the risk is really minimal."
He added, "I mean, it's not quite zero, right?"