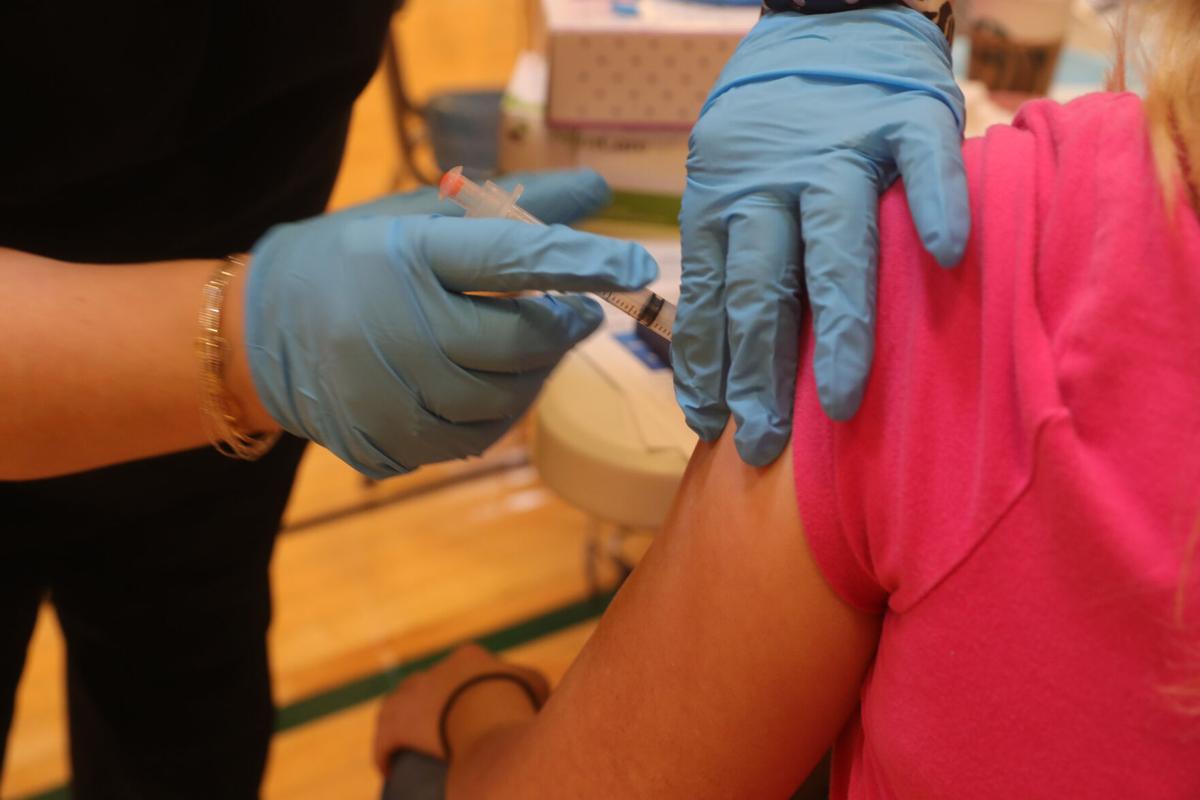 Back when vaccines were in hot demand – just a few months ago – the staff at Community Health Center of Buffalo administered as many as 200 a day.
"Now, if we can get 20, we're happy," said LaVonne Ansari, the center's CEO.
That's not because there's little need for vaccines. In Erie and Niagara counties, roughly one of every two residents is fully vaccinated – which of course means the other half of residents may be particularly susceptible to the Delta variant that is driving an uptick in this region and a surge in cases around the country. In the other counties that comprise Western New York, full-vaccination rates are below 50%.
The push to administer shots is alive, but the challenge may be tougher than ever.
"It's getting harder and harder to get to the people to get them to understand the importance of the vaccine," said Ansari, who holds a doctorate from the University at Buffalo. "We can't compete with social media. They're getting information from multiple sources."
Predictably, many of those sources aren't accurate. In this "Pandemic Lessons," we explore the impact of ill information.
What information is stopping people from getting vaccinated?
We should start by acknowledging some people simply don't want to get vaccinated, and their reasons are tied to personal preference – not the embrace of fiction as fact. But there is an epidemic of misinformation (facts twisted out of context) and disinformation (deliberately false information) and it's long been spreading on social media and websites, sometimes in traditional media, and in conversation.
On an individual level, the latter may have the most impact, since people tend to follow what others in their lives are doing. That's why Ansari and her staff have been holding community meetings and asking people who are hesitant to share their concerns.
A sampling of what they have heard:
• "My friend told me you get sick after it." Response: Except in rare cases of extreme allergic reaction, the side effects of vaccination are an indication that it is activating your immune system. Or put another way: It's working.
• "You will die." Quite the opposite: The vaccines are most effective and preventing hospitalization and death.
• "It makes people magnetic" or "You're getting chipped." Untrue.
• "They're trying to kill off Black people." This is rooted in a very real and horrifying history, such as a syphilis research program that began in 1932 and used Black men as study subjects.
"The conversation I have with those of us of color is, 'Listen, the history is not coming back,' " Ansari said. "'We know what the history is. The future, we can't see. We're dying disproportionately right now. What are we going to do? And God created the scientists, too, that made these vaccines to save lives. Now what are you going to do?'
"When I put it in that context, they get it."
Broadly speaking, how difficult is it to convince people to get vaccinated at this point?
"Very difficult," said Janet Yang, a University at Buffalo researcher.
A long-used model that illustrates how innovations are embraced by the public helps explain why. The Diffusion of Innovation theory, which was first developed by communication theorist Everett Rogers some 60 years ago, suggests that people embrace new products in phases.
The first 2.5% to use or accept something are the Innovators. (If you know someone who queued up overnight in anticipation of some groundbreaking Apple product release, that's likely an Innovator.) Next are the Early Adopters (13.5%), followed by the Early Majority (34%).
These first three phases comprise the front half of people who will adopt a new product. The latter half are the Late Majority (34%) and the Laggards (16%).
Calculating exactly where we stand on this spectrum is impossible, because we don't know how many people will ultimately get vaccinated. But in New York, where 75% of eligible adults have at least one dose, we're likely nearing or in the Laggards phase. If you're trying to persuade people to get vaccinated, that means selling the idea to individuals who weren't leaping for the vaccine already.
It's "very difficult to motivate unvaccinated people to get the vaccine at this point," said Yang, an associate professor in UB's Department of Communication who specializes in researching how risk perception impacts the way people process information. "But we are hoping the rapidly increasing cases related to the Delta variants will change some minds."
Yang, who holds a doctorate from Cornell, and her doctoral student Jody Wong are in the midst of a study funded by the National Science Foundation to learn about risk perception in the pandemic. In a May survey, they asked 1,532 participants to describe how much they agreed or disagreed with conspiracy statements related to the pandemic (for example, "Covid-19 is less dangerous than the seasonal flu") and the vaccines ("The Covid-19 vaccines include a tracking device").
The participants were 56% female and 44% male, split nearly evenly between white and nonwhite, and just under half of them (46%) were vaccinated. Republicans, Democrats and independents each comprised about a third of the group. The average age of respondents was 47, and 29% indicated they have children in grades K-12. About half had at least some college education, and the median household income was $40,000-$49,999.
Here's a snapshot of Yang and Wong's early results:
• Sociodemographics are influential. Older, white, Republic-leaning men with school-age children were more likely to believe in pandemic conspiracy theories. People who are older, white and Republican-leaning, with lower income and K-12-age kids were more prone to believe in vaccination conspiracies.
• Vaccination status and the political color of your state are relevant. People who chose not to get vaccinated were more likely to believe in both varieties of conspiracy theories – both about the vaccines and the pandemic itself. And people who lived in left-leaning blue states – like New York – were less likely to adopt both types of conspiracy theories than people in red states.
• Vaccine risk is seen as dreadful and unknown. Yang and Wong's research focused on what people find scary ("dread risk," in psychology terms) and mysterious ("unknown risk"). They found that people who believe in pandemic and vaccination conspiracy theories also perceived a higher dread and unknown risk toward vaccines.
People are skeptical and scared.
"We think it is interesting that both types of risk perception were towards the vaccines," Wong explained in an email. "It is probable that since people are already living through the pandemic, it did not really matter whether the misinformation was regarding the pandemic or the vaccines, they still viewed the vaccines as more unknown and higher in dread risk. Misinformation seems to add to more uncertainties about the vaccines relative to the pandemic."
Let's channel the opposing perspective for a moment: Covid-19 kills people – more than 610,414 of them in the United States alone, as of July 24. That is fact. People who are vaccinated are less likely to get sick and die. That is also fact. So what's the issue?
You may hope that the fear associated with Covid-19 and the pandemic would lead to more logical thinking: We have a foe, we have information and tools to fight it, and so we shall.
But for many people, it doesn't work that way. Visceral emotions, like fear, get in the way.
In her book "You're Not Listening: What You're Missing and Why It Matters," author Kate Murphy writes about a psychological concept called cognitive complexity, which describes how some people are able to consider all sides of a situation, weigh nuanced information, and use that input to make sound decisions.
Fear, Murphy told The News, inhibits cognitive complexity, "shuts down higher order thought processes" and "also leads to more simplistic thinking."
What, then, does it take to educate people?
Start with respecting common ground: Virtually everybody is seeking some form of health and happiness.
"People want to be well," Ansari said. "But the issue is you have too many mixed messages."
Ansari points to information on masking as an example: First they were for health workers only; then, for everyone; later, only for the unvaccinated; now, in some places as Delta variant-driven cases rise, they are for all once again.
"The multiple messages, even from those that are credible sources, does not help us on the ground to convince people to take the vaccine," Ansari said. "People are extremely bright, and they're paying attention."
Every one of these decisions has reasoning behind it, but that's a lot of information on a single topic at an intensely complicated time. And humans are, well, human.
"Now you have the whole country that is really confused," said Ansari, noting that people need clearer explanations on why health advisories evolve during a pandemic that is playing out in real time. "When you're confused, whether it's good information or bad information, you will absorb what you think works – what you feel is leaning toward your way of thinking. So if you don't think the vaccine is going to be any good, you listen for that information. If you think it's going to be good, you're looking for that information."